Big Pharma still betting on 'messed up' Indian drugs market
March 13, 2014 08:42 IST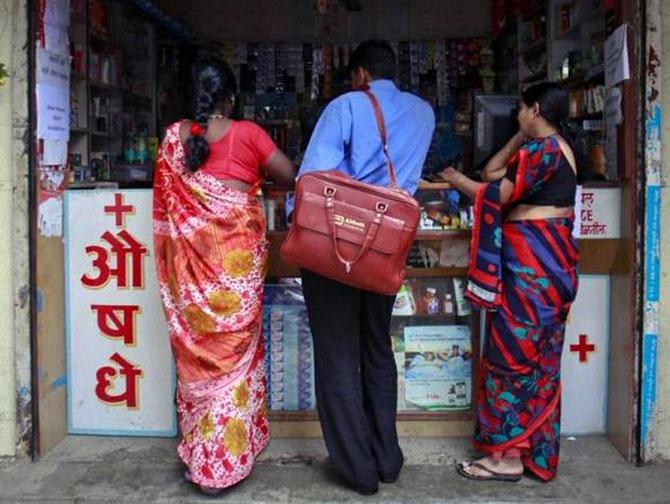 Global drugmakers have had a nauseous time in India's $14 billion market. Prices have dropped and valuable patents have been overruled as the authorities strive to make medicines affordable for the 70 percent of people living on less than $2 a day.

From a regulatory perspective, the government has "messed up", as one top industry consultant put it. But with 1.2 billion people increasingly seeking both on- and off-prescription drugs, the market is too big for firms to simply throw in the towel.

The two top foreign players, Abbott Laboratories and GlaxoSmithKline Plc, are actually stepping up investment, and others such as AstraZeneca Plc are considering doing so.

GSK has just spent $1 billion on raising its stake in locally listed GlaxoSmithKline Pharmaceuticals Ltd and plans to double Indian drug production by building a second factory for about $140 million.

"There is a real excitement about India in GSK, in both consumer products and pharmaceuticals," said Roger Connor, GSK's global head of manufacturing on a visit to Mumbai.
Click on NEXT for more...
Big Pharma still betting on 'messed up' Indian drugs market
March 13, 2014 08:42 IST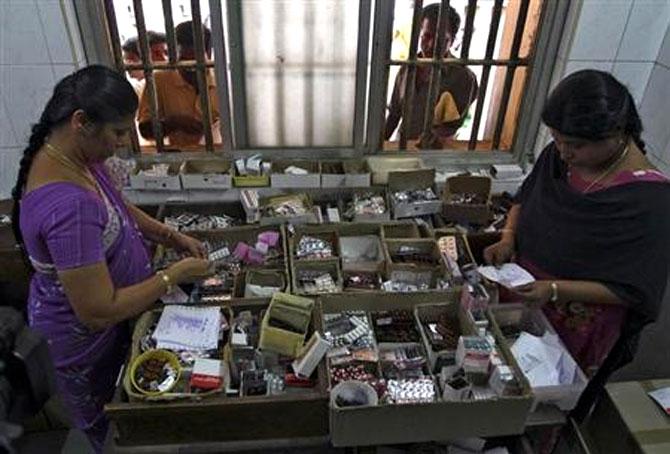 India harbours an army of companies driving prices down with copies of off-patent drugs. It also has a government imposing wide-ranging price reductions and a legal system with a history of disallowing patent protection. Perturbed, global drugmakers are soldiering on.

Abbott, local No. 1 since buying Piramal Healthcare for $3.7 billion in 2010, has launched 40 drugs in India in the last two years and will open a new factory for nutritional products later this year, said head of Indian operations Bhasker Iyer.

Other drugmakers may raise stakes in local units made cheaper by a rupee that has fallen 12 per cent in value over the past year compared with the US dollar, said Aditya Khemka of brokerage Ambit Capital.

AstraZeneca has said it hopes to take full control of AstraZeneca Pharma India Ltd, at a cost of more than $100 million, to give it greater flexibility in India.

Khemka believes Sanofi SA, which has said emerging markets are important for growth, could well be the next to raise its stake in Sanofi India Ltd. A Sanofi spokesman declined to comment.

Even Novartis AG, whose cancer drug Glivec was refused a patent by the Supreme Court last April, is launching new drugs.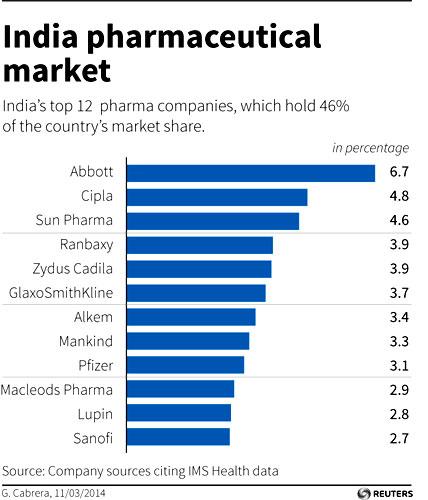 Click on NEXT for more...
Big Pharma still betting on 'messed up' Indian drugs market
March 13, 2014 08:42 IST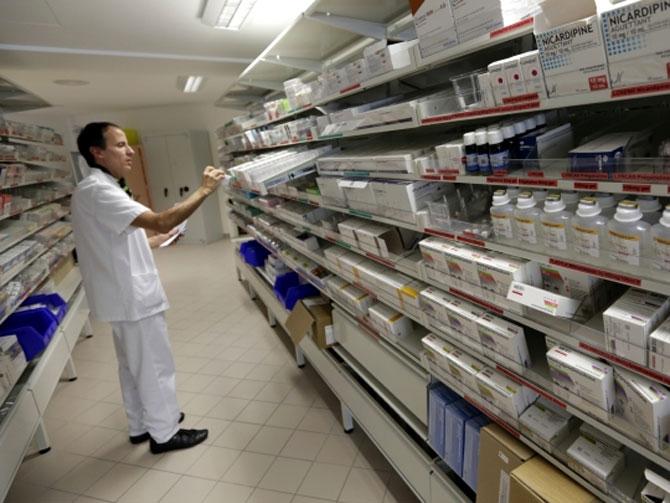 Compulsory licence

India stunned the pharmaceutical industry in 2012 by overriding a valid patent on cancer drug Nexavar from Bayer AG and issuing a so-called compulsory licence to Natco Pharma Ltd, allowing the local firm to sell a copy for a fraction of the price.

The threat of more such licences has since been hanging over the sector like a Sword of Damocles, said Ranjit Shahani, head of Novartis' India unit.

Yet the long-term prospects of the Indian market have not deterred Shahani from launching new patented drugs.

"Based on activities on the ground, multinational companies are actually taking larger bets on India," said Sujay Shetty, pharmaceuticals leader for PricewaterhouseCoopers in India.

"Of course, there is dissatisfaction - but if you really analyse the problems, many of them are working their way out of the system. From a regulatory shock point of view, pretty much everything the government could do to mess up, it has messed up. So this is the worst you're going to see."

The probable handover of government following an upcoming election to the pro-business Bharatiya Janata Party means the threat of compulsory licences may be receding, Shetty said.
Click on NEXT for more...
Big Pharma still betting on 'messed up' Indian drugs market
March 13, 2014 08:42 IST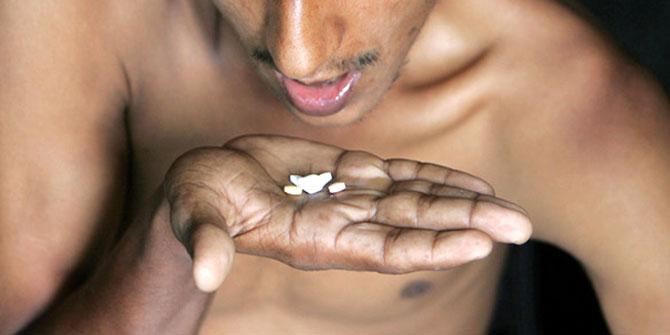 Price cutting

Market growth fell below 10 per cent last year, largely due to government-imposed price cuts on many basic drugs, while even high-end biotech specialist Roche Holding AG agreed to voluntary price cuts for some cancer drugs to improve market access.

Pricing pressure was a factor in researcher IMS Health projecting India will be the world's 11th biggest pharmaceutical market by 2017, from 13th in 2012, rather than eighth by 2016 as forecast less than two years ago.

Nevertheless, growth should return to double digits in 2014 and stay there for years to come, said Hasit Joshipura, the head of GSK's local subsidiary.

GSK is working within the low-price environment by chasing volume. In some cases, the company charges just 10 per cent of international prices.

"On a volume basis, 20 per cent of what I make globally is sold in India, so it is a massive business," said GSK's Connor. Yet that makes up only around 3 per cent of revenue.
Click on NEXT for more...
Big Pharma still betting on 'messed up' Indian drugs market
March 13, 2014 08:42 IST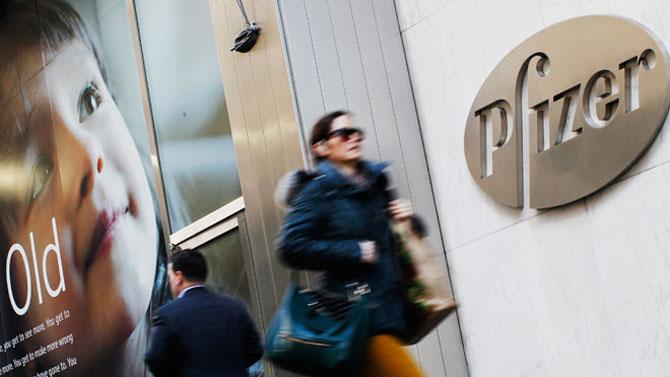 The strategy's success depends on an efficient supply chain, in a country where local companies such as Ranbaxy Laboratories Ltd have been banned from exporting drugs or drug ingredients to the United States because of quality concerns.

"You can be absolutely successful in India from a quality and safety perspective," said Connor.

GSK not only makes medicines in the country but also buys ingredients from local suppliers which are audited by GSK staff.

The US regulator last month called on its Indian counterpart for more collaboration on drug safety. In the meantime, Indian officials have tightened rules surrounding clinical trials to the extent that local firms Biocon Ltd and Lupin Ltd have moved studies offshore.

Uncertainty over patent security and obstacles to clinical trials are discouraging Western companies from conducting drug research in India, though that was not enough to deter Novartis from recently launching patented drugs such as Tasigna and Jakavi for cancer and Galvus for diabetes.

"While we certainly would be cautious in our investments in innovation, we do consider India to be an important market," said Novartis' Shahani. "You have to bet on demographics."


---
Additional reporting by Sumeet Chatterjee
Source:
© Copyright 2020 Reuters Limited. All rights reserved. Republication or redistribution of Reuters content, including by framing or similar means, is expressly prohibited without the prior written consent of Reuters. Reuters shall not be liable for any errors or delays in the content, or for any actions taken in reliance thereon.