AirAsia must fine-tune strategy if it wants to survive in India
May 09, 2014 16:52 IST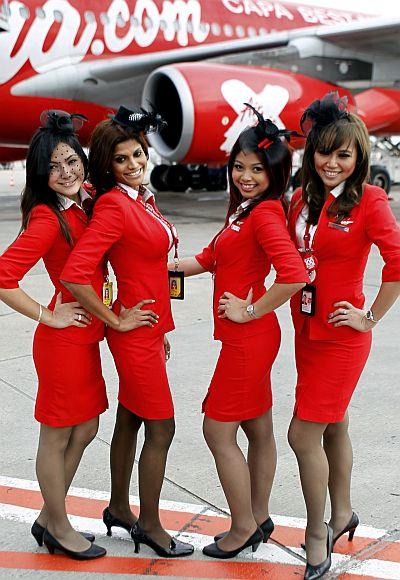 The latest airline set to enter the country has set ambitious performance targets, some of which have not been achieved anywhere in the world.
On Wednesday, the government, after months of scrutiny, gave AirAsia the permission to fly.
There could still be the proverbial slip between the cup and the lip as the Delhi High Court will hear on July 11 a petition filed by Bharatiya Janata Party leader Subramanian Swamy against the grant of permit to the airline.
Swamy has alleged that AirAsia has breached the guidelines for foreign investment in the sector.
Click NEXT for more....
AirAsia must fine-tune strategy if it wants to survive in India
May 09, 2014 16:52 IST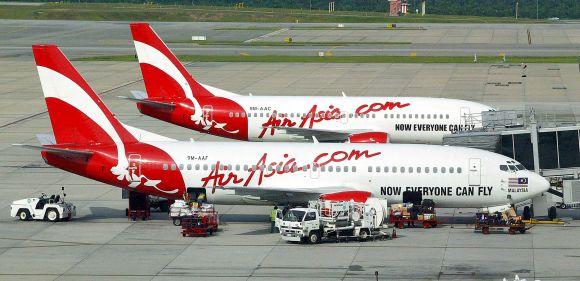 Still, AirAsia has started to assemble its business plan for India. If all goes well, it would start commercial operations in the next one to three months.
It has set ambitious targets which, if met, could set new global benchmarks. For instance, it wants to fly its aircraft for over 16 hours a day, even though in Malaysia, its home base, the airline has managed to touch only 12.3 hours.
It plans to have a turnaround time of 20 minutes, even though the most efficient global budget carriers like RyanAir and even AirAsia in Malaysia have failed to compress it below 25 minutes.
Still more ambitious is its pricing strategy: AirAsia CEO Mittu Chandilya says fares will be the same as a first-class railway ticket and at least 35 per cent cheaper than other budget carriers.
"We would be disruptive in pricing. My competition is not the other airlines operating in this country. My benchmark is the first-class fare offered by the railways."
Click NEXT for more...
AirAsia must fine-tune strategy if it wants to survive in India
May 09, 2014 16:52 IST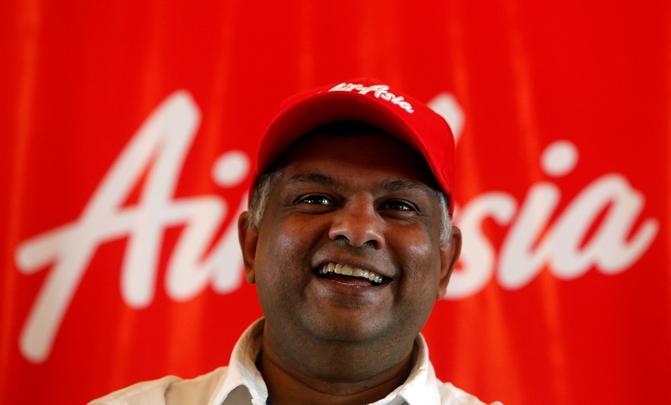 Is it achievable or is it just hype to throw competition off balance? After all, AirAsia has already started altering its earlier strategies.
Thus, AirAsia Chief Tony Fernandes now wants to fly from the country's two metros, Delhi and Mumbai, even though a few months ago he had said that he would avoid the two cities because of their exorbitant airport charges and would focus on smaller cities.
The change of heart is understandable: no airline can afford to skip these two cities which are the source of half of the air traffic in the country.
Rivals insist the fare promise is also plain hype because budget carriers like SpiceJet have been offering fares which are lower than first class fares. So there is nothing new which AirAsia will do if it introduces similar promotional offers.
Click NEXT for more...
AirAsia must fine-tune strategy if it wants to survive in India
May 09, 2014 16:52 IST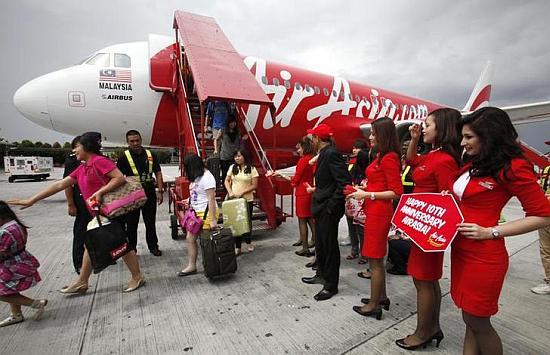 Sector experts say what matters is the average network tariff, which currently ranges between Rs 4,000 and Rs 4,500 (net of all taxes) for budget carriers.
If AirAsia wants to reduce this average tariff by 35 per cent, it would be selling seats at an average of Rs 3,000.
"The fuel cost of a flight with 150 passengers comes to Rs 2,000-Rs 2500 per passenger on a less-than- two-hour flight.
And fuel is 50 per cent of the cost. So if AirAsia sells at this average cost, it will be making losses," says an airline executive. However, Chandilya insists AirAsia will break even within four months.
The problem, rivals say, is that in India the gap between the cheapest fare bucket and the highest bucket (the last minute fares) is not very big unlike elsewhere in the world which helps budget carriers move their average tariffs higher.
For instance, while the lowest bucket is Rs 1,000 to Rs 1,500, the highest is not more than Rs 8,000. "AirAsia can reduce the lower bucket further, but it cannot increase the upper bucket to keep the average intact as it will lose customers.
That is because full-service carriers like Air India whose costs are virtually double of those of budget carriers are selling it at the same, if not lower, price," says an observer.
Click NEXT for more...
AirAsia must fine-tune strategy if it wants to survive in India
May 09, 2014 16:52 IST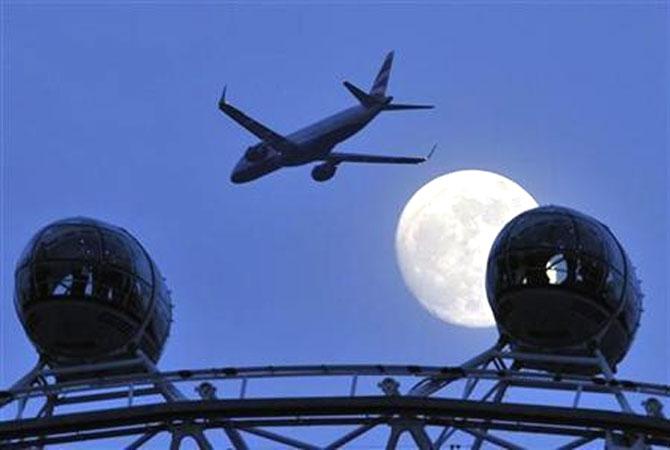 Airline experts say that a large chunk of the cost in the country is fixed, so the leeway to save money is limited.
Thus, while fuel constitutes 50 per cent of the operational cost, another 25 per cent goes for paying lease rentals and maintenance, employee costs are around 10 per cent and landing costs around 5 per cent (unlike in Malaysia, there is no concession for budget carriers in India).
The rest of the cost goes into marketing and other miscellaneous works.
"The maximum you can save is maybe 10 per cent; maybe your employee cost will be only 5 per cent. So how do you cut costs by 35 per cent and pass it on to customers? It is impossible," says an airline industry source.
In addition, AirAsia's business plan could face serious challenges because of the congestion in all major airports in India.
Planes have to hover in the air for a while — and burn fuel — before they get the permission to land.
This could throw AirAsia's business projections out of gear and pose a serious challenge in meeting its on-time performance. Higher aircraft utilisation time of 16 hours means AirAsia could offer early morning flights, at even 4 am, and night flights after 11 pm, which no other airline currently offers.
This is uncharted territory, and the initiative could go either way. If it succeeds, others are bound to follow.
Click NEXT for more...
AirAsia must fine-tune strategy if it wants to survive in India
May 09, 2014 16:52 IST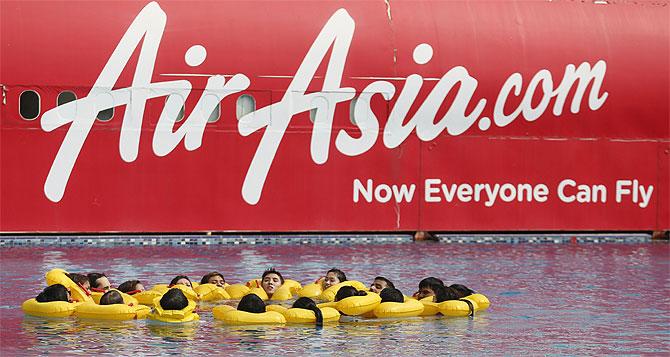 Airlines have also questioned its target to turn a flight around in just 20 minutes, which it has not achieved even in Malaysia.
Most Indian budget carriers say that while this can be done in non-metros, it is very difficult to achieve in bigger airports. "In Imphal, you can have a turnaround in 15 minutes.
But in major city airports like Chennai, Mumbai, Kolkata and Hyderabad there is no way you can do it in less than 30 minutes," says an airline industry source.
The turnaround time has increased of late because many airports now have aerobridges which allow entry and exit only through one gate.
Kapil Kaul, chief executive officer, aviation advisory firm Centre for Asia-Pacific Aviation, says: "Sixteen hours aircraft utilisation will only be possible if international routes are added to the domestic operation after the 5/20 rule (five years of experience and a fleet of 20 aircraft) is abolished.
It is not feasible otherwise but (I will) look forward to being surprised. Turnaround time of 20 minutes in metros is unrealistic but it is possible at smaller stations.
Overall, AirAsia will need high level of operational capability to achieve targets even below 16 hours/20 mins. Our recent assessment shows only around 12 hours of utilisation is possible on domestic routes.
If 16 hours/20 mins is consistently achieved by AirAsia, it will set a new benchmark which will be an excellent achievement."
Click NEXT for more...
AirAsia must fine-tune strategy if it wants to survive in India
May 09, 2014 16:52 IST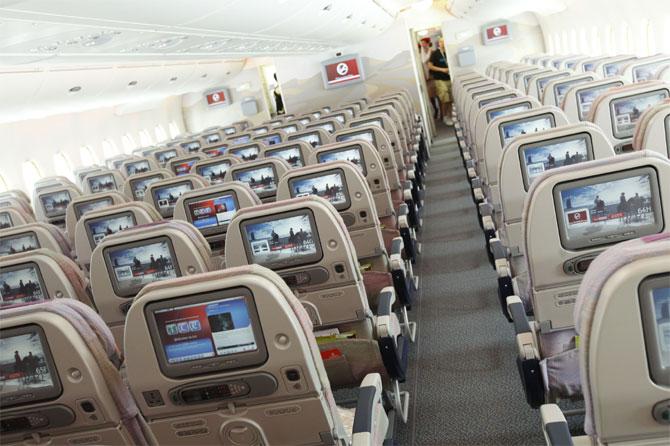 AirAsia hopes to save costs and time by multi-tasking. So pilots will also assist in technical check-ups before flying an aircraft which at present is done by engineers.
Cabin crew, if required, will assist ramp agents in removing stubs from boarding passes and preparing load sheets.
"There will be two loaders for baggage but instead of the loadmaster, the cabin crew may prepare load sheets to minimise on-ground time," a source in the know of the airline's plans informs. Competing airlines say these are again not new for the industry and most other players have tried it out too.
For instance, one leading budget carrier already uses it pilots to do technical checks on transit flights. "The savings on cost and time are frankly minimal," says a senior executive of another budget carrier.
Click NEXT for more...
AirAsia must fine-tune strategy if it wants to survive in India
May 09, 2014 16:52 IST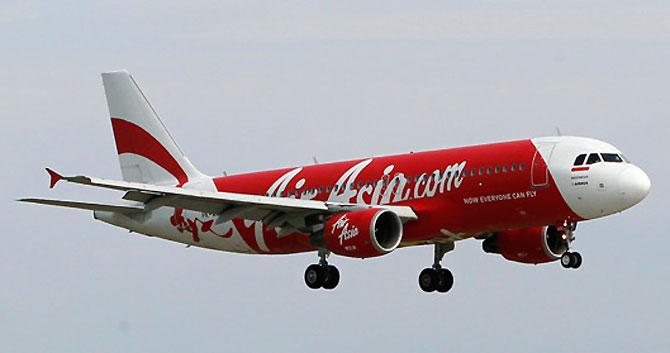 AirAsia has forsaken some of the key ingredients of its low-cost strategy which it follows in Malaysia: ancillary revenues. In Malaysia, ancillary revenues contribute 18 per cent of its total revenues.
Passengers are not allowed any free baggage allowance and have to pay for everything. Yet, in India that basic strategy has been given a miss as it will offer 15 kilograms of free baggage on Indian flights.
Surely, Fernandes and Chandilya have promised to change the aviation world by providing rock bottom fares.
It's a promise which G R Gopinath who started Air Deccan had also made when he offered fares that were lower than train tickets. But financial trouble forced him to sell his airline to Vijay Mallya. Will AirAsia deliver the goods?
Click NEXT for more...
Source: