A brave new world for Infosys
Last updated on: September 7, 2011 15:04 IST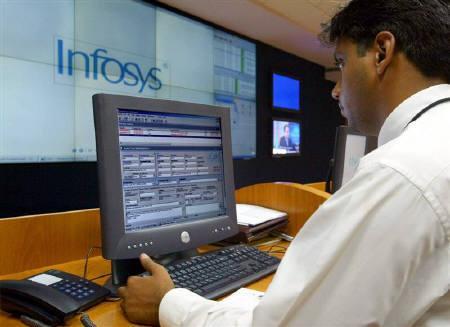 Infosys has been the undisputed role model for software companies in India for decades. In fact, it has arguably been the benchmark against which companies - many not necessarily in software - compare themselves with, across categories such as governance and leadership.
However, there comes a time for most companies when they run out of steam, get bogged down by situations beyond their control or are unable to firmly grasp the magic that once made them untouchable.
While Infosys is by no stretch of imagination a 'has-been,' industry observers point to a stagnation of sorts afflicting the IT services leader one that the company needs to analyse and rectify if it wants to continue ruling the software space.
Click NEXT to read more...
A brave new world for Infosys
Last updated on: September 7, 2011 15:04 IST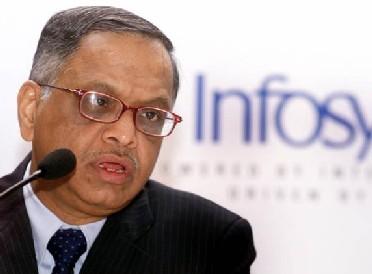 Need for decisions
"They were one of the first companies to introduce progressive ideas like employees' stock option plans (ESOPs), human capital valuations or setting high corporate governance standards," says Avneet Singh, VP-Global Sourcing at advisory firm Everest.
"However, they seem to have lost their way in the last couple of years, especially after the recession," he adds.
The way forward for Infosys could very well be enshrined in a piece of advice given by the outgoing chairman and chief mentor N R Narayana Murthy to the newly appointed CEO & MD S D Shibulal.
"Don't hesitate to take decisions," Murthy told Shibulal a couple of days before he retired as the chairman of the company.
Click NEXT to read more...
A brave new world for Infosys
Last updated on: September 7, 2011 15:04 IST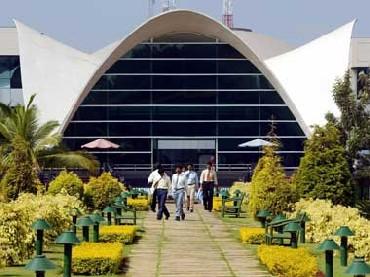 He should know. Back in the 90`s when Infosys was still in the early phase of growth, Murthy went so far as to terminate Infosys' relationship with GE, its largest client at the time, because he refused to compromise on the quality of the project and margins.
Another bold decision by Murthy was preventing the sale of the company in 1990 for a mere $1 million even though his colleagues were enthusiastic to do so.
A crisis of leadership
The current leadership at Infosys has a different kind of challenge ahead of it from the kind that Murthy had to make.
Here, it has to allay the concerns of customers and investors, who fear that the firm's leadership may not be ready to steer the ship through both calm and stormy seas.
Click NEXT to read more...
A brave new world for Infosys
Last updated on: September 7, 2011 15:04 IST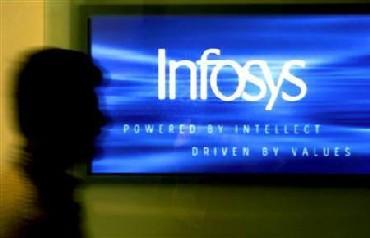 "The number of questions we are getting from clients about the internal changes and reorganisation in Infosys are on the rise. They feel that the answers they are getting are not forthcoming. Clients are not seeing these issues solved or specific steps taken by the vendor to resolve these issues. I think those concerns are genuine," said Sudin Apte, Principal Analyst and CEO of advisory firm Offshore Insights.
Apte met about 35 odd clients of Infosys and some other Indian vendors during his visit to the US last month.
During the last 30 years of existence, Infosys has been managed by the co-founders at the helm. Before the reshuffling of the top leadership, T V Mohandas Pai, the most influential among the non-founders quit the company with allegations that there was not much room for growth for non-founding members.
Pai's reactions may stem from his inability to have snagged the top job, but the fact remains that the gap between the co-founders and the second-rung leaders in the company has always been wide, perhaps forcing his hand.
Click NEXT to read more...
A brave new world for Infosys
Last updated on: September 7, 2011 15:04 IST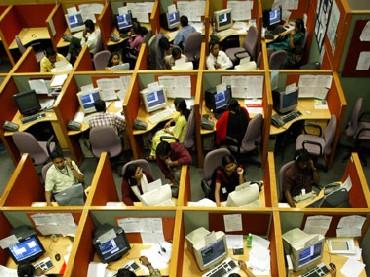 This kind of turbulence at the top has clearly effected disconnect between company and customer.
"Leadership changes do end up creating distraction for people, and companies lose precious time from that perspective. In case of Infosys, this is more pronounced because of the exit and superannuation of people who had significant span of control over the company," says Singh.
This can even influence how the firm presents itself to the outside world. "If you look at the earning calls with the analysts this time, Infosys was found really nervous over microeconomic uncertainties and other things. They were sounding very uncertain and cautious. By contrast, TCS and Cognizant were much more confident," says an analyst.
These are very small things but reflect the whole approach or the mood of the organisation, the analyst added.
Click NEXT to read more...
A brave new world for Infosys
Last updated on: September 7, 2011 15:04 IST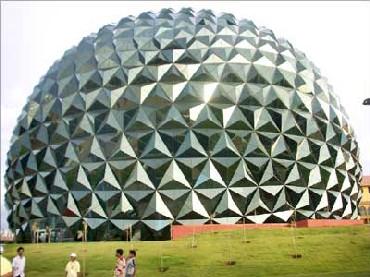 Changing the mix
Infosys' services mix has become another area of concern. Infosys was lagging behind both TCS and Infosys in the key banking, financial services and insurance (BFSI) vertical, the biggest revenue contributor for the offshore-centric IT services companies.
In the quarter ended June 30, 2011, Infosys derived $592 million from BFSI vertical, behind up-and-comer Cognizant but almost half of rival TCS.
BSFI inextricably linked to the subprime crisis was in fact one of the first sectors to take a hit during the global recession. The banks and financial institutions failed miserably as they had huge credit risks.
However, when the recovery started, the growth was led by BFSI thanks to a fair amount of mergers and acquisitions (M&As) activity as smaller banks were merged with larger ones. This required a standardising of their IT systems and companies like TCS and Cognizant were quick to capitalise on the situation with Infosys a few steps behind.
Click NEXT to read more...
A brave new world for Infosys
Last updated on: September 7, 2011 15:04 IST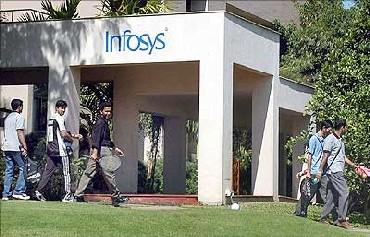 Another large area of concern is the firm's exposure to North America a country that has grown increasingly conservative and anti-outsourcing, not to mention a home to Infosys' current visa problems.
The company had earlier stated that it wanted to keep its US revenue exposure in the 40 per cent range, compared to 65 per cent, one of the highest among the Indian IT services firm, but that hasn't happened.
Moreover, revenue contribution from Europe has come down to about 21 per cent from 29 per cent reported a few quarters ago.
"The Europe strategy of Infosys has not panned out as per the expectations and that's why they are now reorganising in Europe with a more country-focused approach," said Singh of Everest.
Click NEXT to read more...
A brave new world for Infosys
Last updated on: September 7, 2011 15:04 IST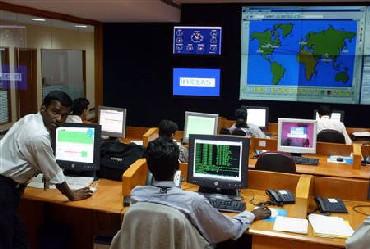 Spreading wings
While it negotiates these problems, Infosys has started rectifying previous oversights.
The company has identified verticals such as healthcare, energy and utility and public services as future areas of growth instead of depending heavily on traditional areas like BFSI, manufacturing and telecom. Infosys is also expanding to large unexplored markets like BRIC (Brazil, Russia, India and China) countries.
For instance, Infosys has tried to improve its revenue share derived from India and rest of the world though its share of overall revenues is quite low compared to that of TCS, HCL Technologies and Wipro. The share of India revenues which was 1.7 per cent of Infosys' overall revenues has gone up to 2.6 per cent in the quarter ended June 30, 2011.
Click NEXT to read more...
A brave new world for Infosys
Last updated on: September 7, 2011 15:04 IST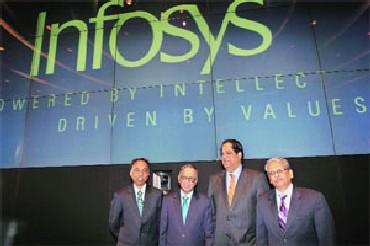 Similarly, the revenue contribution of rest of the world has gone up to 11.9 per cent at end of June 30, 2011 from 10.7 per cent in the year ago quarter. (In contrast, 9.3 per cent of TCS' revenue in the June end quarter came from India and 12.6 per cent came from rest of the world. For HCL Technologies, rest of the world accounted for 18.5 per cent of its overall revenues.)
Soon after assuming the chairmanship of Infosys, K V Kamath has underscored the importance of BRIC countries as potential markets. Infosys is adopting a different strategy to cater to these markets where clients prefer to buy all their IT requirements from a single vendor.
"BRIC countries spend much less on technologies and they buy technology very differently than the developed countries. For example, they buy software, hardware and services from the same company. This requires us to either to offer these all or to have some partnerships in place to offer all the three," says Kris Gopalakrishnan, executive co-chairman of Infosys.
Click NEXT to read more...
A brave new world for Infosys
Last updated on: September 7, 2011 15:04 IST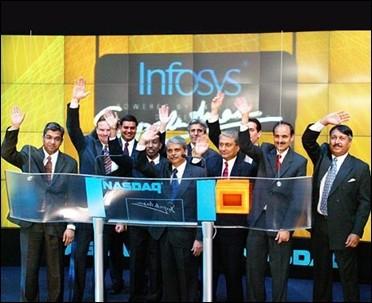 Infosys finds itself in a different world today. It is no longer the lone sheriff in town in fact, it has a growing pool of nimble competitors. Therefore, industry insiders say that it needs to rethink its strategy focused on high margins, and do a balancing between margins and volumes.
In order for the firm to regain its position as the undisputed heavyweight champion of the IT Services world, it also needs to deploy its considerable war chest of cash some $3.8 billion worth towards a strategic acquisition, much like its rivals TCS and Cognizant, something that they have avoided doing since inception.
But these are different times and call for different decisions, something that their patron saint Narayana Murthy would be hard pressed to disagree with.
Source: