Photographs:
Reuters
Sharleen Dsouza
Gold prices are likely to decline further, amid expectations of a further rise in the rupee against the dollar and favourable policies after a stable government is formed at the Centre.
Speculation is strong that a Bharatiya Janata Party-led government will review the import duty on gold, currently at a high of 10 per cent.
And, ease the '80:20 rule', under which at least 20 per cent of imported gold needs to be supplied to jewellery exporters.
These hopes have brought down the premium on physical gold sales to $15 an oz or Rs 300 per 10g.
"Currently, overall sentiment is bearish. However, pent-up (heldover) demand is expected to emerge at a lower level, which will provide short-term support to prices.
The movement in the rupee will be a determining factor for the gold price," said Sugandha Sachdeva, associate vice-president, Religare Commodities.
Click NEXT for more
3 reasons why gold prices will decline further

Photographs:
Reuters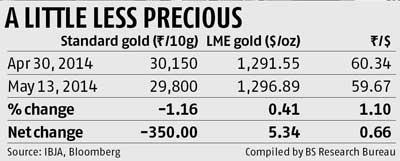 In fact, gold prices have been moving down in rupee terms here, despite a slight jump in dollar terms abroad.
Gold fell 1.65 per cent in the past two weeks, from Rs 30,300 per 10g on April 28 to trade currently at Rs 29,800 per 10g in Mumbai's popular Zaveri Bazaar.
Analysts believe gold prices in the short term will fall to trade at Rs 27,000–27,500 per 10g.
If the rupee strengthens further, gold prices are expected to do down to Rs 26,000 per 10g.
During the past fortnight, the rupee rose 1.6 per cent against the dollar, to trade at 59.67 on Tuesday as against 60.64 on April 28.
"The market now hopes for a stable government to come to power, due to which the rupee is expected to appreciate, which will cause gold prices to fall. If the rupee continues to appreciate, gold will see a further drop," said Naveen Mathur, associate director, Angel Broking.
Click NEXT for more...
3 reasons why gold prices will decline further

Photographs:
Reuters
Owing to the elections as well, gold demand on the market is lower and also due to the restrictions on gold imports by the government last year, to control the current account deficit (CAD).
In April, gold imports fell to $1.75 billion in April, a fall of 74 per cent compared to the same period last year, according to data from the ministry of finance.
The government had brought in the 80:20 rule, raised tariffs to 10 per cent and also banned gold coin imports.
However, now that the CAD is under control, the government might consider easing these norms. If so, this will cause prices to fall.
Click NEXT for more...
3 reasons why gold prices will decline further

Photographs:
Yuriko Nakao/Reuters
India is the biggest gold market in terms of consumption, due to high demand for gold jewellery, which causes high foreign currency outflow.
This had an impact on the CAD and it stood at $88 billion in 2012-13; this fell to $32 bn in 2013-14.
The government is also worried about smuggling of gold into the country with the import restrictions.
The hawala market premium has crossed four per cent from 2.75-3 per cent a few days earlier and 2-2.25 per cent a month before.
The premiums of gold on the spot market in Mumbai stand at $15-20 an ounce.
These began to fall as Akshay Tritiya started to come closer and after that day, due to lower demand on the spot market, it started to fall further.
Click NEXT for more...