India on track to be third largest consumer economy by 2025.
Viveat Susan Pinto and Arnab Dutta report.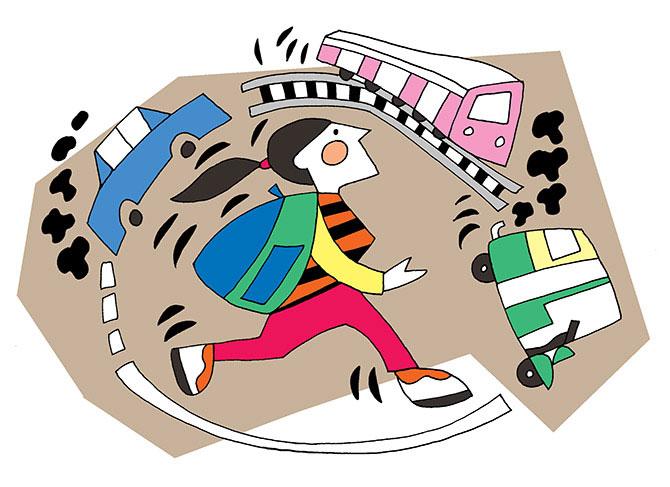 Illustration: Uttam Ghosh/Rediff.com
Nikhil Desai is a 30-year-old working professional and lives in Dadar, a central locality in Mumbai, with his parents.
He has recently done up his home, installing the latest electronic appliances for the convenience of his parents.
He has also ensured his mother, a homemaker, does not have to make routine trips to the neighbourhood grocery store.
Digital-savvy, Desai uses his latest iPhone to order groceries online and has even taught his mother how to do it on her Xiaomi phone.
Desai's story is that of myriad youths across the country.
As India gets younger -- over a third of the country's population is below 35 -- consumption has also risen.
The uptick has been most pronounced in the last one decade, say experts, coinciding with the rise of social media, technology and smartphones.
India is already the second largest smartphone market in the world after China. It shipped over 40 million smartphones in the July-September period of calendar year 2017.
India is also counted among the largest fast moving consumer goods and durable markets in the world, worth Rs 2.5 trillion and Rs 700 billion, respectively.
It is no surprise then that most big, small and medium-sized consumer goods companies -- from durables to mobile phones, food, beverages, personal care and household items -- have made a beeline for India in the last one decade.
A recent study by the Boston Consulting Group says India could become the third largest consumer economy by 2025, from sixth now, touching $4 trillion.
India will be trailing only the US and China by 2025, says BCG, driven by growing affluence, changing consumer lifestyles and behaviour.
Deven Choksey, managing director, KR Choksey Investment Managers, who has tracked the consumer sector closely, says India's consumer economy has been largely driven by the increase in per capita income, which has grown from Rs 29,524 in 2006-2007 to Rs 103,219 in 2016-2017.
Estimates are the 2017-2018 financial year will see India's PCI at Rs 111,782, a year-on-year growth of 8.3 per cent, according to the Central Statistics Office.
The increase in PCI, says Choksey, has pushed up people's propensity to consume in the last one decade, fueling the growth of a number of categories from staples to discretionary.
"The last few years have seen central and state governments devote more attention to building infrastructure, improving road, rail and air connectivity as well as increasing focus on housing and providing electricity to people," says Choksey.
"Greater attention has also been given to the rural areas, with welfare schemes and better price to key agricultural crops," he adds.
What does this mean for companies then?
As Sunil Duggal, chief executive officer, Dabur India, says an economy on the growth path always spells good news for consumer-facing businesses.
Between 2006-2007 and 2016-2017, for instance, the compounded annual growth rate for the top 25 FMCG and durable companies in terms of net sales was 13 per cent, operating profit was 14.27 per cent, and net profit was 13.5 per cent.
The next decade could see the compounded annual growth rate in terms of net sales and net profit cross the 13 per cent mark as companies increasingly focus on volume growth and rein in excessive advertising and sales promotion expenditure.
While the last 10 years were also marked by drought (in 2014 and 2015), demonetisation (in November 2016) and rural distress (triggered due to drought, unseasonal rains, and cash crunch), experts say the economy is slowly but steadily coming out of this.
Both the US-based Fitch Ratings and the World Bank have pegged India's GDP growth for 2017-2018 at 6.5 to 6.7 per cent, and for 2018-2019 at 7.3 per cent. This will accelerate to 7.5 per cent by 2019-2020, Fitch Ratings and the World Bank said.
There are also benefits that will accrue due to the introduction of the goods and services tax in July 2017, Duggal says, which will be visible in the coming quarters.
The biggest, he explains, is the rationalisation of tax rates, which will improve sales growth, since most consumer goods have been put in the 18 per cent and 12 per cent tax slabs, lower than the pre-GST tax rate of 23-24 per cent.
Besides, the move to formalise the economy and improve back-end functions such as warehousing and logistics, will reduce competitive intensity and lower distribution expenditure.
"Between 2002 and 2007, the FMCG market was marked by intense competition between rivals and multinational players such as Hindustan Unilever, Procter & Gamble and Colgate, who were all looking to consolidate their position in the marketplace," says G Chokkalingam, founder and managing director, Equinomics Research & Advisory.
"The period from 2008 onwards, however, has seen the emergence of Indian FMCG players such as Dabur, Marico, Emami and Godrej Consumer, which grew on the back of acquisitions," he adds.
"The last three to four years, in particular, have been more about the rise of Ayurvedic giants such as Patanjali," Chokkalingam points out, "as people attempted to go back to their roots and adopt a healthy way of living."
The Ayurvedic trend is expected to strengthen, with most personal care companies devoting more investment and energy on the segment as consumers demand chemical-free products.
As far durables and electronic companies are concerned, the thrust now is on increasing local manufacturing rather than assembling.
This comes as the government tighten the screws, slapping higher import duties on components, parts and fully and partly built product units.