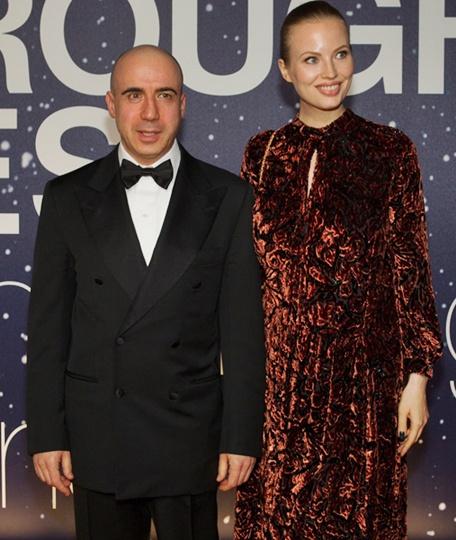 Image: Russian billionaire Yuri Milner with wife Julia. Photograph courtesy: Breakthrough Prize website
Yuri Milner, the Russian billionaire investor, on Thursday announced he'd taken a small stake in Practo, a rapidly expanding start-up based in Bengaluru that helps patients and doctors digitise their engagements.
The money was from his personal account. But, with a war chest of $1.7 billion (Rs 10,831 crore), Milner, who rose to fame as a deft investor in information technology (he'd invested in high-growth global entities such as Facebook and Airbnb), is keen to expand in India.
In India, he has already made investments in both his personal capacity and through DST Global, his venture firm.

These have been in online marketplace Flipkart, cab aggregator Ola, real estate discovery platform Housing.com, and Swiggy, a food delivery start-up.
"He met 25-30 start-ups and venture capital firms in Bengaluru in the past three days," said a senior venture capital investor. "The message we got is he wanted to show that he has arrived in India." The investor did not want to be named or his company identified.
Milner, named after Yuri Gagarin, the first man in space, kept a low profile, talking to entrepreneurs who are building businesses and those that can be scaled in other emerging markets. Practo was one, with plans to expand to 10 countries in Latin America, West Asia and Eastern Europe, the model of scheduling doctor appointments and digitising their engagement with patients.
On Thursday evening, Milner, a physicist by education, had a screening of a documentary on aliens (Are we alone? Alien planets revealed) for about 170 people. These included investors, entrepreneurs and scientists.

Among the attendees, invited by Rahul Mehta, partner at DST Global, were Prashanth Prakash, T C Meenakshisundaram of IDG Ventures, Sumit Jain of Commonfloor, the Bansals – Sachin and Binny — of Flipkart, Nandan Reddy of Swiggy and Alok Goel of SAIF Partners.
Sumit Jain, co-founder of CommonFloor, said he could relate with the passion for discovery of extra-terrestrial creatures as one that could contribute to a better society.

Milner spoke to the audience about the $100-million commitment he had made to Breakthrough Listen, his mission to find aliens that has support from cosmologist Stephen King.