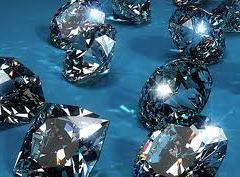 Ramesh Parikh, director of Mumbai-based Winsome Diamonds, is fighting a lone battle.

As the promoters of the company led by Jatin Mehta have been unavailable after a massive loan default, Parikh is left facing the heat, as irked bankers and investors make a beeline demanding their money.

After Winsome's clients failed to pay dues in March this year and foreign banks encashed the letters of credit given by Indian banks, local banks have been left saddled with bad loans of Rs 3,800 crore (Rs 38 billion).

Forever Precious Jewellery, in which Winsome has 49 per cent stake, has defaulted to the tune of Rs 1,700 crore (Rs 17 billion).

Both Winsome and Forever owe 14 banks led by Punjab National Bank more than Rs 5,500 crore (Rs 55 billion).

The BSE-listed Winsome's stock is down 80 per cent at Rs 6. "The loan repayment amounts are huge and so far the plans to repay these are not to the satisfaction of the bankers," said Parikh.

Company officials said foreign clients who owe more than $870 million to Winsome and $370 million to Forever have promised to make good some of these dues.

Till date, barely $1 million has come in.

Wilful defaulter

On their part, bankers have so far stopped short of calling Winsome a wilful defaulter.

But they are now taking steps to do so and hand over the matter to the Central Bureau of Investigation.

Cases such as these that are giving bankers sleepless nights.

Statistics by the Reserve Bank of India show government banks added Rs 4,94,836 crore (Rs 4,948.36 billion) to their bad loans or non-performing assets in banking parlance between 2007 and 2013.

During the period, they reduced non-performing assets to the extent of Rs 3,50,332 crore (Rs 3,503.32 billion).

This was mainly because loans worth Rs 1,41,295 crore (Rs 1,412.95 billion) were written off, another Rs 90,887 crore (Rs 908.87 billion) were upgraded to repaying loans and Rs 1,18,149 crore (Rs 1,181.49 billion) was recovered.

Winsome's problems began in March this year when it failed to pay dues to bullion banks abroad.

For its business of exporting jewellery, it would procure, at unfixed prices, gold on a loan from foreign bullion banks against standby letters of credit from a consortium of banks that had sanctioned its credit facilities.

In view of this default, the bullion banks invoked those letters in respect of the gold loans due.

The gold-loan agreements contained an enabling provision to recall all outstanding amount in the event of a single default.

More wait for recovery

In Winsome's case, recovery could take much longer than the bankers anticipated. Bankers were promised regular payments by Winsome's clients but so far less than $2 million has come in through inward remittances that is going into an escrow account maintained Punjab National Bank.

Winsome's clients said they wanted more time as it was difficult to make huge payments at such short notice.

A banker said: "We are asking the promoter to come to India and repay loans but there are no concrete steps from them."

Said Parikh: "The incoming payments are not according to the expectations of bankers. Customers have been saying they will pay $100 million every year but they say they require some time to step up payments.

"They can't pay so much in the initial years."

Meanwhile, Winsome's auditors have refused to complete the half-yearly audit for the company and sought more information from third parties and promoters, which the company has still not provided.

At a standstill

Winsome's business is now at a standstill.


As its daily transactions are carried out through letters of credit, which bankers have stopped issuing, it cannot source any more gold from bullion banks.
In the first half of this financial year, its exports of polished diamonds comprised less than a tenth of the total business.
Income from operations in the period was Rs 8.21 crore (Rs 82.1 million).
This is a far cry from the last financial year when it carried out business of over Rs 1,500 crore every quarter.
The little business that the company does now as work for other jewellery manufacturers has brought in a turnover of Rs 2.5 crore (Rs 25 million) in the first half of this financial year.
Analysts said the company failed to check the credentials of gold buyers and did not ask for payment guarantees from them. In March last year, Winsome registered revenue of Rs 7,135 crore (Rs 71.35 billion).
Its outstanding debtors were more than Rs 4,700 crore (Rs 47 billion).
Analysts said this had been the cause of worry all along and the company management failed to check the piling receivables.
However, the management claimed this was industry practice and incoming letters of credit from customers in this industry was rare.
Banks financed Winsome on the trade receivables and inventories of gold jewellery that the company exported to clients abroad.
Now that those clients are stalling payments to Winsome, banks are unable to recover dues.
The process of recovery hinges on how soon Winsome's customers can and will re-pay dues.
Bankers are believed to have collateral of property worth only Rs 150 crore (Rs 1.5 billion).
Bankers have started the recovery process -- seized stocks of diamonds and pearls valued at Rs 39.35 crore (Rs 393.5 million).
Last month, three more banks issued notices to Winsome Diamonds to recover dues.
But Winsome has been unable to make any commitments on the repayments due to the uncertainty regarding the time needed for recovery, said the company.
Both Winsome and Forever said they were expecting a staggering $1.24 billion from foreign clients.
A few months ago, bankers met these customers, who requested for more time. Clients had told bankers they would be able to pay around $100 million every year.
Restructuring in limbo
A proposal to restructure Winsome's repayment terms into corporate debt recovery has been in limbo.
In June, lenders rejected a plan to restructure the company's debt, saying it was untenable. The restructuring package had asked the promoter to bring in Rs 250 crore (Rs 2.5 billion) as part of negotiation. But promoter Mehta, not in India now, has not yet put any money on the table.
Said Parikh: "Our restructuring plan has not been to the satisfaction of bankers.
"We are requesting our promoter to bring in funds into the company but so far he has been unable to do so."
Due to this string of defaults to domestic banks against letters of credit, Winsome was downgraded by credit-rating agencies.
In the first week of May, CRISIL had downgraded Winsome to a D, default grade.
That was too late for the banks, now staring at huge losses.
Parikh certainly has some tough days ahead.
DIAMONDS ARE NOT FOREVER
• March 2012: Winsome's promoter Jatin Mehta steps down as Chairman
• March 2013: Winsome's clients defaulted massively in their payments in March 2013
• May 2013: Clients of Winsome are said to have promised bankers staggered repayment
• June 2013: A proposal for corporate debt restructuring rejected as promoters fail to bring in additional capital
• September 2013: Bankers seize diamonds and pearls worth Rs 40 crore (Rs 400 million)
• December 2013: Not much headway in recovery as barely $2 million have come in as inward remittances