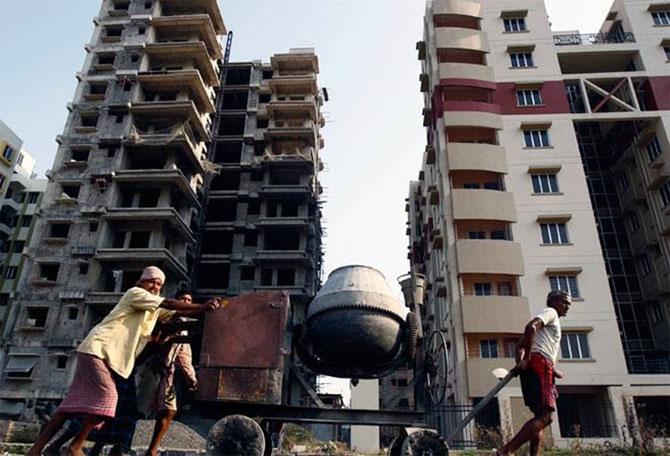 The new Real Estate Regulation and Development Act has just come into force.
It is being hailed as a positive step.
The Act envisages that the states and Centre will formulate specific rules for real estate regulation.
Broadly, every state will set up regulatory authorities for oversight of real estate projects, all of which will be registered.
Guidelines and timelines will be laid down for projects and penalties imposed if those are not adhered to. Instead of legal disputes being processed slowly through normal courts, Appellate Tribunals will adjudicate disputes with time limits of 60 days.
There are time limits for states to pass new laws and set up the boards, etc.
The process will, if timelines are adhered to, take about a year or so.
Most likely, since state-level governance is very uneven, this will work patchily.
Some states will set up efficient Tribunals and Regulatory Boards; others will not.
Many politicians have interests in real estate.
That could work both for, and against the concepts of the new Act.
Some smart and not-so-crooked politicians will back the new act and use it to accelerate activity. Others will try to hold up the new legislation or subvert it.
The real estate sector has endemic issues.
Recessive conditions in the past three years have made things worse.
For one thing, actual prices and 'official' prices are often wildly at variance, with huge amounts of black money kept off the books.
Builders are perpetually cash-strapped.
Banks have been cautious about lending to builders because the Reserve Bank of India demands very high-risk weightage since there are high chances that such loans will go sticky.
Rentals are generally low as a percentage of price, while prevailing interests rates are high.
A property owner could sell it, park the proceeds in a fixed deposit and rent the property back with a comfortable margin of profit.
This makes the landlord model less than attractive.
Many builders used to rely on the booking amount to fund projects.
But, over-supply means that builders have not been able to raise sufficient booking amounts.
That in turn, has meant incomplete projects.
Distress caused by two drought years has also cut demand in the rural and semi-urban segment.
Builders also notoriously divert funds.
The new Act envisages forcing builders to use at least 70 per cent of booking amount for the specific project where the booking has been done.
Finally, real estate is too expensive.
This is true in absolute terms. Indian property prices match and often exceeds that of real estate in most First World countries.
It is even more true in relative terms, considering low median incomes prevalent across India.
Nevertheless, this Act along with the development of financial vehicles such as Real Estate Investment Trusts will encourage investments into real estate.
The new Act should force more transparency and disclosure from builders.
It may trigger a shakeout and consolidation where only builders with deep pockets will survive.
It will take a few quarters before the enabling legislation is written and implemented and there will be a sequence of messy defaults and mergers and acquisitions.
Also, in all probability, prices will have to drop to realistic levels, or interest rates will have to sharply reduce, before the inventory starts to clear.
But, this could, hopefully signal the bottom of the real estate market.
There is one last caveat. Good legislation doesn't necessarily lead to good outcomes.
The Electricity Act 2003 was excellent, for example.
But, it was never properly implemented for a variety of reasons including political reluctance. One hopes that this new Act does not go the same way.
The image is used for representational purpose only. Photograph: Reuters
Devangshu Datta is a technical and equity analyst