Crude oil prices have more than doubled, pushing up India's import bill and raising fears of a higher current account and fiscal deficit.
This will impact corporate earnings, experts tell Krishna Kant.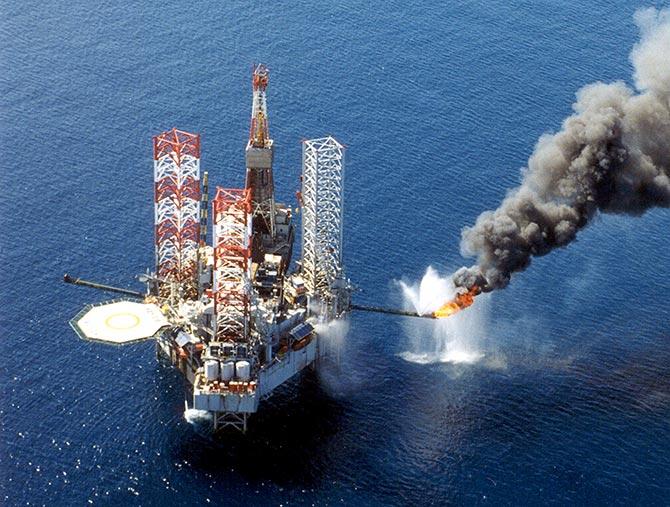 Photograph: Reuters
The twin tailwinds of low bond yields and cheap crude oil that were driving equity markets in India, despite lacklustre corporate earnings, are now receding.
Crude oil prices have more than doubled from the lows of 2016 pushing up India's import bill and raising fears of a higher current account and fiscal deficit.
A persistently higher deficit translates into a weaker rupee and higher consumer inflation.
Bulls are also facing the heat from a steady rise in bond yields both in India as well as in the US.
As a result, the additional earnings potential on equity investment becomes lower, compared with investments in debt.
Experts say that corporate earnings yields should be higher than bond yields to compensate for the risk associated with equity investments.
But the two are moving in opposite direction right now, reducing the financial incentive for further equity investments.
The earnings yield for a broad portfolio of 340 BSE 500 index companies is down 120 basis points (bps) in the last 12 months, while the yield on 10-year government bonds is up 100 bps and 16 bps in India and the US, respectively.
As a result, the current spread of earnings yield over bond yield is the lowest in a decade.
The current rally started when bond yields and commodity prices began to decline from their record highs in 2013.
For instance, earnings yield for the BSE500 companies was around seven per cent in 2013, just a notch below treasury yield in India and nearly three times the treasury yield in the US.
This provided a big potential upside to investors factoring in the potential rise in corporate earnings.
Earnings yield is calculated by dividing a company's latest trailing 12-months (TTM) net profit by its market capitalisation and shows the potential yield for an investor if the company distributes its entire annual profits as equity dividends.
Earnings yield has fallen to a decade low due to a combination of poor earnings growth and higher stock prices.
The BSE 500 firms' combined net profit (on TTM basis) is up two per cent in last one year against a 35 per cent rally in stock prices.
"Lower energy prices and benign liquidity (read low interest rates) provided a bonanza to the Indian economy," says Dhananjay Sinha, head of research, Emkay Global Financial Services.
"While the former lowered our imports, boosted corporate margins," Sinha points out, "the latter supported capital inflows. Now these twin tailwinds are receding and it will weigh on equity prices unless corporate earnings pick up strongly from here on."
According to an estimate by Business Standard, the BSE 500 companies saved Rs 15 trillion in the last five years on account of lower energy and commodity prices boosting their profits by 40 per cent during the period.
Nearly 80 per cent of these gains accrued in the last three years when oil prices began to decline in June 2014.
Even a partial roll-back of these gains would be negative for corporate earnings.
At the macro-level, lower crude oil prices provided a revenue bonanza to the central government and sharply cut India's current account deficit.
The country's current account deficit improved from a record low of 6.5 per cent of gross domestic product in September 2012 to 0.1 per cent of gross domestic product in March 2016 quarter.
This helped the rupee-dollar exchange rate to stabilise as also aided capital inflows into the country.
"The speed of the tailwinds was the strongest in early 2016 and it's largely gone now," says G Chokkalingam, founder and managing director, Equinomics Research & Advisory.
"Global growth is on an upswing, which provides further impetus to commodity prices that will translate into greater import bill and higher input cost for corporate houses."