The government's stated vision is that it wants to make India a manufacturing hub and that is where such a rush or confusing policies don't help, reports Shubhomoy Sikdar.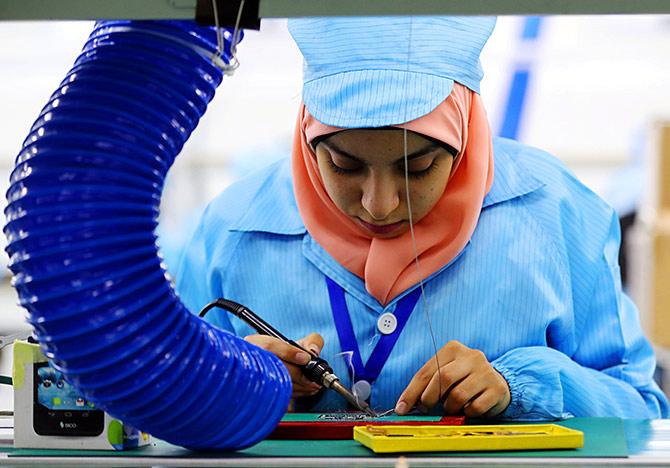 Moving ahead with its ambitious phased manufacturing programme (PMP), the government has hiked the import duty on some key mobile components from February 1, two months ahead of the scheduled date.
Amid speculation about the government reconsidering its stand, handset manufacturers will now find themselves paying more for importing display assembly, touch panels, cover glass assembly, vibrator motors and ringers.
Experts say that even going back to the original cut-off date of April 1 or reconsidering a lowering of the duty would not help in the long run.
This, they say, is primarily because there are no quick fixes and not enough has been done for the PMP beyond duty measures.
The imbroglio will have serious long-term implications.
Himanshu Bhatia, partner, PricewaterhouseCoopers, weighs in: "It is now somewhat proven that merely by increasing duty, one cannot create an ecosystem conducive for manufacturing.
"To create that, the central and the state governments needed to put in a lot of effort which hasn't happened."
To explain how the lack of an ecosystem creates problem, Bhatia uses the example of printed circuit boards (PCBs).
"Early last year, the duties on PCBs were increased in India when no one had the technology to mount PCBs here.
"Now for PCB mounting, the environment should be absolutely dust-free.
"To create that, you not only need heavy investments but also ensure that others, too, use the facility to recover costs and make it more viable," he says.
According to Bhatia, a company like Samsung can still afford to do that but a smaller player like Itel, which sells its feature phones for Rs 800 per unit, it is not viable to start mounting PCBs here.
The government's stated vision is that it wants to make India a manufacturing hub and that is where such a rush or confusing policies don't help, say Bhatia and Navkendar Singh, research director, client devices and imaging printing document solutions, IDC India.
"Many of these handset players have been trying to negotiate for land or other facilities but all these take time.
"If companies are looking at a long-term picture, they have to plan it in a manner that they can also move some of the high-end technologies or the research and development (R&D) work to India.
"It's not as if a company can just put a factory and start manufacturing.
"So, for the industry, which was hoping that it will be delayed by a year, the duties have come not two months, but 13-14 months, in advance," says Bhatia.
While the manufacturers Business Standard approached were not available to participate in the story, media reports suggest South Korean electronics giant Samsung has written to the government urging postponement of the new duties under the PMP by at least one year.
The company also says that it will temporarily stop local production of flagship Galaxy S9 and Note 9 and import them.
Singh adds that some players even fear that even this move is susceptible to change, especially in an election year.
"In July last year, Samsung had set up the biggest mobile manufacturing factory in the world here and now they might stop manufacturing here if it's not sustainable.
"That itself is confusing for Huawei, Apple or Foxcon.
"What is the assurance that the policies won't change in another six months or one year?
"Duty concessions are not enough to create an ecosystem -- a tax holiday for five years doesn't mean that the next government won't tax them retrospectively," he adds.
Importing finished products instead of assembling components here, too, will attract additional duties which will ultimately be passed on to the consumer.
What does it mean for the market which expanded by 10 per cent last year and accounted for 44 per cent share of the total mobile phone volumes (over 330 million units) shipped in 2018?
Saloni Roy, senior director, Deloitte India, predicts that passing on costs will have an adverse impact on market share but Singh and Bhatia don't see the demand slowing down.
However, they fear that global smartphone manufacturers might seriously consider shifting focus on other markets.
"Even feature phones comprise a substantial market but those on the cusp of jumping on to the smartphone bandwagon may be deterred by even a slight increase in costs.
"That, in turn, will hamper the cellphone revolution we want to bring where ideally everyone should have a smartphone and access to data," says Bhatia.
"Five years back, 50 per cent of the market was buying phones which cost less than $100 and now 55-60 per cent of the market is buying phones worth $100-200.
"So it can absorb a price rise.
"But we should have aimed at a system so robust that the economies of scale brings the cost of production down and there are phones available at $25 so that another 500 million can have smartphones," says Singh.
Despite consistent demand, if the companies stop assembling all of a sudden and wait for products to be assembled and imported from a destination like Vietnam, it can potentially create a supply gap, opine the experts.
They add that it remains to be seen if the existing infrastructure in that country will suffice to fill the short-term gap thus created.
The companies themselves don't stand to lose much at this stage according to Bhatia who says that the investments so far have been into assembling but adds it will discourage more players from coming.
The only way forward, say experts, is that government should encourage manufacturers by providing land clearances, early licences, promoting not only the handset companies but also their original equipment manufacturers, suppliers and other players who players who comprise the infrastructural ecosystem.