PVR Cinemas is in the process of building one at the Jio Center in Bandra Kurla Complex. This theatre will be on the top of the mall and should be able to accommodate 300 cars, and is expected to open sometime in January or February, 2021.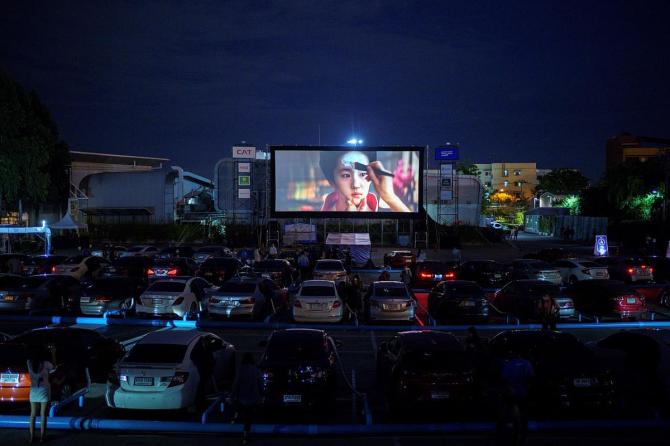 Disrupted by lockdowns, multiplex theatres have been hit hardest with no business whatsoever.
The cinema trade, largely in malls and standalone facilities geared for housing hundreds of people, is anathema to social distancing, and there is no possible alternative as in the case of hotels, which offer staycations and take-out dining, to keep revenue trickling in.
There's a sense that authorities may allow operators to start screening films post-September, around the time that big-budget films such as the Salman Khan-starrer Radhe, Sooryavanshi with Akshay Kumar are slated for release. But, with restrictions on seating.
"A seating occupancy of less than 50 per cent would make it unviable for the exhibition industry to open," says Ajay Bijli, founder and promoter of PVR Cinemas, which has close to 30 per cent market share of the organised screen business.
PVR is the largest film exhibition company in India, and operates 845 screens at 176 properties in 71 cities (India and Sri Lanka), and sells around 100 million tickets a year.
Other large players include Inox and Cinepolis.
Bijli points out that the seating capacity of 30 or 40 per cent, which has been bandied about in industry circles, would be too low a threshold.
"Certain aspects of chequered seating needs to be reconsidered.
"For instance, it would be unreasonable to make a family of four living together to sit in over seven seats," he adds.
In a bid to cope with the current distress, PVR Cinemas issued a special rights offer that was oversubscribed and recently raised Rs 300 crore.
The company, which had debt of around Rs 780 crore as of FY 2020 (on revenues of Rs 3,452.23 crore) will now be able to tide over initial monthly losses of about Rs 40 crore for the next 12 months, says Ankur Periwal, senior analyst-media sector, Axis Capital.
"What we are witnessing now is a blip in the long-term structure growth story because of the under penetration.
"The structural propensity to consume is on the uptick," he says.
India has some 9,500 cinema screens but only 35 per cent of those are in the multiplex format, as opposed to upwards of 75 per cent in developed markets. In the US, for instance, there are close to 40,000 big screens, he says, and most of them in the multiplex mode.
The pressure on the industry is weighing down on more than just PVR Cinemas.
According to a Covid-19 report by KPMG on entertainment and media, the highest impact has been on events, films and TV, medium impact on radio and animation, and lower impact on print, online gaming and OTT (over the top) platforms.
According to a letter by the Multiplex Association of India to the central government, the industry directly hires close to 200,000 employees, and salaries form a large chunk of the operating expenses in addition to rent and electricity.
A PVR spokesperson confirms that their rentals have been re-negotiated.
"Our development partners have extended deep discounts on occupancy costs post re-opening until the end of the financial year."
To bring viewers back, PVR will do away with the physical box office for ticket sales for the short term.
Tickets will be sold online.
It is also going to set up standard hygiene processes for visitors and employees and recently tied up with Reckitt Benckiser to use antiseptic sanitiser brand Dettol when it opens, and even have points of sale for safety gear, and mandate frequent deep cleaning everywhere on its premises.
Will drive-in theatres replace the multiplex?
"We are in the process of building one at the Jio Center in Bandra Kurla Complex where the Maker Maxity building used to be.
"This theatre will be on the top of the mall and should be able to accommodate 300 cars, and is expected to open sometime in January or February next year," says Bijli.
"Being a novelty, scaling up could have some challenges like the availability of infrastructure within the cities, violation of decibel-level in residential areas.
"Having said that, drive-in theatres cannot replace multiplexes."
According to consumer research by Kantar, the inclination to see films come to life on the big screen hasn't petered out.
About 61 per cent of respondents expressed a desire to frequently visit cinemas post-lockdown with the intent being higher among males and consumers younger than 25 years of age.
But beyond the obvious surge in OTT film consumption through online platforms like Amazon Prime Video, Netflix and Hotstar, the lion's share for production houses and entirely for distributors comes from selling films to multiplexes.
This means that at least in the short to middle term, the entire industry is hinged on the opening of theatres soon.
The trend extends globally as well, which is why international releases such as the latest James Bond movie are expected to be launched in theatres only in November this year.
KPMG's report states that the out-of home entertainment format will see risk aversion linger and until then, cash preservation, innovations in the delivery model and stronger analytics to pick the best content would be top priorities. However, don't discount the "pent up demand" among some sections of the population that could offer respite, it said.
After all, "there is no substitute to watching James Bond speeding in an Aston Martin, dodging whizzing bullets, saving the damsel in distress, throwing the anti-hero off the cliff on a 100-feet screen with a 12,000 watt sound system bringing it to life," adds Bijli.
Much like the title of the upcoming Bond film, the industry well understands that this is No Time to Die.
Image used for representation purpose.
Photograph: Athit Perawongmetha/Reuters