Stocks mutual funds had invested in had risen almost to pre-pandemic levels in March.
Sachin P Mampatta and Chirag Madia report.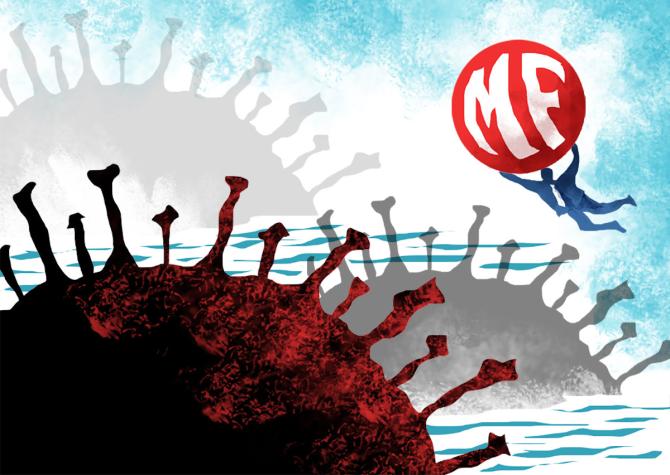 Mutual funds invested in fewer stocks as of March 2021 than they did a year ago, despite equity assets going up by a few trillion rupees.
There has been a rising trend after the number touched a 31-month low of 796 scrips in July 2020, show numbers from Prime Database.
The market recovery and decline in COVID-19 cases later saw that number rise again.
It touched 813 as of March 2021. This is almost at levels seen before the pandemic.
Interestingly, this is despite the value of these holdings by over 25 per cent from February, the month before the lockdown.
Mutual funds invested in more stocks in February 2020 when the value of their holdings was Rs 11.6 trillion, than in March 2021, when it has risen by over Rs 3 trillion to Rs 14.7 trillion.
In what could put a dampener for this rising number, experts believe that investors tend to become more conservative during periods of volatility or decline.
This can often prompt a shift towards stocks which can be bought and sold easier.
Many smaller companies have very few trades taking place.
This can make it more difficult for fund managers to find a buyer if they need to sell their shares.
"I would give more weightage to liquidity," said Deven Choksey, managing director, KR Choksey Investment Managers, about investing during uncertain times.
Choksey added that they haven't necessarily seen this trend play out just yet, even as COVID-19 cases crossed over 3 lakhs a day in India, the highest in the world.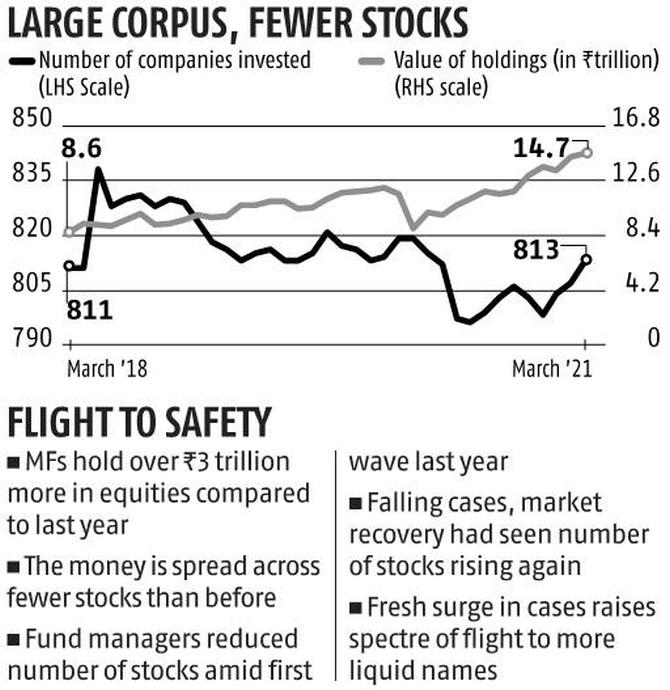 Union Asset Management Company chief investment officer Vinay Paharia said that new companies coming to the market through initial public offerings may have played a role in the rise.
There were 66 IPOs in the 12 months to March 2021.
They raised Rs 74,694 crore in all, show numbers from Prime.
This is the highest since the financial year ended March 2018.
"Also, when there is volatility in markets, good quality companies which were trading at expensive valuations may have seen (a) correction in their stock prices and mutual funds... would have bought those businesses which could lead to an increase in number of stocks," he said.
The number of stocks that mutual funds have exposure to have been rising over the years as well.
They were as few as 732 as of June 2016. The total value of mutual fund holdings in these stocks was Rs 4.3 trillion at the time.
This has increased significantly in the time since then.
Many stocks are too small to invest in, according to Choksey.
Fund houses often only invest in companies which have a minimum valuation of at least Rs 10,000 crore, he said.
The money is still flowing into funds which invest in small-cap companies.
The assets under management of such funds shows a 4.5 per cent increase to Rs 72,049.86 between February and March 2021, shows Prime data.
Feature Presentation: Rajesh Alva/Rediff.com