The Indian arm is the second largest unit for the company, crosses 500 mn trips milestone
Illustration: Uttam Ghosh/Rediff.com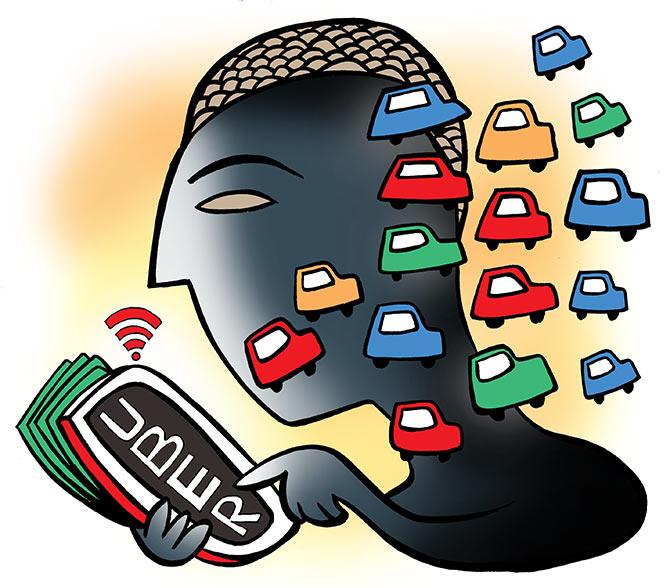 Ride-hailing behemoth Uber on Thursday said it plans to double its base of drivers in India to one million by 2018.
The commitment comes amid the turmoil the company's headquarters is going through, including for the search of a new chief executive to replace founder Travis Kalanick.
Uber's India arm, the second-largest unit for the company after it sold off its China business to rival Didi, announced on Thursday that it had crossed the milestone of 500 million trips.
The company said it was witnessing a strong growth in India, with its business growing by almost 250 per cent year-on-year as of June.
"Achieving new milestones and continuing our exponential growth journey is a reflection of a strong business we are building in India.
I'm humbled at the pace at which Uber has grown and the impact we continue to make to the lives of our riders, driver partners and the cities we operate in," Amit Jain, president at Uber India, said in a statement on Thursday.
Uber kicked off its India business in August 2013 with just three employees and serving riders only in Bengaluru.
Today, the company says it has a team of over 1,000 people who run its business across 29 cities and develop features specifically for its Indian users.
While Uber says it is the largest ride-hailing service in India, its local rival Ola refutes the claim.
Uber claims it has over 450,000 registered drivers and five million weekly active riders on its platform.
Its rival Ola claims it has over 650,000 drivers, but spread across cabs, bikes, autos and buses.
While Uber talks of healthy double-digit growth of its service in India, a report by consulting firm RedSeer has recently pointed out that country's ride-hailing market shrunk by five per cent in the first quarter of 2017.
Moreover, the drop in incentives being paid to drivers on Uber and Ola has led to a sizeable drop of available drivers on both platforms.
This has, however, not deterred driver unions. In Bengaluru, a group of 25,000 drivers, roughly a quarter of all partners attached to the two ride-hailing services in the city, have built an app of their own, with the backing of local political party Janta Dal (Secular).
The driver union's ride-hailing app in Bengaluru has said it would fix fares for rides starting at around Rs 12 per kilometer.
At that fare, they could end up undercutting the cost of Uber and Ola, which charge a rough average of Rs 15 per kilometer for a private cab.
Even the Indian government is now looking to enter the space.
Union Minister for Road Transport and Highways Nitin Gadkari had recently said that the government was looking to build its own ride-hailing app.
The feasibility of such services to rival Uber and Ola is questionable. It is largely being looked at as a way to gain political favour with the large bank of cab drivers in the country.
One of the indicators that people aren't willing to pay higher fares comes from Uber itself.
The company claims that 25 per cent of all rides taken on its platform come from UberPOOL, its ride-sharing service that offers passengers trips at around half of what it would cost to book a private cab on its platform.