Says process to bring focus at Infy on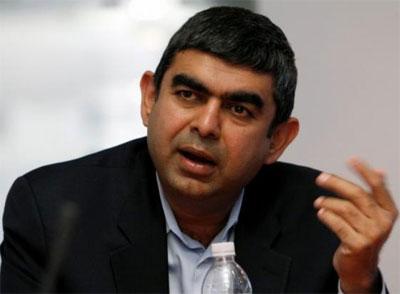 Vishal Sikka, the chief executive and managing director of India's second-largest information technology services company Infosys, was in a Lufthansa flight heading back to India to attend the company's 34th annual general meeting (AGM), when the whole world was celebrating the first International Yoga Day.
The ace technocrat, known for his oratorical skill and craving for teaching, wrote a blog on how the company is on 'yoga' to bring focus and purpose back with various initiatives, especially one called 'Zero Distance' (ZD) that is aimed at bringing innovation to every ongoing project.
"It is International Yoga Day today (Sunday), and as the PM has so eloquently stated, a great way for us to look after our health and well-being, and to bring a focus and purpose, a 'yog', to our endeavours," wrote Sikka in the blog, which was posted on the company's portal late in the night while he was still travelling in the Boeing 747-8. "The latest incarnation of the magnificent plane that was born around the same time I was, and has evolved through these decades in a timeless manner."
The groundwork for the ZD initiative started at the beginning of this year when Sikka himself along with a few key senior executives started working with a handful of projects for a few weeks. Out of this, they came out with a five-point pattern that could bring fundamental improvement to the (clients') projects. The company further rolled out this template to around 1,000 projects and gradually to all projects.
"This ZD initiative has become something of a movement in the meantime. Projects covering more than 68,000 delivery colleagues at Infosys (not including BPO, consulting and products/platform teams), that is more than 70 per cent of our delivery strength, are participating and more than 500 client conversations relating to the improvements and innovations in their projects have already happened!" he wrote.
"And we are already starting to receive initial positive client feedback. Just in the last three weeks, several clients have told me about signs of change in the way projects are being delivered and rethought."
Since assuming charge last year, Sikka, a former chief technology officer and executive board member at German enterprise software maker SAP, has introduced several initiatives apart from re-architecting the strategy with major focus on 'renew' and 'new'. The dual strategy, as he says, is about renewing the existing and ongoing works with better operational excellence, automation, and innovation while at the same time focusing on newer things that was not done earlier.
At the same time, he also revamped the culture within the organisation by doing away with policies that were considered bottlenecks on the path to employee productivity.
"Renew+New applies to us all. Its foundation, our culture, applies to us all... As I look into the future, this strategy will help us innovate in and improve everything we do, and will augment that with new things we never did. But this strategy is fundamentally about people."
As Sikka is set to attend the company's AGM on Monday, he said, he would miss his mentor K V Kamath, the former chairman who was a key influencer in the former's joining Infosys. Kamath recently resigned from Infosys' board after his selection to head the New Development Bank of BRICS as its first president. "...As happy as I am to see him lead this great new institution for humanity, I will really miss him," he said.