The narrowing gap between petrol and diesel prices, an uncertainty around the future treatment of vehicles and low resale price of diesel cars are some of the apparent reasons for the strategy shift.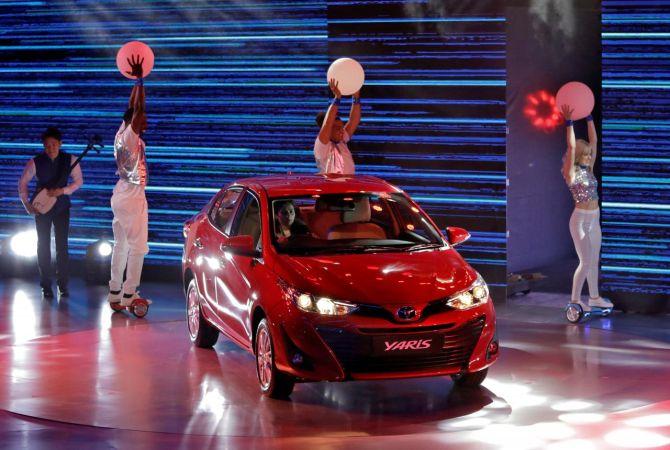 Japanese automobile maker Toyota is making a shift to a petrol-only strategy for its non-SUV future vehicles in India.
The Yaris sedan, to be launched next, will have a petrol-only option.
This marks a shift from Toyota's earlier approach where it rolled out both diesel and petrol variants for smaller cars like the Etios sedan and Liva hatchback.
"We have been monitoring this segment for some time. In the past three years, there has been a rise in sales of petrol variants.
"Traditionally, customers like a diesel engine on bigger vehicles like SUV, MPV, as higher torque is required to enjoy and handle bigger cars," said N Raja, deputy managing director, Toyota Kirloskar Motor, Indian arm of Toyota.
Indians have shown an increasing preference for petrol cars and the share of diesel in new car sales has fallen to 23 per cent from almost 50 per cent in 2012-13.
The narrowing gap between petrol and diesel prices, an uncertainty around the future treatment and low resale price of diesel cars are some reasons for the shift.
In case of SUVs, the bulk of the sales come from diesel variants.
The Yaris does not have a diesel option globally but the company would have considered one for India had the demand for diesel cars been strong enough.
Toyota has made investments of Rs 1,100 crore in a local diesel engine manufacturing unit that can produce more than 100,000 engines a year.
This unit was inaugurated in June 2016.
"We will evaluate diesel options in Yaris on the basis of changing customer needs and favourable policy," said Raja.
Diesel engine technology has been at the receiving end of bans from policy-makers and courts.
A ban on sales of diesel vehicles (2,000cc and above) in the national capital region, imposed by the Supreme Court in December 2015, had negatively impacted Toyota more than any other auto maker.
The ban, which hit sales of its best-sellers Innova and Fortuner, was lifted in August 2016 after a 1 per cent cess was imposed.
While the price advantage in diesel has waned to a great extent, a bigger challenge for diesel cars is expected after April 2020, when Bharat Stage-VI emission norms kick in.
Raja said that the price of diesel engines would see a substantially bigger increase compared to petrol engines and the share of petrol engines was expected to rise further.
In the past few years, Toyota has seen demand for its petrol Corolla sedan moving up from 75 per cent to 89 per cent.
The Liva hatchback has also seen a surge in demand for petrol variants.
It is only in the Etios compact sedan that diesel demand has remained firm due to higher purchases from the taxi segment.
The company is creating awareness about clean hybrid technology.
"The government's move to extend FAME Scheme will help to boost the demand for strong hybrids, encouraging faster adoption of environment-friendly vehicles," said Raja.
Photograph: Saumya Khandelwal/Reuters.