Is there more than meets the eye to Kitex Garments, the world's second-largest children's garment producer, abandoning Kerala for Telangana?
Shine Jacob finds out.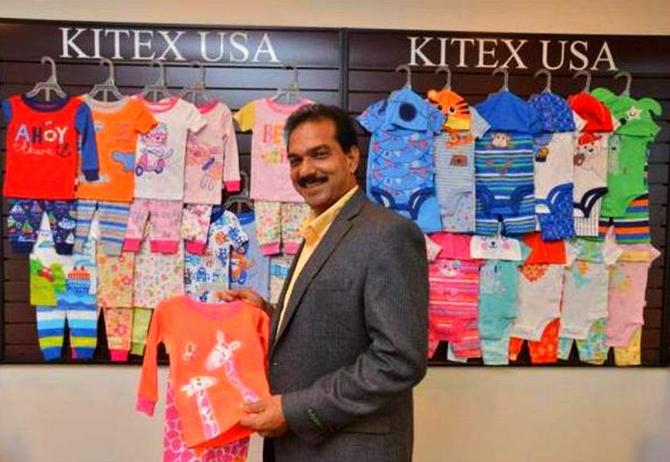 On July 9, 2021, an aircraft chartered by the Telangana government took off from Kochi airport for Hyderabad with a disgruntled Keralite industrialist on board.
This was Sabu M Jacob, promoter and managing director of Kitex Garments, the world's second-largest children's garment producer.
Days before, he had announced that he was moving his planned Rs 3,500-crore (Rs 35 billion) investment from Kerala.
Jacob said his decision to shift Kitex's new project was prompted by a 'witch-hunt' by the Pinarayi Vijayan government.
Kitex Garments' clients include global majors such as Gerber, Carter's, Walmart, Amazon, Target, The Children's Place and it had planned investments in apparel and industrial parks in the state.
But Jacob changed his mind following a series of 11 raids and inspections by government departments -- labour, health, factory and boilers, pollution control -- besides the police and the collector, within a span of one month in June. The state levelled 73 charges against the company.
Soon after Jacob's announcement, Tamil Nadu, Karnataka, Telangana, Andhra Pradesh, Gujarat, Uttar Pradesh, Madhya Pradesh and Odisha reached out.
But Telangana rolled out the red carpet the quickest and on June 9 evening, the state government announced that Kitex would invest Rs 1,000 crore (Rs 10 billion) in the first phase to establish a textile factory at the Kakatiya Mega Textile Park in Warangal.
Other states have benefited, too. Instead of setting up a single unit in Kerala, Kitex is in talks to split the investments between Telangana, Andhra Pradesh and Tamil Nadu.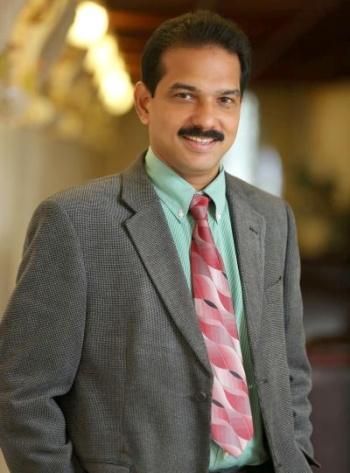 IMAGE: Sabu M Jacob, managing director, Kitex Garments


Photograph: Kind courtesy Sabu M Jacob
Kitex has a manufacturing unit in Kerala with a capacity of 432,000 units per day.
"In case of project cost, my entire expense will come down by 30 per cent, if I am invest in Telangana, Andhra Pradesh or Tamil Nadu," Jacob said.
In addition to a capital investment subsidy, Telangana will provide land at 50 per cent of the cost and offer 100 per cent exemption on state goods and services tax and 20 per cent salary reimbursement for 10 years.
"We needed 200 acres for the project. In Kerala the per-acre cost was around Rs 3.5 crore, (Rs 35 million) whereas in other states it is as low as Rs 15 lakh (Rs 1.5 million). Our land cost is halved straightaway," he added.
Kitex's ordeal has raised fresh doubts about Kerala as an investment destination.
Asked about the episode, Vijayan reiterated that Kerala is one of India's most investor-friendly states. But Kerala slipped to 28th spot in the ease of doing business ranking for 2019 (see chart).
Kerala's share of foreign direct investment in October 2019-March 2021 was as low as 0.32 per cent, keeping it at 15th spot nationally.
More than the business drama, there is a political side-story to the Kitex episode.
The company attracted attention in the 2015 Grama Panchayat elections, when Twenty 20, Kitex's corporate social responsibility wing, registered itself as a political party, the first example of its kind, and came to power in Kizhakkambalam in Ernakulam district, winning 17 out of 19 seats in the village council.
Other political parties said this development came months after allegations of pollution by Kitex Garments gathered momentum.
"I was trying to fulfil my father's dream of developing Kizhakkambalam as a model village and with this vision, Twenty 20 was started in 2012," Jacob countered.
In the 2020 panchayat elections, the party retained Kizhakkambalam, and stormed to power in three nearby panchayats of Aikkaranadu, Kunnathunad and Mazhuvannoor. This was when political parties started taking notice.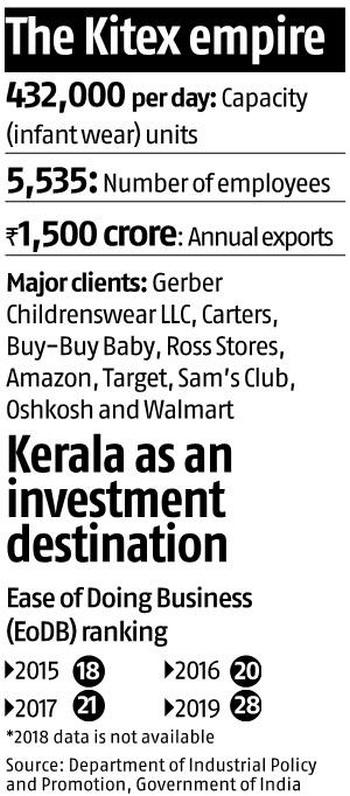 Though Twenty 20 did not win a single seat in the 2021 assembly polls, it came in third ahead of the BJP in Kunnathunad, Kothamangalam and Kochi.
In Kunnathunad it won 28 per cent of the votes, putting up a tough fight against the victorious CPI-M, which won 34 per cent votes, and the Congress with 32 per cent.
Many political analysts cite the rising prominence of Twenty 20 as a trigger for the raids that immediately followed.
The company even publicly named Kunnathunad MLA P V Sreenijan for conspiring against it.
Sreenijan told Business Standard, "My stand on the Kitex issue is in line with the government. Kerala is an investor-friendly state and there is no issue for anyone who wants to do business based on the law of the land." He found an ally in Mumbai-based Harsh Goenka.
Goenka's Harrisons Malayalam, an agri-business corporation, is Kerala's largest employer after the state government, providing jobs to over 13,000 people.
'We are the largest employers in Kerala. We find the local government very supportive,' Goenka tweeted, commenting on the series of events.
State industries minister P Rajeev said the inspections were conducted following directives from the National Human Rights Commission, Kerala high court and other departments based on complaints from employees and local representatives.
"We stand for responsible investment. The company's activities are totally against this concept," Rajeev said, in response to Jacob calling the industries department 'a frog in the well'.
Complaints against the firm included non-payment of minimum wages, violating environmental guidelines, unhygienic workers' housing and failure to follow the state's COVID-19 restrictions.
Kitex responded that it follows international guidelines for even waste treatment because it caters to the US market and pays higher than minimum wages for employees, in addition to free food.
The range of accusations has added another dimension to the controversy.
Before this, it was trade union activism that was responsible for Kerala's anti-investment image.
In 2018, this was why the world's largest spice extract firm, Synthite Industries, threatened to leave.
Later, it reduced its labour force at Kolenchery in Ernakulam from 800 to 500.
Muthoot Finance, too, had announced that it could close around 300 branches across the state in 2019 on this count.
"Now red-tapism by various departments is what is affecting industrialists," Jacob added.
The battle between the state government and the Adani Group for the operating rights of Trivandrum airport is another recent example of the issues industrialists face in Kerala.
Though the government is putting on a brave face, the Kitex episode, whatever the merits or demerits of the cases against it, will not help Vijayan's ambition to turn the state into an investment haven.
Feature Presentation: Rajesh Alva/Rediff.com