Digital-pay companies see 10x spurt in growth after demonetisation, report Ayan Pramanik and Shine Jacob/Business Standard from Bengaluru.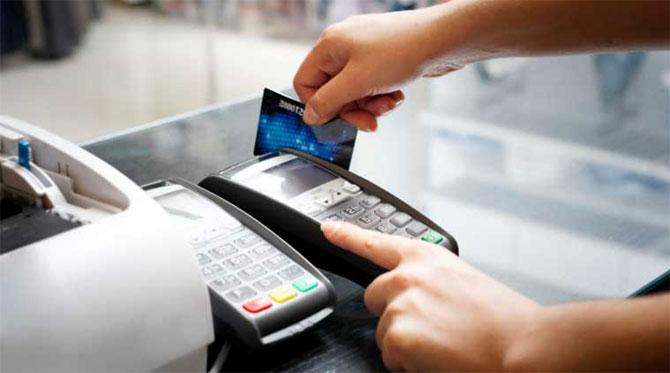 Image: While the US has 13.5 terminals for every 1,000 debit cards, India has only two terminals for the same number. Photograph: PTI Photo.

With the government pushing digital transactions after demonetisation, demand for point-of-sale devices is likely to grow 10 times. At least two digital payment service providers have witnessed stupendous growth in installations in the past one-and-a-half months.
Finance Minister Arun Jaitley recently said he would submit a notification to Parliament for tax reliefs against credit and debit card transactions of up to Rs 2,000.
Drivers of digital payment
PoS device demand increases 10 times in one month

NovoPay, digital payment service major, sees 5000-6000 installations, as against 500-600 in September

More retailers keen to go cash-less

Oil marketing companies need nearly double the PoS devices

Aadhaar-enabled payment too sees sharp rise
Estimates by the finance ministry suggest digital transactions will push the need for at least 1 million additional devices from the current 14 lakh that are already installed. Reportedly, of the total 1.4 million PoS devices available, 1.19 million devices are operated by banks.
NovoPay, one of the digital payment service providers for card-based and Aadhaar-enabled payments, said it witnessed 8-10 times growth in point-of-sale (PoS) requirement since the announcement of Prime Minister Narendra Modi's move to remove Rs 500 and Rs 1,000 notes as legal tender.
"We were installing 500-600 units a month before November, but now we're installing 5,000-6,000 units a month.
"I see a huge growth in installation of these electronic devices for both card-based and Aadhaar-based transactions since people are moving towards digital payment," said Srikanth Nadhamuni, chairman of NovoPay and former head of technology at Unique Identification Authority of India.
PayPal, another major digital payment service provider, said it witnessed growth in the number of retail merchants coming to them in the past month.
"We're seeing more retail merchants reaching out to us. Across offline, mobile-based or web-based transaction platforms, we'll do whatever it takes to support the government and minimise the consumer inconvenience," said Megha Thareja Tyagi, director (large merchant business), PayPal.
Queries sent to Verifone and Wirecard, two major PoS device makers, went answered.
Unlike the developed markets, India has a dearth of PoS devices. While the US has 13.5 terminals for every 1,000 debit cards, India has only two terminals for the same number of debit cards.
Interestingly, the industry has seen a shift in the behaviour of merchants over the past month. A lot of retailers -- both big and small -- who wanted to continue with cash-based transactions, are now keen to use digital payments systems.
Lack of cash in the hands of consumers has also prompted many small businesses to switch to mobile-based and PoS-based transactions.
"Because business is impacted, they realised that they have to open up more avenues. Some of them were not agreeing to accept international cards keeping in mind the fraud exposure. They have now understood the importance of keeping the business on," said Tyagi.
Apart from the requirement for card-based transactions, India has seen a significant growth in the number of devices for card less transactions as well. "Aadhaar-enabled payment systems are equally on the rise," Nadhamuni added.
However, the shortage of PoS supply continues to hinder the implementation of digital payment.
There were about 30,000 petrol pumps using PoS machines in the country, out of the total 52,604 outlets owned by public-sector undertakings such as Indian Oil Corporation (IOC), Hindustan Petroleum Corporation (HPCL) and Bharat Petroleum Corporation (BPCL) before November 8.
But, after the demonetisation announcement, the companies were quick to put cashless transaction system in place and sought about 25,000 additional machines from the banks.
"They are saying there is a shortage of POS machines. We wanted to have at least 40,000 machines by the end of December. While our demand is to install at least 500-600 machines a day, banks are able to install only about 200," said an official privy to the development.
Following the steps taken by Petroleum Minister Dharmendra Pradhan to speed up cashless transactions, the share of e-payments through petrol pumps has increased to 44 per cent, compared to a previous average share of 20 per cent before the demonetisation announcement.