The benchmark M-30 variety of sugar has declined by over 3 per cent in November to trade now at Rs 3,694 per quintal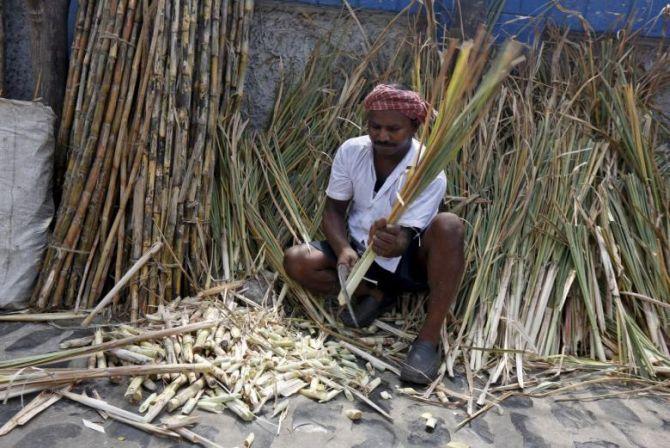 The government is considering removing stock limits on sugar to arrest falling prices after a bumper harvest.
Industry representatives met food ministry officials late last week to urge the government to remove the stock limits.
The rules now allow a dealer or trader in north and north-east India to store up to 1,000 tonnes of sugar and 500 tonnes elsewhere in the country.
The industry representative also sought removal of the 20 per cent export duty on sugar.
"The officials assured us they would take all measures to support the industry and avoid the accumulation of cane arrears.
"We expect the government to remove stock limits on sugar early next month," said a person who attended the meeting.
Private mills in Uttar Pradesh are selling sugar in distress to clear their cane arrears to farmers.
Crushing units in Maharashtra have sold their new season's output at low prices to meet their daily expenses.
The benchmark M-30 variety of sugar has declined by over 3 per cent in November to trade now at Rs 3,694 per quintal in the Vashi Agricultural Produce Market Committee wholesale market.
This price of sugar was last seen in June 2016.
A number of sugar mills in Maharashtra, especially in Solapur district, have quoted a price of Rs 3,275 a quintal.
Mills in western Maharashtra have committed to pay cane farmers Rs 200 above the fair and remunerative price of Rs 255 a quintal and their cost of producing sugar works out to Rs 3,500 a quintal.
The Indian Sugar Mills Association (ISMA) estimates the average cost of producing sugar in the 2017-18 season at Rs 3,300-3,350 a quintal.
Sugar mills in western Maharashtra are incurring losses of up to Rs 75 a quintal.
In Uttar Pradesh, sugar prices in the spot market are Rs 3,700-3,800 a quintal and ex-mill prices are around Rs 3,400 a quintal, slightly above the average cost of production.
"At this price, sugar mills in parts of Maharashtra will find it difficult to make money because of their commitment to pay farmers more than the FRP announced by the Centre," said Narendra Murkumbi, managing director, Shree Renuka Sugars.
Falling sugar prices are normal at the beginning of the crushing season but the situation this year is worrisome because of 4 million tonnes of carryover stocks from the last season and a bountiful 25.1 million tonne output in the current season.
Total sugar availability in India is expected to be 25 per cent surplus at 29.5 million tonnes against an annual projected consumption of 23.5 million tonnes.
Vijay Banka, wholetime director and chief financial officer of Dwarikesh Sugar Industries, said, "Sugar prices will receive some support with the removal of stock limits."
"At present, sugar demand matches supply. There is no reason for its price to fall. Prices will stabilise at Rs 3,200 a quintal.
"Once bulk consumers start purchasing with the removal of stock limits, sugar prices will turn around, probably towards the end of January," said Sanjiv Babar, managing director, Maharashtra State Federation of Co-operative Sugar Factories.
Photograph: Rupak De Chowdhuri/Reuters