Lawyers of Robert Vadra and Skylight say several facts about his firm's Manesar land deal were not presented before principal accountant general for political reasons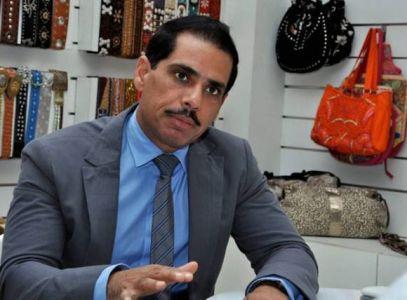 Real estate entrepreneur and Congress President Sonia Gandhi's son-in-law Robert Vadra on Monday slammed the Bharatiya Janata Party-led Haryana government for manipulating the outcome of the report of the government auditor by deliberately not answering the audit queries.
Denying a PTI report on the Haryana principal accountant general report tabled in the state Assembly this week, a statement by Vadra's lawyers said the PAG report was an ex parte one and that the 'BJP government of Haryana refused to reply to multiple notices/letters written by PAG purely for politically motivated reasons.'
They reiterated that their client neither sought nor received any undue favours from the then Congress government in Haryana.
The statement quoted the PAG report which said -- 'Replies of the government have also been received (except paragraph 2.3.10.1)'.
The present BJP government of Haryana chose not to reply or bring on record the incontrovertible facts and statutory provisions (which would have rebutted every finding of PAG), leading to finalisation of interim preliminary objections of PAG, Vadra's lawyers added.
According to them, this fact has also been admitted by the additional chief secretary, town & country planning, Haryana, on Wednesday, who stated that the government of Haryana has now prepared a reply, which it will be submitting to PAG.
"Once an ex parte report of PAG is already submitted to the legislature, filing of a reply to the objections raised by the PAG by the state government is itself meaningless and reflective of patent malafides and mal-intention on its part," the statement said.
It further argued that the PAG report has neither indicted the previous government of Haryana nor Skylight Hospitality or Robert Vadra for any violation of the Haryana Development and Regulation of Urban Areas Act, 1975, or any other rule or policy.
"There is no such finding of wrongdoing as is being sought to be alleged and projected unfairly and incorrectly. The PAG report, at best, refers to the need for improvement of mechanism and processes."
It alleged that the government did not file a reply to the PAG queries, despite approved replies being available for each of these on the government file.
The lawyers also gave detailed responses to specific issues raised in the PAG such as non-deposit of profit beyond 15 per cent earned from sale of land by Skylight Hospitality, whether any distinction was made or preference given for Skylight Hospitality, development plan, financial adequacy of Skylight and the land ceiling provisions.
On the first issue, Vadra's argument was that the condition of deposit of profit beyond 15 per cent applies only to 'completed projects'.
"It certainly does not apply to ongoing projects which are permitted to be sold/transferred" quoting the relevant laws.
As Skylight Hospitality had sold/transferred its licence for 2.7 acre of land before completing the project, this condition did not apply at all.
Hence, no law, rule or policy was violated by previous Congress government, Vadra's lawyers said.
Skylight owned 3.53 acres in Village Shikohpur, district Gurgaon, Haryana. Of this, 0.83 acres fell in residential zone leaving a total of 2.70 acre balance land (3.53-0.83 = 2.70).
The Department of Town & Country Planning, Haryana, put a conditionality that for construction of an internal circulation plan road, Skylight will leave 1.35 acres free of cost, would construct and maintain this road and finally hand it over to the government free of cost.
In the policy followed in all cases by the department, this area to be left free of cost is counted 100 per cent within the licenced area of the developer.
Hence, Skylight was given licence for 2.70 acres and paid the licence fee as also External Developmental Charges on the entire 2.70 acre.
This was done in accordance with Section 3 of the Act of 1975, read with Rule 12 of the Rules of 1976 and the existing policy.
According to the developmental plan of Gurgaon-Manesar 2021, 50 per cent of the commercial zone area could be considered for grant of commercial licence to private parties.
Further, Vadra argued that the consolidation provisions was under the East Punjab Holdings (consolidation and prevention of fragmentation) Act, 1948, because the land bought by Skylight had been notified as part of a commercial zone in February 2007.
Once it ceased to be agricultural land, the provisions of 1948 Act did not apply, he argued, and added that these facts were never put before the PAG by the government.
Image: Robert Vadra; Photograph: Reuters