NRI demand would help offset the liquidity problem, which is presently affecting realty sales.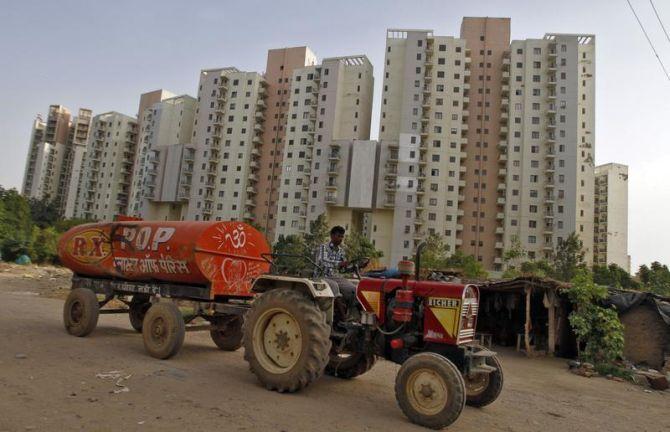 The sharp fall in the rupee's value against the US dollar since the beginning of this year has generated interest among non-resident Indians (NRIs) to buy property in the country.
Sector experts say the total value of investment by NRIs in the first eight months of this financial year has already exceeded the total for 2017-18.
"These investments in Indian real estate have touched more than $10 billion (Rs 73,000 crore) so far in this fiscal year (FY19), up from $8.9 billion invested in FY18.
"Depreciation in the rupee and low property prices have led to this," said Surendra Hiranandani, chairman of the House of Hiranandani realty major.
He feels investments by NRIs could reach 15 per cent of the total inventory by the end of 2018-19, from the eight to 10 per cent seen in previous years.
The rupee is now at 72.5 to a dollar, from 63 in January. This apart, clarity in regulations after implementation of the Real Estate (Regulation and Development) Act and a stable pricing environment in the segment have attracted NRIs.
A survey by realty consultants ANAROCK shows 78 per cent of NRI respondents indicated they prefer owning a property in this country, over other asset classes like stocks, fixed deposits or mutual funds.
Experts also point to the uncertainty in visa and residency rules under the Trump administration as another reason for higher interest among NRIs living in the US for buying property back home.
"Due to the uncertainty of residency regulations in the US, many NRIs have had to scrap their long-term plans (there).
"This is acting as an additional incentive for them to buy property in India," said Anuj Puri, chairman at ANAROCK.
On the demand side, realtors say the housing segment is seeing more demand from NRIs than office space.
The bigger ticket size in commercial real estate is making it difficult for many non-residents to invest in the latter.
This trend had already been reflected in some realtor sales numbers.
For instance, Bengaluru-headquartered Century Real Estate, which predominantly works in the housing space, saw 15-20 per cent of its inventory sold to non-residents since January.
"Until last year, NRIs were mostly interested in investing in Delhi and the National Capital Region. Pune and Bengaluru have (since) emerged as preferred destinations for investment," said Ravindra Pai, managing director at Century.
Experts say the NRI demand would help offset the liquidity problem, which is presently affecting realty sales.
Photograph: Reuters