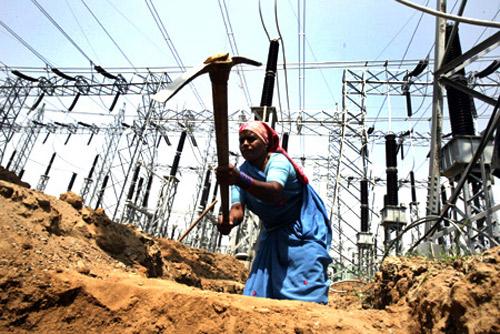 Growing demand unlikely to benefit generators much because of low offtake from state electricity boards
Moody's said on Thursday its outlook for the Indian power sector remained negative with industry facing persistent challenges, including high fuel supply risk, cost overruns at plants operated by independent power producers, and the limited capacity to pay on the part of financially weak distribution utilities.
Further, Moody's in its report said power generators were unlikely to benefit meaningfully from growing electricity demand in the country.
This is because despite the increasing levels of domestic coal production, their capacity utilisation rates will likely be limited by the financial weakness of off-takers (state electricity boards), constraining the off-take electricity demand.
According to the report, some IPPs are also locked into power purchase agreements that have become unviable, because they do not allow the high costs of imported fuel to be passed through.
Many IPPs will exhibit weak liquidity profiles, mainly because of their high exposure to off-taker risk and fuel shortages.
"In 2014, the Reserve Bank of India approved amortisation periods of up to 25 years for new and existing loans to infrastructure projects.
"The central bank's move will provide cash flow relief for power projects with unviable PPAs, by reducing debt service obligations, at least in the early stages of the projects.
"However, the long-term viability of the IPPs remains uncertain, without timely tariff compensation," Moody's noted.
Low commodity prices will benefit IPPs by making power more affordable for off-takers, but the off takers' weak financial profiles pose a risk to timely payments to IPPs under PPAs, Moody's said.
Coal-based power generators will eventually carry additional environmental risk arising from concerns over the future availability of ground and river water for power generation.
Moody's expects these generators to see a gradual increase in capex to secure water, to avoid a decline in capacity utilisation rates.
BLEAK PROSPECTS
The power industry is facing persistent challenges, including high fuel supply risk, cost overruns at plants operated by independent power producers
Some IPPs are also locked into power purchase agreements that have become unviable, says the report
Many IPPs will exhibit weak liquidity profiles because of their high exposure to off-taker risk and fuel shortages
Image: A labourer at work. Photograph: Reuters
The image is used for representational purpose only