Govt's focus is on pushing local production rather than becoming a global hub for the world, which are two different things.
Surajeet Das Gupta reports.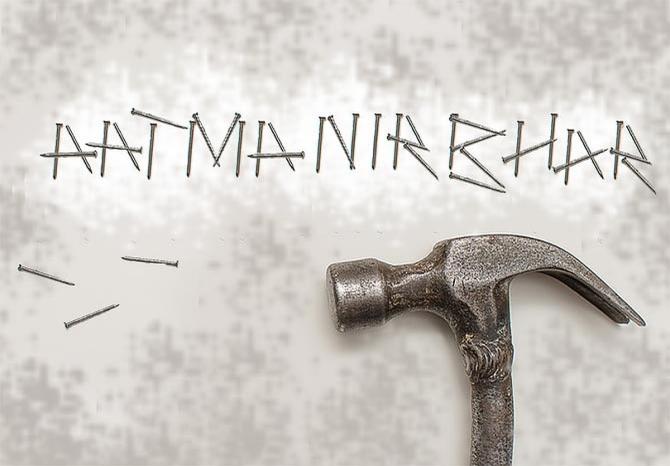 Recently, Prime Minister Narendra Modi met over 40 CEOs across broad swathes of industry, ranging from makers of mobile devices, auto components, food products to telecom networking equipment and pharmaceuticals.
The agenda: To discuss how to make India an integral part of the global supply chain.
The focus of the discussion would be the much touted yet not so well understood production-linked incentive scheme (PLI), the centrepiece of the government's drive to massively boost the manufacturing sector.
To do so, the government has created a war chest of over Rs 197,000 crore to be paid out as incentives to over 14 industries in five years.
There are three objectives to the scheme, two explicitly stated, one implied.
The first is to enhance India's domestic manufacturing capabilities under the Atmanirbhar (or self-reliance) label.
The second is to transform the country into a global export hub, building on the opportunity created by multinationals seeking to hedge their dependence on China.
The third and less explicitly stated goal is to increase domestic value addition in these sectors, so that the burgeoning import bill is reduced.
The goal is to become net foreign exchange-surplus in these sectors.
But can the PLI scheme achieve these multiple objectives?
A global player such as Apple Inc is betting big on the scheme.
Some 10 per cent of its production capacity is likely to shift to India through its Electronic Manufacturing Service or EMS partners, Pegatron, Foxconn and Wistron, which have been selected under the PLI programme.
Others are sceptical, suggesting that PLI is, at best, an import substitution programme under a new label and its ambitious value addition and export targets are fundamentally unachievable.
PLI is a successor of sorts to the underwhelming Merchandise Export from India Scheme, which was wound up in December 2020 because of its transgressions of World Trade Organisation rules.
To ensure that PLI does not meet the same fate, the only mandatory eligibility requirement is to commit to incremental investment and sales of manufactured goods over five years.
Companies have to submit figures on exports for each year as well as their value addition plans, but failure to achieve these targets does not carry any penalty.
The uncertainty lies in the fact that this data will be "monitored" by a committee of secretaries that is empowered to make changes to targets and incentives.
So far, details of incentives have been notified for six of the 14 sectors under the scheme (see table).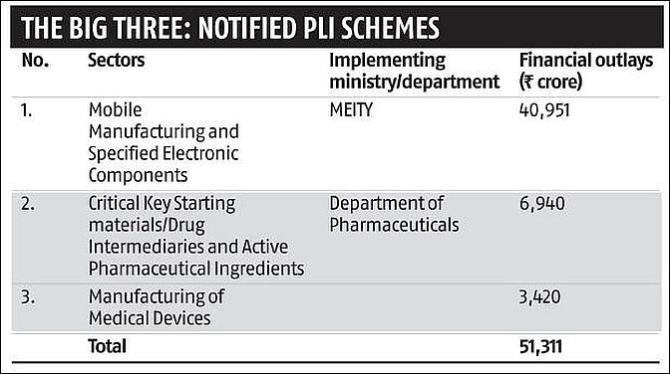 Three classes of manufacturers under the first sector offer an idea of the anomalies in the scheme — telecom equipment, laptops and mobile devices.
For telecom equipment, the government says it is targeting incremental sales of Rs 2.4 trillion in four years, but expects 80 per cent of these sales to be earmarked for exports.
The scheme has not spelt out the level of value addition, but based on talk with stakeholders the "expectation" is that it should be around 25 per cent.
Consider these requirements against the current position.
India buys $10 billion worth of telecom equipment annually, of which only a third is made in India, and even in that domestic production has a value addition of just 10-15 per cent.
And the total value of exports of the PLI-linked telecom gear is Rs 5,000 crore.
"A 20-fold increase in exports in five years is not possible, unless there is some magical large investment being planned by someone for exports, which we do not know.
"Also, the mandatory minimum investment you need to make for all players together is Rs 600 crore only to get PLI," said a senior executive of a global telecom equipment maker.
The government expects investments to be five times the mandatory requirement.
And the PLI incentive is capped at twenty times their total incremental investment.
However, telecom equipment mak­ers suggest that the focus is on pushing local production rather than becoming a global hub for the world, which are two different things.
If the government has announced a high export target, he added, it is merely to push companies under the PLI scheme to become foreign exchange-neutral, with imports of components being balanced by exports of finished products — even though the value addition "expectation" is not so high.
A 10 per cent increase in value addition will help the government save around Rs 24,000 crore on the import bill.
It is no rocket science to understand that an increase in the value of local production will reduce the import bill.
But it is unclear how this will work in practice when the latest Budget imposed higher duties on a range of components as a result of which the cost of end-user equipment such as radios, microwaves and basebands have gone up by 5 to 6 per cent.
On the other hand, the government has made imports of these products through countries with which India has signed Free Trade Agreements (FTAs), such as Vietnam, more attractive.
Simply put, that means that for many of the key finished products the advantage of the incentive scheme has been neutralised.
"Many telecom gear makers are rethin­k­ing whether to make them in India at all or import them from countries like Vie­tnam through FTAs and pay zero duty," said a senior executive of a telecom gear maker.
As for exports, many global telecom gear makers have already made moves to shift some capacity from China.
Samsung has gone to Vietnam and Ericsson is building up a large plant in the US to cater to the local market. India has the potential still to cater to markets such as Southeast Asia, Africa or even Australia.
To do so, the country needs a component ecosystem given that 70 per cent of these inputs are imported from China.
"But Chinese component players will only come in India if the volumes are big enough and they are given incentives (such as a PLI scheme) to counter the higher costs of manufacturing in India so that they can export globally as well as supply for the Indian market.
"Without resolving these two, we don't think the targets can be achieved," a senior executive with a European gear maker pointed out.
Others have suggested that a certain portion of the PLI scheme should be carved out to provide incentives to component makers.