Shrinking inflows and surging outflows on account of profit-booking has curtailed mutual fund (MF) investments in equities since April.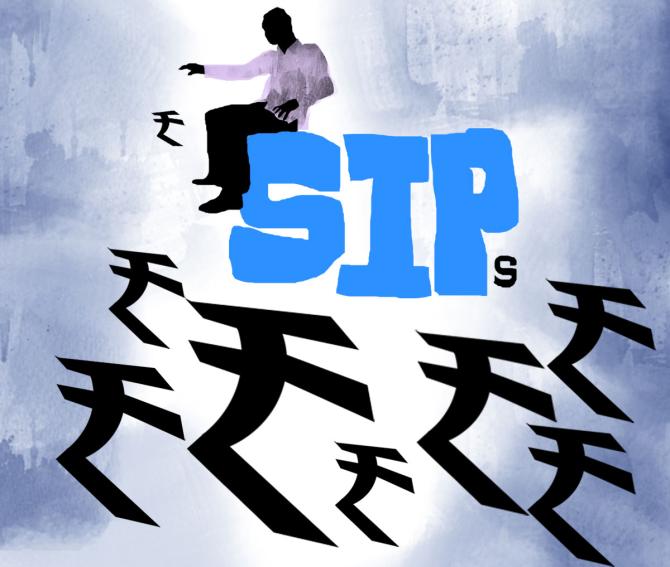 The total investments made by equity MFs during the first three months of 2023-24 stands at just Rs 2,980 crore, compared with an average monthly investment of Rs 14,500 crore in 2022-23, reveals data from the Securities and Exchange Board of India.
"We are seeing signs of moderation in non-systematic investment plan (SIP) contribution, which has impacted domestic fund inflows in recent months to some extent," says Kunal Vora, head-India equity research, BNP Paribas.
The net inflows into actively-managed equity schemes have been dwindling in recent months, even as inflows through the SIP route have remained strong.
In May, net inflows had dropped to a six-month low of Rs 3,240 crore on account of 20-month high redemptions of Rs 27,569 crore.
In April, weaker gross inflows had pulled down net collections of MFs.
Valuation concerns have also been a factor in low deployment of funds by MFs.
As of end-May 2023, four of the top 10 fund houses were sitting on over 6 per cent cash.
According to a Motilal Oswal Financial Services report, 8.5 per cent of the assets under management of SBI MF and Axis MF equity schemes were in cash as of May 31.
At the release of SBI MF's yearly market outlook, R Srinivasan, chief investment officer-equity, SBI MF, had said that the fund house was holding a negative view on the market from a short-term perspective due to expensive valuations.
"We are not positive on equities. We think valuations are expensive.
"The market has gone up a lot more than the earnings have grown," Srinivasan had said in June.
The price-to-earnings ratio of the National Stock Exchange (NSE) Nifty50, which was around 22 early last month, has now risen to 23.3x on account of a strong market rally in the past two weeks.
From March lows, the benchmark S&P BSE Sensex and the NSE Nifty have rallied close to 15 per cent.
Most retail investors seem to have missed the bus this time around as well.
Since the start of the year, direct retail participation in equities has been thinning, following a near-10 per cent correction from the December 2022 highs.
Also, shrinking flows into equity MFs indicate individual investors have gone slow or have redeemed their equity investments.
According to a recent report by Jefferies, the flow of retail investments, especially through MFs, is expected to improve as past returns turn attractive.
"Retail flows (lump sum) over the past few months have slowed due to weaker trailing returns, but that has now reversed, which could improve inflows.
"Also, low market volatility is a positive. We believe conditions are ripe for domestic flows to pick up," the brokerage said in a note.
The period (April-May) has also been marked by a sharp decrease in net-to-gross SIP inflow ratio.
According to reports, the net SIP inflows in May were only 39 per cent of gross inflows of Rs 14,749 crore, which come in at Rs 5,696 crore.
However, it is unclear how net SIP inflows are computed by the Association of Mutual Funds in India.
The association sends this data only to fund houses.