Experts call for consistency in government policies to enable Indian exporters to frame a long-term strategy.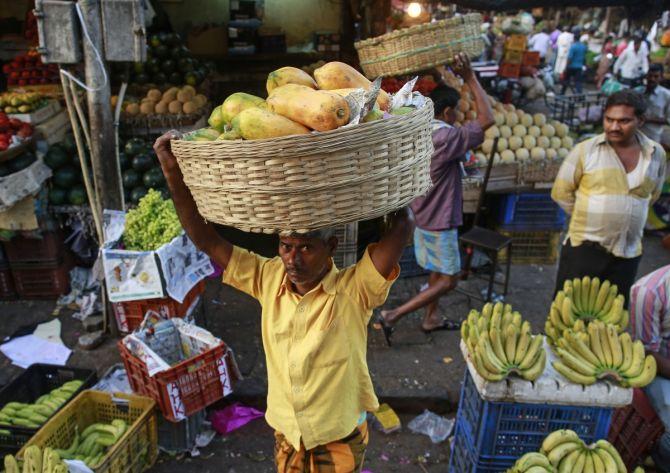 India is steadily losing its presence in the global fresh fruit and vegetables markets owing to stringent quality norms of importing countries.
The data compiled by the government-owned Agricultural & Processed Food Products Export Development Authority (Apeda) shows India's exports of fresh vegetables declined by 26.3 per cent to 1.44 million tonnes during April-October this year from 1.95 million tonnes in the corresponding period last year.
India's shipment of fresh fruit also declined 17 per cent to 321,220 tonnes in the first seven months of the current financial year compared to 386,063 tonnes in the same period last year.
Concerned about the decline in India's fruit and vegetables exports, Apeda chairman D K Singh has drafted an export promotion strategy to boost shipments of Apeda-registered products.
The strategy highlights the need for capacity building, appropriate branding, infrastructure upgrade, poor handling practices of consignments at exits, and improvements in trained manpower to address trade-related issues.
"Since air freight costs are exorbitant and have a direct bearing on export costs, Apeda proposes to work in tandem with Indian Council of Agricultural Research (ICAR) institutions like the Indian Institute of Horticultural Research and Central Institute of Subtropical Horticulture to get a robust scientific sea protocol developed for export by sea.
"This is likely to reduce freight costs and improve exports.
"Also, Apeda proposes to plan promotion programmes in various potential and emerging markets in consultation with trade and the Indian Missions in target countries.
"Apart from that, buyer-seller meetings need to be organised regularly in target countries," said Singh.
The decline in India's fruit and vegetables exports can be attributed to frequent changes in government's norms.
Thus, experts call for consistency in government policies to enable Indian exporters to frame a long-term export strategy.
Meanwhile, all large and small countries of the world have started adopting stringent quality norms set by the European Union.
That has made India's exports of fruit and vegetables difficult.
"By virtue of its wide-ranging agro-climatic zones, geographical location, long history of agricultural production and its extensive range of products, India has the potential to become 'the outsourcing destination' for agriculture and processed food products for the world, in addition to its famed information technology services," Singh said.
Indian planters are focusing on quality improvement of exportable commodities with minimum pesticides residue limits as specified by importing countries.
Canada, which opened up its market for Indian fruit and vegetables in August, has now relaxed inspection rates for grapes exports from India.
"Our volumes have not been impacted due to stringent global quality norms.
"In fact, we are looking at around a six-fold increase in our exports to Canada in the 2018 season.
"We have been working very closely with farmers to grow products of exportable quality.
"Our deep understanding of market requirements as well as customer preferences enables us to achieve such growth year on year, and we expect this to continue in the following seasons as well," said Ashok Sharma, managing director and chief executive officer, Mahindra Agri Solutions Ltd, a subsidiary of auto giant Mahindra and Mahindra Ltd.
Photograph: Rupak De Chowdhuri/Reuters