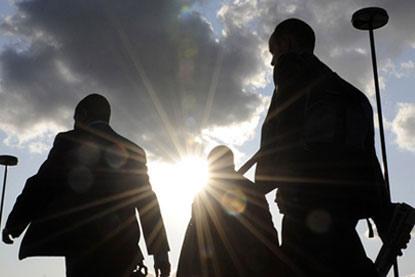 Indian CEOs are the second most optimistic in the world when it comes to their companies' growth prospects in the next 12 months and are planning aggressive hiring during the same period, says a survey.
Their bullish outlook contrasts with decline in overall optimism among business chiefs globally, according to the annual CEO survey of global consultancy PwC, released at the WEF Annual Meeting 2015.
"In India, hopes are running high, with reform-minded Prime Minister Narendra Modi now in power," the report said.
At 62 per cent, the number of Indian CEOs who are very confident about their company's growth in the next one year is up 13 per cent from last year and is 23 per cent higher than this year's global average (39 per cent), the survey found.
Besides, 59 per cent of Indian CEOs believe that global economic growth will improve in the next 12 months, the highest across the world and much above the global average of 37 per cent, PwC said.
The report said a massive 84 per cent of India's CEOs believe there are more growth opportunities for their company today than three years ago -- the highest percentage in the world.
Interestingly, when asked to name the countries most important to them for their growth in the next 12 months: 48 per cent of CEOs in India said it is the US, and 26 per cent said China.
Globally, however, CEOs have turned less optimistic about the global economy, although their confidence in growth of their own companies remains stable.
Globally, 37 per cent of CEOs think global economic growth will improve in 2015, down from 44 per cent last year.
Significantly, 17 per cent of CEOs globally believe global economic growth will decline, more than twice as many as a year ago (7 per cent).
Around 63 per cent of Indian CEOs plan to enter into a new strategic alliance/joint venture, and a high 51 per cent said they are plan to outsource a business process or function.
India's CEOs also believe that there are more threats to the growth of their company today than three years ago.
The top potential economic and policy threats highlighted by Indian CEOs are: inadequate basic infrastructure, over -regulation, and government response to fiscal deficit and debt burden.
Bribery and corruption were cited as business threats by the highest number of CEOs. They were followed by volatile energy costs and availability of key skills.
CEOs in emerging economies like India, China and Mexico are also more optimistic about the economy than those in developed economies like the US and Germany.
Commenting on the India findings, Deepak Kapoor, Chairman, PwC India, said: "This clear and significant spike in CEO confidence in India is encouraging. There has been a palpable uplift in sentiments among Indian corporates and the survey strengthens the belief that corporate India is on the growth path and engaging in the nation building process."
In the longer term, 71 per cent of India's CEOs are very confident of growth over the next three years, making them the most upbeat in the world on this front as well.
Asked to identify disruptive trends, 52 per cent said increase in number of direct and indirect competitors, and 51 per cent named changes in industry regulation.
Asked from which other industry sector do they see a significant competitor emerging, 27 per cent said technology while 25 per cent said none.
A massive 82 per cent of India's CEOs thought that the priority of the government should be to ensure an adequate physical infrastructure, and 68 per cent thought their government had been ineffective in achieving this.
Dennis Nally, Chairman of PricewaterhouseCoopers International, said, "The world is facing significant challenges: economically, politically and socially.
"CEOs overall remain cautious in their near-term outlook for the worldwide economy, as well as for growth prospects for their own companies."
© Copyright 2023 PTI. All rights reserved. Republication or redistribution of PTI content, including by framing or similar means, is expressly prohibited without the prior written consent.