The company plans to overhaul business and rationalise costs in a bid to reach parent Unilever's new profit targets, reports Viveat Susan Pinto.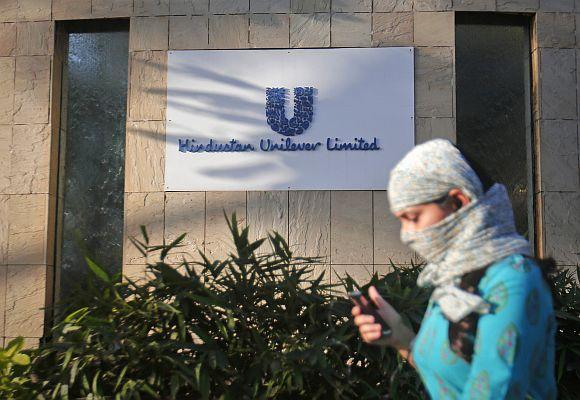 The country's largest consumer goods company, Hindustan Unilever, is expected to take a multi-pronged approach to parent Unilever's mandate to boost profitability and shareholder returns.
This includes aggressively pruning costs as well as rationalising its workforce as it looks to implement the parent's target of being a leaner and fitter organisation in the days to come.
Earlier this month, the world's second-largest consumer goods company said it would combine two of its main business units, namely, food and refreshment, divest its spreads business, buy back shares worth $5 billion, raise dividends to 12 per cent and target a 20 per cent operating margin by 2020, up from 16.4 per cent last year.

The move was triggered in part by US major Kraft-Heinz's aborted bid to takeover Unilever in February, which many described as a wake-up call for the Anglo-Dutch major.
Unilever's CFO, Graeme Pitkethly, admitted the measures announced were part of a 'significant change in 10 years' by Unilever.
While the measures were aimed primarily at boosting its business prospects in Europe and North America, regions where it has been struggling to grow for a while, the India business, which contributes 8 to 9 per cent to Unilever's $56.1-billion turnover, will feel the heat.

Jobs in line
Workforce rationalisation is likely to see HUL cut jobs as it seeks to rein in employee costs.
The impending Goods & Services Tax is also likely to see HUL pare the number of depots and warehouses it has, bringing down headcount in the process, analysts said.
In a mail, an HUL spokesperson said the Unilever spreads business did not include Kissan jams and ketchups in India. 'The jams and ketchups in India is therefore not affected by Unilever's decision to exit the spreads business,' the spokesperson said.
At the same time, HUL, also the country's largest advertiser, is expected to bring down ad spends as it implements Unilever's mandate to produce 30 per cent fewer ads.
Additionally, it is likely to prune material costs as part of its cost savings programme, analysts said.
These measures will reduce HUL's raw material costs as a percentage of sales to 49.9 per cent, employee costs to 5.2 per cent and advertising costs to 12.3 per cent in 2017-18 (FY18), according to estimates by brokerage house Edelweiss.
For the full year ended 2016-17, HUL's material costs have been estimated at 50.1 per cent, employee costs at 5.4 per cent and advertising costs at 12.3 per cent by Edelweiss.
HUL is yet to declare its full-year FY17 numbers.
Operating margin or earnings before interest tax depreciation and amortisation margin, says Abneesh Roy, senior vice-president, institutional equities, Edelweiss, will improve to 19.5 per cent in FY18 over FY17's 18.7 per cent, which is an 80 basis-point jump.
By FY19, EBITDA margins are likely to touch the 20-per-cent-mark, a year ahead of Unilever's target of 2020, he says.
"We have built in 150 basis points EBITDA margin expansion for HUL by FY19 over FY17 margins. With raw material prices unlikely to see significant deflation going ahead, further margin improvement will be largely coming from tighter squeeze on costs," Roy says.

While lower raw material costs aided HUL's margins in the past, analysts say that it may have to also increase product prices in the future to improve margins even as it keeps an eye on costs.
But this may not be a sustainable measure since it may push price-sensitive consumers away from the company.
"The probability of price increases does exist and HUL has selectively increased prices (in laundry and personal care) in the last few months as input price pressures increased. But this is a lever that cannot be used aggressively since demand in rural markets has softened following demonetisation and competitive intensity in urban markets remains high. Price increases will have to be undertaken prudently," G Chokkalingam, founder, Equinomics Research & Advisory, says.

Back to the core
What else can HUL do then to improve profitability?
Some analysts believe that HUL's move to exit non-core businesses may gain pace.
In the past, HUL has exited businesses such as bakery (Modern Foods), rice exports, Bru World Cafes, leather products, etc.
Roy says the company may review performance of "miniscule businesses", such as water purifiers and packaged foods, as the pressure to focus on its core business grows.
According to its FY16 Annual Report, HUL derives 6.6 per cent of its nearly Rs 32,000-crore revenue from packaged foods, 12.2 per cent from beverages, 30.2 per cent from personal products and 47.1 per cent from soaps and detergents.

While HUL's packaged food business has global brands such as Knorr and acquired brands such as Kissan in its portfolio, the business has largely remained a small part of HUL's portfolio for a few years now -- this despite HUL being present longer than peers such as ITC in foods and making big-ticket acquisitions in the category in the past.
This included the acquisition of Kissan jams and ketchups from the UB Group in 1993, acquisition of Dollops ice-cream and Kwality ice-cream later and buying Modern Foods from the government in 2000.
In contrast, ITC Foods, which entered the category in 2001, had Rs 7,200 crore in turnover in FY16, according to analysts and is likely to touch Rs 10,000 crore by FY17.

So is merging foods and beverages a good bet then for HUL?
Analysts remain divided on the issue saying that clarity will come in the future based on growth prospects of the business.
"More than packaged foods, the focus for HUL in India remains on home and personal care," says Chokkalingam. "The latter are bigger businesses where HUL remains the leader and where it can capitalise on the premiumisation trend since home and personal care is about selling aspiration, especially in emerging markets, as opposed to food which is dictated by personal choice and flavour."
The company also has, in the last two decades, desisted from making acquisitions in food, selling whatever it can instead.
Photograph: Danish Siddiqui/Reuters.