Gold prices this year are higher than last year, and the goods and services tax is an additional burden for consumers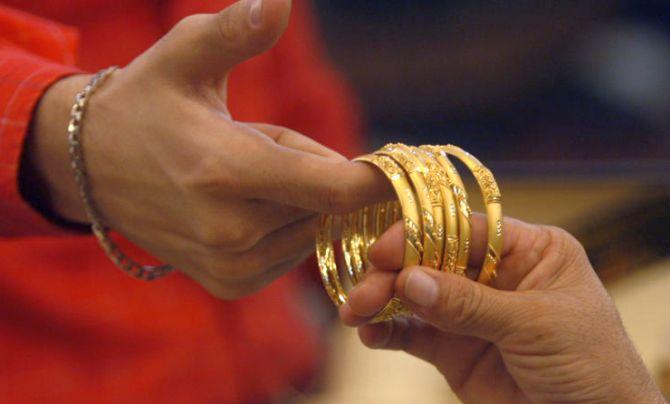 The demand for gold ahead of Akshaya Tritiya, which is an auspicious occasion for gold buying and falls on April 21, is currently low. This is despite the fact that Akshaya Tritiya coincides with the wedding season.
The reasons for this are manifold: Gold prices this year are higher than last year, and the goods and services tax (GST) is an additional burden for consumers.
Last year Akshaya Tritiya fell on April 28, when the standard gold price was Rs 28,765 per 10 gm.
It is currently trading 6.7 per cent higher at Rs 30,690.
Last season there was no GST. Even cash purchases, which have come down from last year, attract the GST at 3 per cent. Till last year cash deals did not attract tax.
Another reason is weak rural demand. One-third of India's gold/jewellery demand is in rural areas.
Because of the higher produce of almost all commodities, prices are in many places below their minimum support prices.
Even the data on gold imports in the month before Akshaya Tritiya starts showing demand trends. In March this year, however, imports remained subdued.
In March last year the import of gold was 103.7 tonnes, and GFMS estimates it was 52.5 tonnes in March this year.
In April last year, India imported 93.6 tonnes. However, the initial days of April this year show subdued import, which means jewellers are not optimistic.
Skymet has projected a normal monsoon.
However, Lanworth, a US-based weather and crop forecaster agency, owned by Thomson Reuters, had forecast "at the current lead time on the 2018 June-September Indian monsoon season, the El Nino Southern Oscillation (ENSO) is by far the strongest driver pointing toward the potential direction the season may take from a rainfall perspective.
"And based on this this season India monsoon is expected to be under sub-optimal monsoon rainfall".
Another reason for the dismal rural demand is that rural unemployment is also higher than a year ago.
According to the BSE-CMIE unemployment index, the unemployment index for rural India was 3.6 a year ago and 6.27 now.
The urban unemployment index was 4.4, and 6.7 currently.
However, Ishu Datwani, founder, Anmol Jewellers, said though the buying mood was absent, "the sentiment is likely to revive a few days ahead of the Akshaya Tritiya and I see demand more or less matching what was seen last year."
Photograph: Reuters