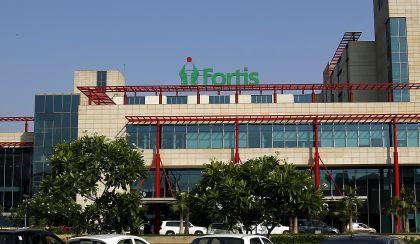 With over 45 healthcare facilities and over 300 vibrant diagnostic centres, Fortis is India's second-largest hospital chain -- next only to Apollo, which has 64 hospitals with 10,000 beds. Therefore, any international or domestic hospital chain that buys Fortis will simply catapult to the numero uno position.
Fortis Healthcare, which has been on the block for a while now, has attracted quite a bit of attention.
At least five suitors -- from competing hospitals, private equity funds, those in the fast-moving consumer goods (FMCG) business, and other healthcare sector players -- are in the fray.
What makes Fortis Healthcare draw so much interest?
The reason for a rush is simple, say analysts.
With over 45 healthcare facilities and over 300 vibrant diagnostic centres, Fortis is India's second-largest hospital chain -- next only to Apollo, which has 64 hospitals with 10,000 beds. Therefore, any international or domestic hospital chain that buys Fortis will simply catapult to the numero uno position.
International hospital companies find setting up greenfield projects in India rather complex and time-consuming -- Columbia Asia, which has followed the greenfield and brownfield route is an outlier.
Given this, going for an acquisition in India is seen as a more efficient way of entering the country's healthcare sector. But, one problem that international companies with such ambitions face in India is that there are not many reasonably sized hospital chains to acquire. Max Healthcare is one, but it is not up for sale.
Besides, as a senior executive of a leading hospital group says: "Fortis still has a strong management team, which has stayed with it for over a decade. That is important as good hospital-management expertise is in short supply."
Here's a look at the suitors and what Fortis Healthcare acquisition might mean for them:
IHH Healthcare
Malaysian holding company IHH Healthcare, for instance, earlier had a close relationship with Apollo, in which it owned a stake of over 10 per cent. But it decided to change tack and go for acquisitions.
In 2015, IHH Healthcare bought a 73.4 per cent stake in Hyderabad-based Global Hospitals, which has over 10 hospitals with a combined 2,000 beds. The chain was renamed Gleneagles Global. It also took a majority stake in Continental Hospital, with a 750-bed super specialty centre in Hyderabad.
IHH Healthcare's acquisitions, according to sources, was not acceptable to the Reddys of Apollo, so the Malaysian group last year decided to sell its stake in Apollo Hospitals for around Rs 28.50 billion. IHH also has a joint venture with Apollo for a hospital in Kolkata.
IHH Healthcare identifies India as a key market. And, according to analysts, the Malaysian company, flush with funds from its divestments, sees Fortis as a good bet. By acquiring Fortis, for which it had made an abortive bid last year as well, it will be able to close in on its former partner.
For Malaysian company Khazanah Nasional Berhad, which owns IHH, a tryst with Fortis is not new. In 2010 it had purchased Fortis Healthcare's over 23.9 per cent stake in Singapore-based Parkway Holdings, one of Asia's largest integrated health care groups.
Dabur's Burmans
The Burmans of Dabur have tied up with Sunil Munjal of the Hero group for their Fortis Healthcare bid. They, too, are not new to healthcare business.
Apart from already having a minority shareholding in Fortis Healthcare, they had in 2013 set up Healthcare at Home, their joint venture with a UK-based company of the same name.
They had invested over Rs 2 billion in the venture, to provide home care services in oncology, post-operative, critical and palliative care, among other services, in over 11 cities across India, including Delhi, Mumbai, Bengaluru and Hyderabad.
To execute these services, it had also tied up with leading hospitals in the country, included Fortis and Manipal Hospitals.
The Burmans had also tied up with the US' Boston Reed College to train people and deliver top-of-the-line healthcare professionals to the country. Additionally, they had in 2010 floated a $200-million Asian Healthcare Fund, which made investments in various companies in this space -- these included Ben Franklin Opticians, a chain of over 300 optical retail clinics; Healthspring, a chain of primary health care clinics, and various dental clinics.
Analysts say that the only missing link in their healthcare vertical is a chain of hospitals. Therefore, an acquisition of Fortis makes immense sense for them to plug the present gap.
Sunil Munjal, who sold most of his stake as a promoter in Hero MotoCorp, on the other hand, has been a serial investor looking for opportunities in diverse areas of growth -- from hotel booking site Oyo to fashion e-commerce site Nykaa. For him, hospital business is certainly an attractive proposition.
Radiant Life Care
Radiant Life Care, the third bidder, was promoted by Abhay Soi, a former KPMG executive who set it up to turn around stressed hospitals. Fortis, which has been making losses for the past few quarters and experiencing a pressure on margins, clearly provides Radiant an opportunity.
Backed by KKR, which initially gave it Rs 5 billion in loans and later took a 49 per cent stake in it for $200 million, Radiant has already taken two key hospitals -- Nanavati Hospital in Mumbai and BLK Hospital in Delhi -- turned them around, revamped the two iconic hospitals, and built a capacity of over 1,200 beds.
Manipal Hospital
Those in the healthcare business say that the Manipal Hospital bid is being backed by PE fund TPG, whose healthcare expert Vishal Bali, a former CEO of Fortis Healthcare, has a close understanding of the chain.
Bali earlier managed the group with a focus on taking it international.
Experts point out that Manipal is a relatively small player in the game, with 11 hospitals in India and two abroad. But an acquisition of Fortis would propel it to the big league. TPG has a 22 per cent stake in the hospital chain and also plays a role in assisting in managing the business.
Fosun International
Chinese bidder Fosun is no stranger to India's healthcare business, though its investments so far have been concentrated in the pharma space. It bought a 74 per cent in Gland Pharma for $1.09 billion and was also in talks to make a bid for Symbiotec, an active pharma ingredient manufacturer. Its offer to buy Fortis marks its first entry into the hospital business in India, though it has investments in this space in China and Brazil, among other countries.