With IndiGo executing its long haul low-cost plans the airline will certainly need a lot of cash going forward.
Arindam Majumder reports.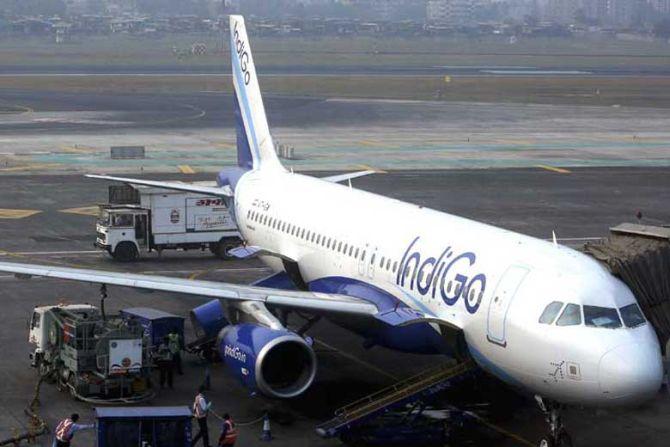 A combination of factors ranging from a new accounting standard to lack of good value proposition for the A320 neo aircraft in the lessor market might have forced IndiGo to reconsider the sale-and-leaseback model -- one of the basic fundamentals that contributed to the airline's success story.
With 118 of its 131 aircraft on operating lease, IndiGo has been the most active user of sale-and-leaseback financing under which a lessor will purchase the aircraft from the airline and lease it back.
This removes the debt from the airline's balance sheet and allows it to invest its equity for some other purpose.
Even though the company doesn't agree to this, revenue from such transactions has helped to boost its profit.
Industry sources say the company makes a profit of $4 million to $5 million per aircraft for each transaction.
For the fourth quarter of FY17, 24 per cent of its total profit of Rs 619 crore (Rs 6.19 billion) came from such transactions.
Why would the company kill its golden goose?
One primary reason is the change in the type of aircraft.
From 2015, the airline started inducting the new-generation A320 neo model, which has been plagued by engine issues.
Thanks to the persisting problem, lessors are not keen.
"Currently the engine problems are challenge to operations, it will be very difficult to place the A320 neos with reasonable price at least for next two years, with more than 40 neos coming in for IndiGo by end of FY18, it makes sense to hold onto them and capitalise later," a rival airline official said.
In its post earnings call recently, IndiGo's Chief Financial Officer Rohit Philip said that the short term leases (of around six years) for its aircraft was proving costly and henceforth the company will like to own aircraft as it believes that the A320 neo is technologically superior enough to be retained for a longer period.
What Philip didn't tell was that the same fuel efficient technology is one reason, why the A320 neo is no more demanding a premium.
With IATA forecasting that crude prices will certainly remain low for the year, the premium paid for A320 neo will remain low.
"Neos hit the market when fuel prices were close to $100 per barrel, there was considerable demand for that, the situation is not the same anymore," said an official.
A new accounting norm IFRS 16 will also negate the positives of leasing and staying asset-light.
From January 2019, the total rental obligation across the lease duration of an aircraft will be counted as debt.
It means if a plane is leased for eight years, the current value of the total lease rental payments to be made across those eight years will be added to the outstanding debt.
"Not only many airlines wish to renegotiate leases to address some of the issues highlighted below, but lessors may also see a contraction of the sale and leaseback market as those airlines, which were participating solely for the purpose of keeping aircraft off balance sheet, retreat from the market," a senior Air India official said.
Air India has long considered moving to an outright purchase model for its 27 787 and three 777-300 ER aircraft but dropped the idea as the Indian government (its owner) refused to bear the expense of a higher capital outgo.
IndiGo has no problem of capital. It sits on a total cash of Rs 10,180 crore ($1.6 billion) at the end of June.
It can also turn to the capital markets if higher cash is required and it has indicated that it will do so.
Cheap debt and stronger balance sheets have allowed Ryanair, another successful low-cost airline to buy planes directly.
Aircraft are also good assets which can be used as collateral against raising money from lenders.
With IndiGo executing their long haul low-cost plans the airline will certainly need a lot of cash going forward.
IndiGo Promoter Rakesh Gangwal, the man behind IndiGo's mega aircraft order last month, gave an indication about it.
'The aeroplane is always an asset which if you own allows you to withstand a situation when there is a cash crunch, you can raise money against it,' Gangwal said.
Photograph: Vivek Prakash/Reuters