With 600-700 new NPA cases getting admitted into NCLT every month, the demand for resolution professionals is on the rise with their number more than doubling in less than a year.
Illustration: Uttam Ghosh/Rediff.com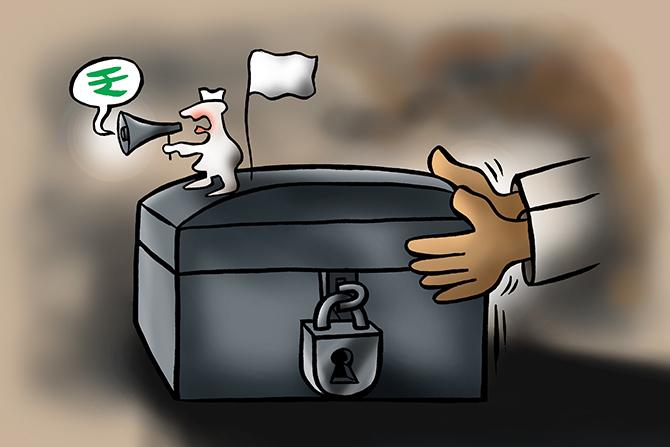 The jury is still out on whether the Insolvency and Bankruptcy Code (IBC) is the panacea for debt-ridden banks, but it is turning out to be an opportunity for finance professionals, especially chartered accountants and company secretaries.
With 600 to 700 cases of non-performing assets being admitted by the National Company Law Tribunal every month, the demand for resolution professionals is on the rise.
The number of registered resolution professionals has nearly tripled in less than a year from about 600 in June 2017 to 1,707 now, according to data from the Insolvency and Bankruptcy Board of India.
The IBC has led to creation of specialised firms that provide a range of services related to NCLT proceedings to both lenders and borrowers.
Close to 75 such companies have come up in the past one year, according to the data.
For banks and financial institutions, these firms provide resolution professionals, make available credit and other background information, conduct valuation and work as a liquidator in case the company is liquidated. For defaulting borrowers, the services include assistance in legal filing and correspondence with lenders, operational creditors, committee of creditors, and the NCLT.
With the NCLT infrastructure expanding, a large number of insolvency service providers are coming up in Tier II cities.
There are 11 NCLT benches across the country and three more are slated to be opened in Kochi, Jaipur and Bhubaneswar, according to sources close to the development.
Around 2004, Mohit Chawla, a Chandigarh-based finance professional, specialised in project syndication of debt profiles.
Over the next six years, Chawla refocused his skills on stress debt management.
Since 2010, he has been working with firms handling corporate debt restructuring and, more recently, strategic debt restructuring and sustainable structuring of stressed asset cases.
Last year, with the IBC in place, and a new NCLT bench being set up in Chandigarh, Chawla started a firm called Embee IP Services Private Limited. His firm is now dealing with two banks (lenders) and two companies (borrowers).
While the IBC has provided a new opportunity for Chawla, he is awaiting notification of rules for individuals and partnership firms.
A large number of cases are expected to be admitted in these categories.
"Banks are very reluctant to bring companies to the NCLT as they will need to make 100 per cent provision (for their loans). Once the rules for individuals and partnership firms are notified, we expect more business," says Chawla.
Kolkata-based AV Insolvency Professionals started operations last May and has about 26 RPs working with it.
"With so many NPA cases getting into the NCLT, there is a lot of demand for RPs. Ours is a new business, but it is consistently growing. We expect six to seven cases to be settled in the NCLT soon, while another eight to 10 are in the pipeline for us," says Kamlesh Singhania, MD and CEO of AV Insolvency Professionals.
With the RBI withdrawing corporate debt restructuring, a large number of cases are likely to land in the NCLT in the coming months. As on December 31, 2017, 537 cases were approved in the CDR, with an aggregate debt of Rs 4,034 billion, according to data from the CDR cell.
Of this, the number of live cases was 122, with an aggregate debt of Rs 133,300 crore. According to a written reply by Minister of State for Finance Shiv Pratap Shukla in the Lok Sabha recently, the gross non-performing assets of all banks amounted to Rs 840,958 crore in December 2017, with 8,457 cases pending in the NCLT.
On the flip side, RP professionals are also facing high risks of litigation, and even personal harm.
"This is unknown terrain. There have been cases when people have been abducted; there have been life threats.
"People have even been stopped from entering offices. Further, there are a lot of civil cases that RPs get entangled in, and each case becomes a baggage," says Mamta Binani, a resolution professional.
"There is no fixed salary structure for RPs, as payment varies from case to case, and depends on expertise and demand. Depending on the size and operations of a company, the fee of an RP ranges anywhere between Rs 50,000 and Rs 5 million for each case," adds Singhania.