What's driving consumers to petrol cars? Ajay Modi finds out.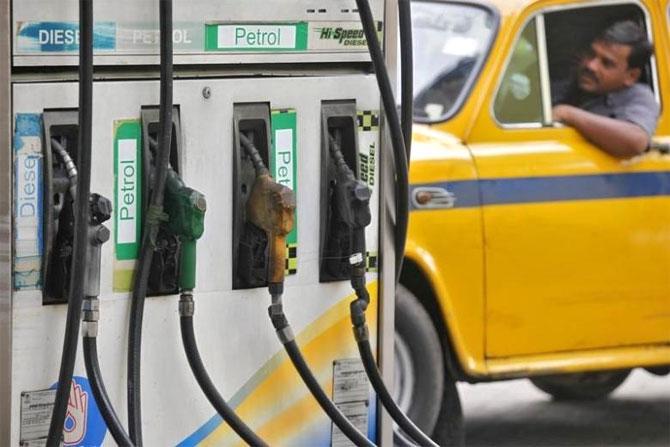 Photograph: Rupak De Chowdhuri/Reuters
Diesel continues to carry the dirty tag as far as personal vehicles are concerned. Only four in 10 buyers opted to buy a diesel-powered passenger vehicle (car, van or utility vehicle) last year, a decline of 9 per cent over Financial Year (FY) 16. This brings the contribution of diesel passenger vehicles in new sales to 40 per cent in FY17, the lowest in six years.
Data sourced from the Society of Indian Automobile Manufacturers (Siam) shows that 60 per cent of the buyers in the 3-million-unit market opted for a petrol variant in FY17, up from 56 per cent in the previous year. This is the highest share for petrol passenger vehicles in several years.
The impact of this shift is more prominent in cars as only 27 per cent of buyers opted for diesel units in FY17 compared to 34 per cent in FY16.
Interestingly, even buyers of utility vehicles have started considering petrol variants and the share now stands at 15 per cent in FY17 against 10 per cent in FY15.
Diesel passenger vehicles were preferred by a chunk of buyers during FY13 and FY14 when prices were kept artificially lower and the fuel was regulated. The share of diesel vehicles zoomed to a record high of 58 per cent in FY13 and since then has come down year after year.
"The economics of owning a diesel car has changed. Since diesel variant of a car is usually 15-20 per cent more expensive compared to petrol, only those buyers who drive at least 2,500 km a month can recover the additional cost," said an industry official.
Traditionally, petrol cars were preferred by Indian buyers. However, many of them started going for diesel cars since June 2010, when the then United Progressive Alliance government deregulated petrol prices, but left diesel untouched. By 2011, as oil marketing companies continued to align petrol prices in India with the global price, the gap between the two fuels jumped to a high of ₹25-30 a litre in 2011.
The shifting preference also prompted car makers to invest in creating new diesel engine manufacturing.
But the government decontrolled prices of diesel in October 2014. The gap between diesel and petrol has narrowed since then. The gap is now down to as low as ₹9.64 a litre.
The impact of this shift is also visible in the rising domestic consumption of petrol.
According to the Petroleum Planning and Analysis Cell, a wing of the petroleum ministry, domestic consumption of petrol grew over 9 per cent in FY17 to 23.8 million tonnes while demand for diesel grew less than 2 per cent to 76 million tonnes.
In addition to the fuel price differential, action against diesel vehicles in 2015 also pushed the buyer away from diesel- run cars.
The Supreme Court had banned sale of diesel vehicles (2,000cc and above) in the National Capital Region in December 2015, and the ban lasted for eight months. Buyers in cities like Delhi are also apprehensive they may not be able to drive diesel vehicles for long after an order by the National Green Tribunal to ban diesel vehicles older than 10 years.
The cloud over diesel vehicles and the number of years for which they may be allowed to run also affect resale price.
Industry watchers expect more buyers to shift to petrol passenger vehicles in the near future.