The acquisition of the debt-laden Binani has catapulted Birla-owned UltraTech to the top spot in India, leaving it free to turn attention to overseas market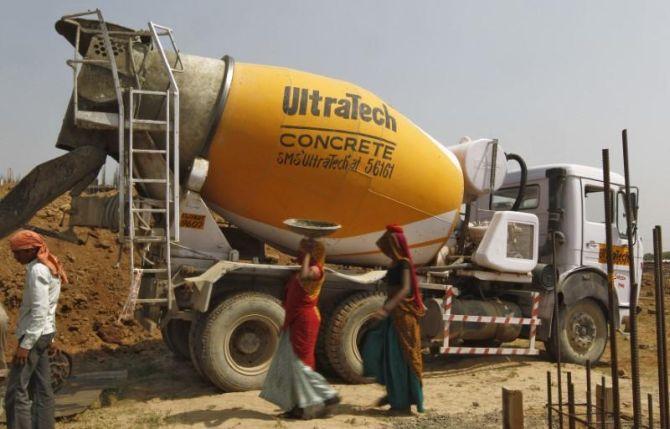 In June this year, when Prime Minister Narendra Modi met top leaders of India Inc in Mumbai, billionaires Ajay Piramal and Kumar Mangalam Birla shocked attendees by raising questions over each other's bids for Binani Cement - a company facing bankruptcy proceedings after defaulting on loans.
It's rare for corporate leaders to publicly raise their grievances, and even rarer to voice them in front of the prime minister.
The stakes were clearly so high that both decided to take the corporate war to the highest level.
Although the prime minister remained neutral, the Supreme Court ordered in favour of Birla-owned UltraTech and cleared its Rs 7,950-crore bid for Binani Cement.
For 51-year-old Birla, who built his cement empire by multiple acquisitions since taking over the group at age 28, the ruling has come as a breather.
The Binani Cement acquisition, coupled with capacity added from his grandfather's Century Textiles, will help him become the undisputed king of the Indian cement sector with a total annual installed capacity of 116 million tonnes, or 25 per cent of the country's cement market.
"Binani acquisition was tough due to litigation but it was worth fighting for," said a group insider.
Piramal's stressed asset fund had tied with another formidable player, Dalmia Bharat, for the acquisition and had almost won the race by making the highest bid to the lenders - until a last-minute higher bid by Ultratech, which joined forces with former company promoter, Braj Binani.
The reasons for making such an aggressive bid for Binani Cement was obvious.
Analysts said the acquisition will give UltraTech an all India market share of 25 per cent, up from 20 per cent.
With limestone reserves of Binani included in the acquisition, UltraTech will be able to raise annual capacity by 4-5 million tonnes in north India and cash in on the infrastructure and affordable housing boom.
Birla is adding capacity at a time when demand for cement is picking up pace and expected to report a 7 per cent growth in fiscal 2019, from 1-2 per cent in the last few years.
The entire industry will produce around 310 million tonnes of cement in 2018-19, with UltraTech accounting for the lion's share.
"We expect the affordable housing activity to increase going forward in fiscal 2019 as the general election closes in.
"The government allocated Rs 65 billion for urban housing and Rs 21,000 crore for rural housing.
"Of this, 4.5 million rural houses were completed in FY18 and a similar number is expected to be achieved in FY19.
"Increased implementation and completion of affordable housing targets for the current fiscal, would lead to sustained demand growth for cement," said analysts with Care Ratings.
But the sector also faces headwinds on the pricing front.
Prices declined slightly for a 50 kg bag of cement, with southern markets, which have a 33 per cent share of installed capacity, recording the lowest prices.
With multiple acquisitions funded via debt and flat cement prices, is the Birla company facing a debt trap?
Analysts said with the acquisition, UltraTech's net debt would increase by Rs 8,000 crore and by another Rs 3,000 crore with the merger of Century Textile's cement assets.
Thus, UltraTech's net debt to equity will potentially grow 0.7-0.8 times in FY20 against 0.5 times in FY18.
The company had also indicated in the past that it would go slow on a 3.5 mtpa new plant in Pali, Rajasthan, if it acquires Binani Cement.
"The acquisition will push up UltraTech's net debt from Rs 12,500 crore to Rs 20,000 crore-plus (assuming it is funded entirely by debt), which would dilute its earnings over the medium term," warned an analyst with Motilal Oswal Financial Services.
Binani also owns two kilns in China and if UltraTech wants to reduce its acquisition cost, it can dispose of these international asset and generate about Rs 1,500 crore from them.
However, expanding overseas may be next on the cards for the company. With a comfortable market share in India, the next step for Birla would be to look for similar acquisitions overseas.
The idea is to de-risk the company from any specific geographic volatility.
Group insiders said they had looked at various options to buy cement assets abroad but did not go ahead with the transactions due to high valuations and the group's focus then on consolidating their aluminium empire.
After the blockbuster acquisition of Novelis in 2007 for $6 billion, the group announced acquisition of Aleris Corp in July this year for $ 2.58 billion in the United States.
The Aleris acquisition is pending approval from US President Donald Trump.
"Ïf there are good opportunities in cement overseas and they create shareholder value, we will certainly look at it.
"The group has already invested billions of dollars in acquiring cement assets in India including Jaypee's assets," said an official asking not to be quoted.
"We are not ruling out anything."
Photograph: Amit Dave/Reuters