An Indian origin attorney based in Switzerland is turning out to be a key man of Vijay Mallya's empire abroad.
Sixty-four-year-old Jay Vallabh is named director and authorised signatory in many of the offshore vehicles related to the liquor baron.
Regulatory filings with US Securities & Exchange Commission and public documents available on the company registries of locations such as Isle of Man and Panama showed that Vallabh's name figured prominently in several of these vehicles.
While filings in UK's Companies House, the equivalent of Registrar of Companies, identified him as Jayprakash Vallabh, filings in Panama and Isle of Man referred to him as Jay Vallabh.
In an SEC filing dating back to 1997, he figures as "J Vallabh".
Further records showed that Vallabh has floated and dissolved scores of companies across various jurisdictions over the past several years.
He was also a significant shareholder in a Mauritius vehicle Watson Ltd that owned 21 per cent stake in the listed firm UB (Holdings), or UBHL, which in turn held around 60 per cent in the Kingfisher Airlines.
This gave Jay and wife, Susanna, an indirect holding of around 12 per cent stake in Kingfisher Airlines in the first few years.
Their names found their way to official records in the US, which insist on disclosures leading up to natural persons.
In an order approving code-share arrangements between Kingfisher Airlines and American Airlines, issued by the Department of Transportation of the US on March 8, 2011, it is clear that the Vallabhs had a significant stake in Kingfisher Airlines itself.
"The record further indicates that the majority of Kingfisher's shares are owned by United Breweries (Holdings) Ltd (United Breweries), an Indian company with 60.59 per cent of Kingfisher's shares; and Vijay Mallya, a citizen of India with 5.69 per cent of Kingfisher's shares.
With respect to United Breweries, the record shows that it is majority owned by Watson Ltd, a company of Mauritius holding 21.19 per cent of the United Breweries shares. Watson Ltd is ultimately owned in equal shares by Jay Vallabh and Susanna Vallabh, both citizens of Switzerland," said the order.
Although Watson Ltd continues to hold its shares in UBHL, Kingfisher Airlines is no longer under control of UBHL as banks have converted debt into equity.
According to the shareholding pattern as of September 2014, the last such filing on the BSE, UBHL held only 400,000 shares or 0.05 per cent of Kingfisher.
A Kingfisher spokesperson did not respond to questions about Vallabh.
Filings in the Registry of Isle of Man, a tax haven, showed that Jay and Susanna are directors of CAS Nominees, a company that runs the Golden Eagle Trust.
CAS was registered in 1990.
Its latest annual return filed in December said Jay's occupation was 'Barrister at law'. Susanna's occupation was given as secretary.
Another Isle of Man company named Chilton Management owned the share capital (two shares of £1 each) of CAS.
The Vallabhs were directors of Chilton, too.
But, the shareholding of Chilton was held by Lombard Wall Corporate Services based in British Virgin Islands and Talisman Consultants based in Liberia.
According to a filing with SEC in 2000 by Mendocino Brewing Company, the company declared by Mallya in his Rajya Sabha affidavit, "The principal trustee of Golden Eagle is CAS Nominees Ltd, a corporation organised under the laws of the Isle of Man (part of the UK)."
Because CAS Nominees has the ability to act in favour of Mallya, the company's chairman of the board and chief executive officer, Mallya may be deemed to have a beneficial ownership interest, and therefore a material financial interest, in Golden Eagle.
Golden Eagle is the sole (100 per cent) owner of Inversiones, which in turn owns UBI (United Breweries International).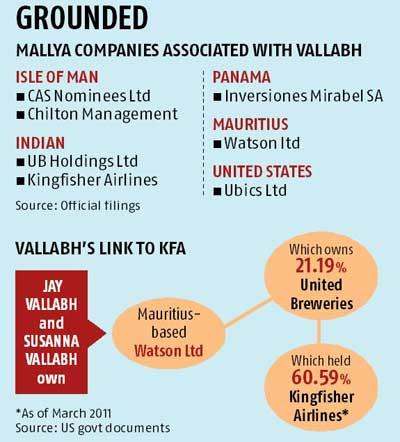 Golden Eagle Trust is a key Mallya family vehicle established by Vittal Mallya in the 1980s.
DNA had first reported about this trust on March 10. Subsequent reports have said these vehicles are under probe by Indian agencies.
Records from UK's Companies House showed that Jayprakash Vallabh is currently a director of Valley Heights Ltd, whose correspondence address is given as: "CAS SA, PO BOX 331, Ch-1196, Chemin De Fontenailles 4, Gland, Switzerland". While his name is associated with 30 UK companies, several of these are now dissolved.
The earliest records of Vallabh in the SEC date back to 1997. It is related to a n-compete agreement between various companies of Mallya. "This non-competition agreement is made as of October 27, 1997 among UBICS, a Delaware corporation; Vijay Mallya; and UB Information And Consultancy Services Ltd a corporation organised under the laws of India," the filing said.
In this document, Vallabh is named as the authorised officer of UBICS.
Panama-registered Inversiones Mirabel is another company where the Vallabhs are named directors.
This company was used by Mallya in transactions with Mendocino Breweries, the US-listed firm Mallya had declared in his Rajya Sabha affidavit.
The SEC filing in 2000 gives some peep into the complicated cross-holding structures these off-shore vehicles are entangled in.
"Through one of its subsidiaries, United Breweries of America, BVI, a British Virgin Islands corporation, Golden Eagle also holds a controlling interest in United Breweries of America, Inc, a Delaware corporation, which is also the company's (Mendocino's) principal shareholder."
The filing added that "Mallya is the chairman of the board and chief executive officer of UBA (United Breweries of America).
Through Inversiones and UBA, therefore, Golden Eagle owns or controls a majority of the voting stock of both of the principal parties to the agreement.
In addition, Mallya is a member of the board of directors of UBSN."

UBSN was the UK subsidiary of UBI, which is now known as Kingfisher Beer Europe, another company declared in Mallya's Rajya Sabha affidavit.
Image: Vijay Mallya. Photograph: Reuters