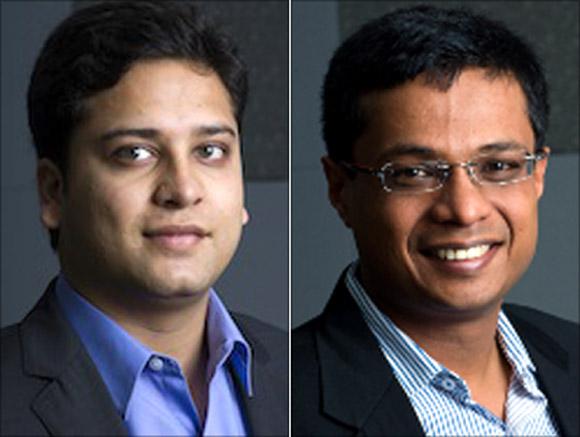 Who invested how much in Flipkart in its latest round of $1 billion funding? Vicky Nanjappa/Rediff.com finds out.
Who invested how much in Flipkart in its latest round of $1 billion funding?
The Bengaluru-based e-commerce company is tight-lipped about which venture capital fund invested how much in the $1 billion funding it announced on Tuesday.
Sources told this correspondent that the highest contributor in this round of funding is Tiger Global followed by DST Global.
Tiger Global, sources said, contributed approximately $333 million.
DST Global and Naspers invested around $150 million and $110 million respectively.
The remaining $407 million were contributed by five companies -- Sofina, Morgan Stanley Expansion Capital, the Government of Singapore Investment Corporation, Accel Partners and Digital Sky Technologies.
Of these, GIC, a new entrant to Flipkart, may have contributed around $100 million, sources suggest.
Without giving away the break-up of its latest investments, Flipkart said its dream is to achieve a 100 billion dollar company.
Since going live seven years ago, in 2007, Flipkart has had the following investors: Tiger Global invested $10 million and $20 million in 2010 and 2011 respectively; Naspers and Iconiq Capital invested up to $150 million earlier; Tiger Global, Iconiq and Naspers again contributed $200 million in 2013; Accel India contributed $1 million in 2009.
Flipkart said it raised $160 million in 2013 from the Dragoneer Investment Group, Morgan Stanley Wealth Management, Sofina SA, Vulcan Inc and Tiger Global.
In May 2014, Flipkart stated that DST Global had invested $210 million.
Alongside the investments, Flipkart pointed out there has been a steady increase in its sales as well. It started off with Rs 40 million in sales in 2009 which shot up to Rs 200 million in 2010, and Rs 750 million in 2011.
However, the company also reported losses alongside. For the year ended March 2014, it reported a loss of Rs 281.17 crore (Rs 2.817 billion), up from Rs 109.9 crore (Rs 1.099 billion) a year earlier.
Flipkart raised $540 million in 2013 compared to $75 million and $6 million raised by e-tailers like Myntra and Mydala, leading to questions if the company was using up its money too quickly since it has been reporting losses despite the infusion of funds. Flipkart then clarified that it was in an investing phase and the capital was being used to build up the company.
In 2012, the Enforcement Directorate reportedly commenced a probe against Flipkart, alleging a violation of Rs 1,400 crore (Rs 14 billion) under the Foreign Exchange Management Act. In May 2014, the ED reportedly decided to issue a show cause notice to Flipkart after it discovered that the company had not followed FDI rules. The company thereafter clarified it was 'in complete compliance with the laws of the land and were working with the authorities to address the same.'
Within hours of Flipkart's announcement of having raised $1 billion, Amazon, the global e-commerce leader, announced on Wednesday, July 30, that it would invest $2 billion in its India arm.
Image: Flipkart founders Binny Bansal and Sachin Bansal. Photographs courtesy: Flipkart.