Buses that run on battery, trucks that purr on LNG, and more from the stables of Tata Motors, Mahindras and Ashok Leyland. The Auto Expo 2018 had these and more.
Photographs: Rajesh Karkera and Hitesh Harisinghani/Rediff.com.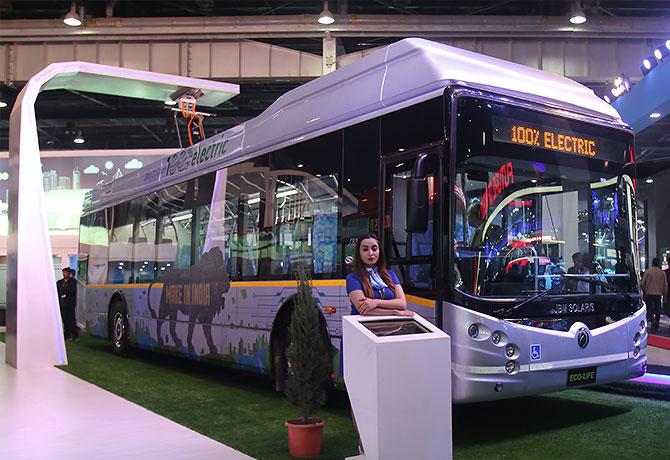 JBM Solaris launched its 100% electric bus series ECO-LIFE at the Auto Expo in Greater Noida last week.
ECO-LIFE, a zero emission vehicle (ZEV), the company says, will save the equivalent of around 959 tonnes of carbon dioxide emission and 350,000 litres of diesel over the 10 years of its operation.
Designed, engineered and manufactured at the company's facility in Kosi, Uttar Pradesh, these buses are powered by fast-charging lithium batteries and can run 150-200 km in 10-15 hours of intra-city bus operation. It will come in 12- and 9-metre variants with a seating capacity of 30-40 people, depending on the variant.
What is new is that these buses can also be charged through the pantograph, in addition to the normal plug-in charging system.
These buses also host many convenient features including a wheelchair ramp and stop request buttons for passengers.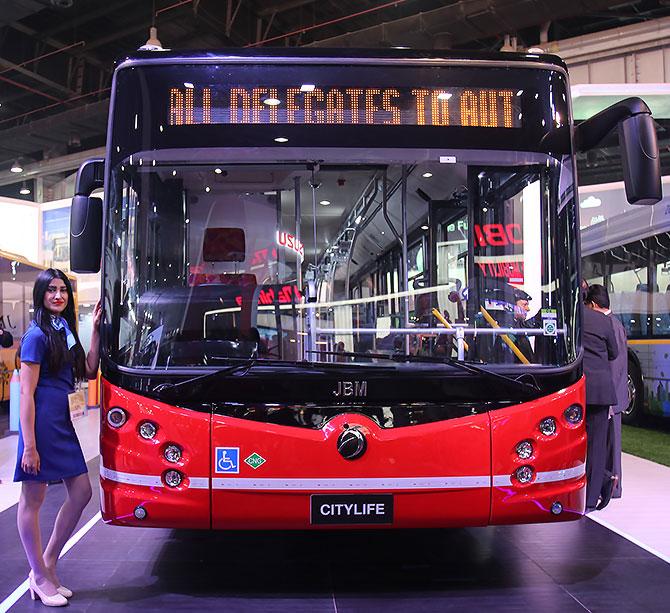 Also on display at the Auto Expo was the JBM Citylife and JBM Skoolife buses.
The Citylife looks perfectly suited for Mumbai roads, more so as the colours match with those of of the city's buses.
The ultra low-floor luxury Citylife buses were displayed at the 2016 Auto Expo in diesel variants but the company has supplied over 100 Citylife CNG buses to the Noida Metro Rail Company, making it available in two variants.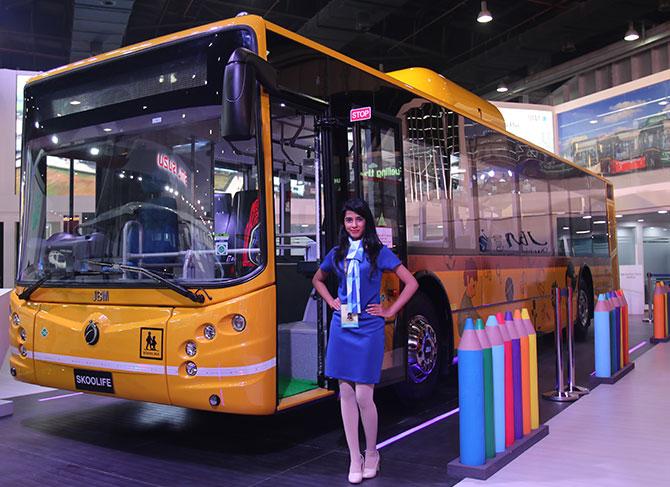 Also on display was the Citylife bus for school kids.
This version, called the Skoolife, comes with seating for school kids that is different from what you find in the Citylife, with this one having good neck and head support to keep the kids safe.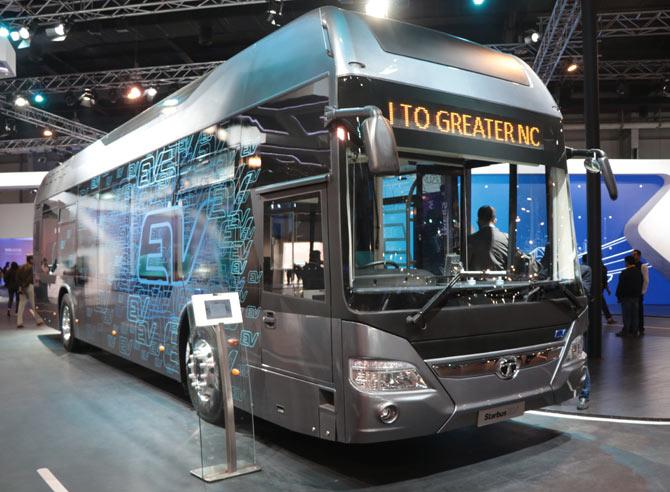 Tata Motors, which had one of the biggest pavilions at the Auto Expo, also displayed a range of its commercial vehicles, including heavy, medium, light and small trucks, as well as its buses.
The star of the commercial pavilion was the Starbus Urban Electrix 4x2. With its range of 200 km in one charge, this bus also comes with a system that permits batteries to be charged several times during the work cycle, called opportunity charging.
The bus comes with a 60-seater capacity and also has a low ramp for wheelchair accessibility.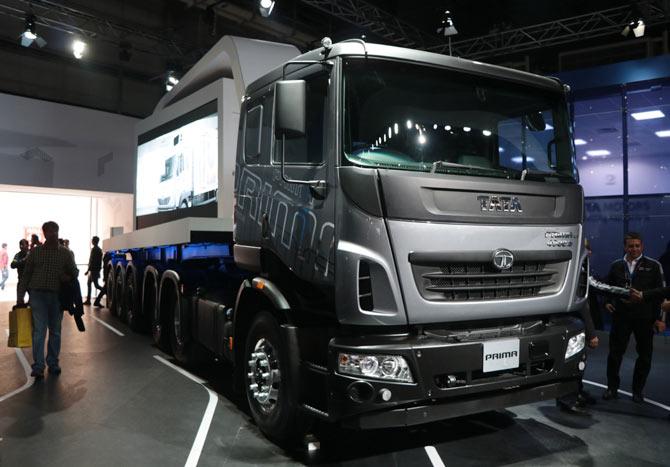 A truck that commanded all our attention was the Tata Prima Lx 4930.S with its unending set of wheels.
Powered by a 6.7 litre, turbocharged diesel engine that puts out 295 BHP and 1,100 Nm of torque mated to a 9-speed gearbox, this is the truck that is used in the racing tracks as well.
Equipped with air-conditioning, anti-lock braking system, electronic stability control, automatic traction control, hill start aid, tyre pressure monitoring system, lane departure warning system and rear-view camera, this one has almost all the features of a luxury car.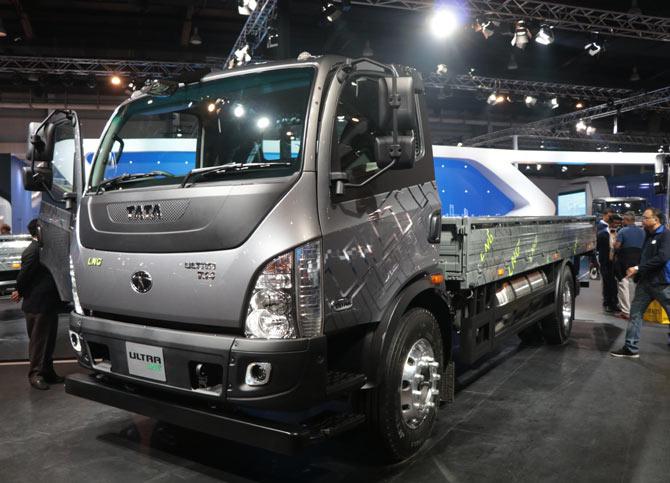 The Tatas also displayed their Ultra T.14 LNG truck, which as its name indicates runs on liquefied natural gas.
Tatas say that it is also the cleanest form of alternate fuel, which is much safer than conventional fuels and even CNG. And as LNG does not require large storage cylinders, it increases the storage space available for anything else the vehicle may carry.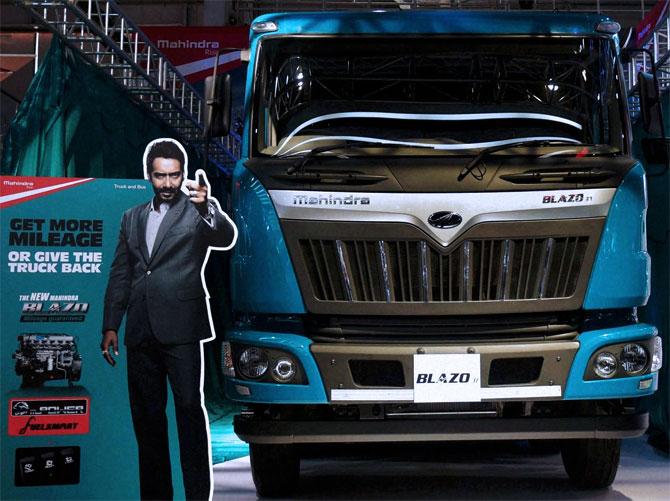 Photograph: Courtesy Mahindra & Mahindra
The next huge pavilion at the Auto Expo was Mahindra & Mahindra's who had, I think, the most number of launches at the expo this year as well. Mahindra also proudly displayed its wide range of commercial vehicles.
M&M is expanding its 37-tonne truck portfolio with the addition of the Blazo 37 rigid truck with pusher axle. The company displayed the new truck variant at the 2018 Auto Expo, with a never-before guarantee of best fuel efficiency or you get to return the truck.
The new truck is powered by a 7.2 litre diesel engine that puts out 274 BHP & 950 Nm of torque, that is mated to a 6-speed manual transmission.
Photograph: Courtesy Mahindra & Mahindra
Also on display was the Blazo 25 Tipper equipped with the first of its kind FuelSmart technology which ensures optimal performance in a wide range of construction or mining based operations. The company displayed the BLAZO 25 Tipper with AC and Rock Body that is suitable for shallow mining operations, at the Auto Expo.
M&M also has the Blazo 49 Smart Truck BSIV which is a tractor-trailer and comes equipped with tubeless tyres, reverse camera and the most important feature for Indian roads -- drowsiness sensors.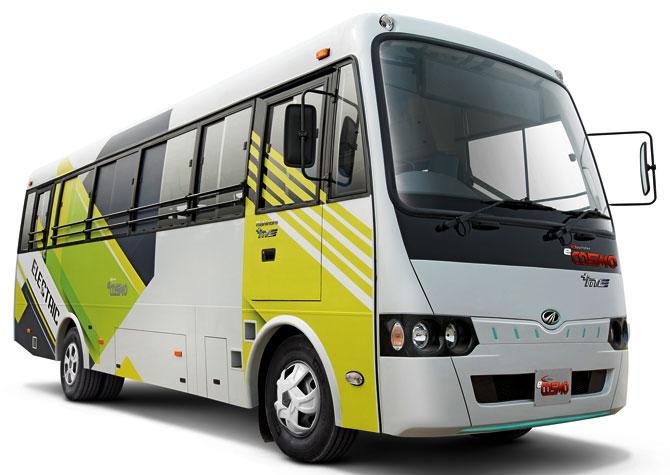 Photograph: Courtesy Mahindra & Mahindra
Mahindra's first fully electric bus, the e-Cosmo, was the centre attraction attention for people looking at intra-city mobility.
A mid-sized bus available in three different seating configurations is already ready for purchase, said M&M.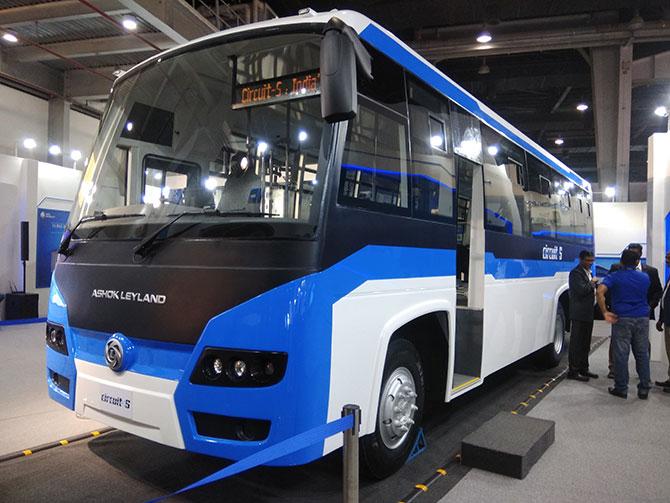 And last but not the least, Ashok Leyland also had a stall at the Auto Expo, although they had only vehicle on display.
The Ashok Leyland Circuit-S, their first electric bus.
What puts it in this list is the vehicle's battery swapping feature. What it means is that the Circuit-S has a removable battery that can be swapped out for a fully charged one in less than 4 minutes, unlike other electric vehicles which need to be charged for 4 to 8 hours after every run.
What might not work for the company, though, is its range on full charge. One full battery will make the bus run for only 50 km. And if you consider our city traffic, the actual distance covered would effectively be much less.
Perhaps that's why they came out with the battery-swap feature, as carrying an extra set of battery in the vehicle would certainly help!