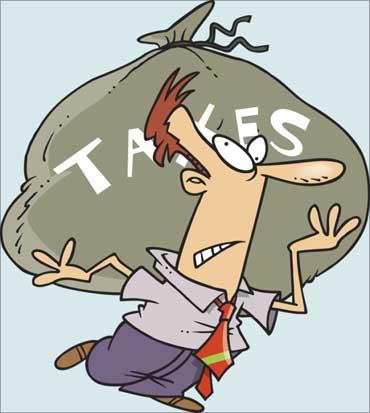 The income tax department's new app is useful for those looking for information, grievance redress, and resolving PAN- or TAN-related issues.
Tinesh Bhasin finds out more.
Illustration: Uttam Ghosh/Rediff.com
The income tax (I-T) department has launched a mobile app for Android devices that offers a variety of tax-related services and solutions.
The app -- Aaykar Setu -- has a simple and practical design well suited for a mobile screen. But for those who find filing taxes on the government's Web site cumbersome, there's little new on offer.
The app merely directs the user to the I-T e-filing Web site.
The app, however, is relevant for those looking for information, wanting to check the status of different services, or having grievances.
Different options are categorised in a simple manner and the information is easy to find. The app will also prove handy for those who want to apply for a permanent account number (PAN), or tax deduction and collection account number (TAN).
They can even get corrections done through this app.
Most of the relevant features of the income tax e-filing Web site like calculators for house rent allowance, deferred tax, and advance tax are available on this app.
It also allows taxpayers to link their Aadhaar number with their PAN.
There's also a live chat facility that is available between 10 am and 6 pm where a chat bot will answer your queries.
1. TRP at your doorstep
You can call a trained and certified professional -- Tax Return Preparer or TRP -- to your home to help you file taxes at a nominal cost.
You can also use this feature to locate tax preparers closest to you and get their email addresses and phone numbers.
2. Return preparation made easy
You can download the relevant forms, file returns, and pay taxes in this section. It also allows you to file revised returns.
You can also check refund status, e-verify returns, see outstanding tax demand, and respond to various notices.
3. Tax tools
This section has calculators which you can use to compute tax on various incomes, such as housing rent allowance, and medical reimbursement.
You can also use it to know the TDS and advance tax payable.
4. Got a problem
If there's a TDS mismatch, you want to migrate the PAN, or register a grievance, go to this option. You can also view rectification and grievance status.
5. PAN/TAN
You can not only apply for PAN or TAN but also make changes to them, verify them, and also link Aadhaar with the PAN.
In case of TAN, it also allows you to change the data.
6. TDS/TRACES
If you are a tax deductor, the app allows you to file for TDS returns, check TDS rates, get information on the relevant forms, and pay TDS/TCS online.
If you are a tax deductee, you can check your TDS status and rates, and get tax credit statement. You can check for any mismatch as well as verify your Form 16/16A.
7. Tax payment
Other than paying taxes online using the app, a taxpayer can also file rectification of tax credit mismatch, get tax credit statement, and make a correction in the challan.
8. Tax gyaan, a game
This game allows you to learn about taxes and has four different levels.