Walmart is rumoured to be looking at listing Flipkart in a few years.
At that stage, we'll get a better sense of what's going on in retail, says Devangshu Datta.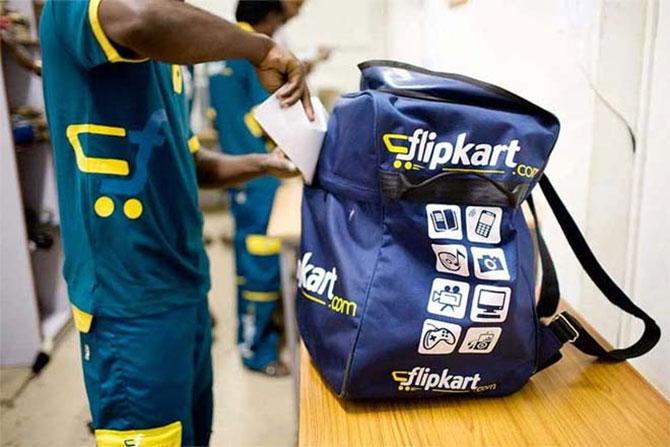 What's common to Hyundai, Johnson & Johnson, Samsung and Patanjali?
All of them are big players in their respective sectors. All are unlisted in India.
The lack of listing is frustrating. It eliminates the Peter Lynch type of investment where a consumer buys both the brand and the company.
For example, a consumer may compare equivalent Hyundai and Maruti models before buying a car. A Lynch follower would like to buy shares in the company from which s/he bought the car.
But you can't buy an unlisted company or even compare financials with peers, given the lack of information. That also makes it hard to understand sector dynamics if unlisted entities hold large market share.
A very large segment of retail is unlisted, or plain unorganised.
Listed brick & mortar retail players are smaller than unlisted e-commerce players like Walmart-Flipkart and Amazon.
The e-commerce segment makes losses and it's growing fast. But the lack of data makes it hard to figure how fast it's really growing.
There are big discrepancies in projections and estimates. The Economic Survey 2018 says e-commerce, including ticketing for travel, movies and events, hit $33 billion in 2016-2017.
Forrester Research estimates online retail revenues (less tickets) were at $19.6 bn in 2016-2017 and $27 bn in 2017-2018. That's about 35 per cent growth.
Forrester projects 26 per cent CAGR for the next five years. That will depend on fast smartphone and Internet penetration, a good per capita income growth and robust fintech solutions.
Forrester estimates Flipkart's standalone market-share (without Myntra-Jabong) was 31.9 per cent in 2017-2018, while Amazon India held 31.1 per cent. But Flipkart claims it holds 60 per cent market share.
The Economist estimates Flipkart logs just under 50 per cent of online revenues (less ticketing). That's way more market share than in Forrester's estimates. But The Economist reckons e-commerce is just a $15 bn market, much smaller than the Forrester estimate.
So Flipkart's Gross Merchandise Value (GMV) ranges from a little over $7 billion (if you believe The Economist) to $8.6 bn (Forrester).
Flipkart does not report GMV and we don't have Flipkart's 2017-2018 numbers. But Flipkart's standalone filings (excluding Myntra-Jabong) said revenues (which would be a percentage of GMV) rose 18 per cent to Rs 155.7 bn in FY2016-2017 from Rs 131.8 bn in 2015-2016.
Losses dropped to Rs 2.4 bn from Rs 5.5 bn. That's about $2.4 bn in 2016-2017 revenues.
Growth estimates also vary wildly for 2017-2018. Flipkart claims it grew at over 43 per cent between April-September 2017. Amazon says it grew at over 80 per cent (off a smaller base) for the same period.
How can two companies controlling joint 63 per cent market share (Forrester), or over 90 per cent market share (Flipkart estimate) grow that much faster than the overall sector (35 per cent -- Forrester)?
Assuming Forrester's estimate of 35 per cent growth is reasonably accurate, Flipkart's 2017-2018 revenues should have hit about $3.2 bn. Does that gel with $7 bn to $8.6 bn as GMV? Hard to tell. (Myntra-Jabong may have logged $1.2 bn GMV in 2017-2018).
The Walmart deal ($16 bn for 77 per cent) values Flipkart at $21 bn-plus. Keeping generous error margins given the discrepancies, that is three times The Economist estimate for GMV and maybe, seven times, the 2017-2018 revenues.
We have no clear idea what the future burn-rate will be. Note that Walmart has paid off shareholders to buy the company. It must now invest to sustain and grow operations.
Policy changes to remove barriers to multi-brand retail and clarification of tax status, etc, will also have to be 'managed'.
Given the discrepancies in estimates, it would be laughable to consider investment decision based on the public information.
Walmart is rumoured to be looking to listing Flipkart in a few years. At that stage, we'll get a better sense of what's going on in retail. But Amazon India's financials will still be opaque, which means we don't have a sense of the apex competitor.
Similar issues arise with investments in the automobiles sector, where Hyundai is only one of many unlisted subsidiaries of global automobile companies. Their presence makes it hard to value the listed auto-manufacturers.
In analogy, Patanjali has a lot of market share in the fast-moving consumer goods sector and again, its opaque unlisted financials makes it hard to assess the listed firms.
Photograph: PTI Photo