Experts say Biyani will now become a contract manufacturer of fashion and FMCG products, with the Reliance group being one of his customers.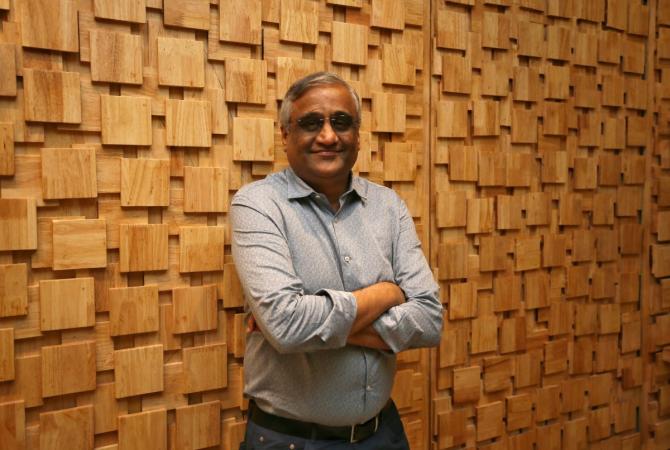 E-tailer Amazon's litigation against Future group for breaching a 2019 agreement when signing a deal with Reliance Retail may have surprised many, but the latter two seem determined to complete the nearly Rs 25,000-crore transaction signed in August.
Experts say that it allows Future group founder Kishore Biyani to get out of his debt spiral and Reliance Retail to consolidate its position as the leader in the country's organised retail market.
Predictably, both Future group and Reliance Retail have said they will initiate the necessary steps to conclude the deal.
And in recent days, Future group arm Future Retail has contended in court and in letters to stock exchanges that it has nothing to do with the dispute that has arisen between a Future group promoter entity and Amazon.
So where does that leave Biyani if the dispute with Amazon is resolved in his favour?
Under the scheme of arrangement disclosed in August, the deal with Reliance is a two-step process.
The wholesale, retail and logistics assets of the Future group will be acquired by Reliance. That is part one.
The second step will see the Mukesh Ambani-led group pick up a 13.14 per cent stake in Future Enterprises.
This company will consist the residual businesses of Future, including the manufacturing, distribution and sourcing of fashion and fast-moving consumer goods (FMCG).
In addition, Future's general insurance joint venture with Italian major Generali and its textile joint venture with the National Textile Corporation will also be housed under this company.
Experts say Biyani will now become a contract manufacturer of fashion and FMCG products, with the Reliance group being one of his customers.
But the latter, thanks to its minority stake in Future Enterprises, could have a greater say over pricing and assortment, explains Abneesh Roy, executive vice-president, research (institutional equities), Edelweiss, helping it source products efficiently for its retail operations.
As Reliance prepares to compete with rivals such as Avenue Supermarts, the company that runs the DMart chain of stores, keeping a tab on its large retail operations will be key, Roy says.
In a recent Credit Suisse report, analysts Arnab Mitra and Pratik Rangnekar said that the grocery revenues of the Reliance-Future combine were 2.5 times that of DMart.
The combine will also control a third of the organised retail market in India, with a potential to widen the lead with its rivals as investor money, raised from global players recently, is ploughed into the business.
DMart also remains a largely west-centric chain, with a third of its 220 total stores located in Maharashtra alone, Mitra and Rangnekar said.
In comparison, Reliance has a wider spread thanks to a network of close to 12,000 stores in the country.
The Future deal will give it an additional 1,800 stores.
The only leg in retail that Biyani will retain after the deal with Reliance will be home retailing.
Biyani has no plans to exit the business, persons in the know said, continuing to run it as an independent entity.
Home sweet home
Future's home retailing interests, including furniture and furnishings, are housed in Praxis Home Retail, which was created in FY18 when the group demerged the business from Future Retail.
Both online and offline interests within home retailing were consolidated in Praxis, including HomeTown stores and online acquisition FabFurnish, bought in calendar year 2016, in an all-cash deal by the group.
FabFurnish was subsequently merged with the e-platform of HomeTown in an attempt to push a single brand both online and offline.
The move was also intended to seamlessly integrate e-commerce and bricks-and-mortar operations as part of a larger omni-channel play by the group in home retailing.
While Praxis reported an 80 per cent rise in revenue to Rs 684 crore a year after the demerger (FY19), top line rose just 2 per cent in FY20, pointing to the growing competition from online players, including Pepperfry, Livspace and HomeLane.
For the first half of FY21, Praxis's topline fell nearly 70 per cent to Rs 107 crore from a year ago, its financial results for the period show.
Ankur Bisen, senior vice-president, Technopak, says that consumers, especially millennials and professionals, are open to the idea of buying furniture online rather than depending on carpenters and neighbourhood furniture stores as their parents did.
"However, the convergence of online and offline is high in home retailing, pointing to the need for touch and feel that still exists in home retailing," he says.
Pepperfry, which started as a pure online marketplace in 2012, meanwhile, has realised that consumers cannot be categorised as solely online or offline in home retailing.
So it has launched over 60 studios, which now make for about 20 per cent of the company's revenue.
Yet, some experts say that the pandemic has given a boost to online players, with work-from home leading to an unprecedented increase in demand for home-office furniture.
"Pepperfry's home-office furniture category, specifically study tables and ergonomic office chairs, grew by 185 per cent and 175 per cent, respectively, in June 2020 in comparison to pre-lockdown levels," says Kashyap Vadapalli, chief marketing officer & business head, Pepperfry. It continues to invest in this segment for future growth.
According to Redseer, the Indian furniture market stands at $17 billion (or Rs 1.2 trillion) in size, with 15 per cent organised and the rest unorganised.
The organised market is growing at a CAGR of 15-17 per cent, Redseer says, ahead of the unorganised segment.
Global furniture giants such as IKEA, which entered the Indian market in 2018, have also galvanised the organised market, say experts, aiming to reach 200 million customers by 2021, using a combination of online and offline operations.
Biyani, therefore, has much to do, managing competitors as well as legal challenges.
Photograph: Francis Mascarenhas/Reuters