If currency controls are maintained indefinitely, popular support for Narendra Modi's demonetisation will turn into dislike, warns Devangshu Datta.
Illustration: Uttam Ghosh/Rediff.com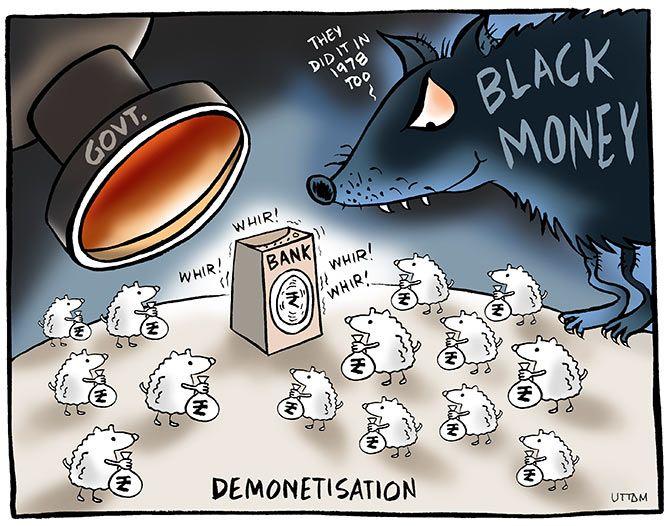 The normal pattern of earnings projections is disrupted by demonetisation.
Every India-focused business will see revenue contraction as consumers tighten their belts in what was expected to be a high-spend season (post-Diwali, with decent monsoon and weddings).
Revenue contractions will hit 'perennial' industries such as FMCG and pharmaceuticals since people are cutting down on essentials and small items like chocolates and shampoo sachets are affected by lack of change.
Patients are also postponing non-emergency procedures and tests.
The white goods, two-wheeler, jewellery and tractor industries, which are all cyclical, will be under great pressure.
Sales could pick up, given rate cuts, since EMIs may substantially reduce. Dealers will also be prepared to discount a lot to reduce inventory.
But this will not happen until mid/late December at the very earliest.
It is likely that volumes will suffer over the next quarter as well.
Normally, one would hope for strong exports to keep things afloat. But with Donald Trump taking charge, protectionist rhetoric could translate into US import duties and cuts in work-visa quotas.
Hence, the information technology industry has cut projections after the US elections. Similar fears have hit other US-focused exporters.
So, it is not surprising that the stock market has fallen and continues to fall.
There are several conflicting rumours about banks.
For example, one rumour says that the government will distribute some of the cash received into zero-balance accounts.
Another rumour says, when Rs 500/1,000 notes that are not returned are extinguished, the Reserve Bank of India will transfer surplus assets to be used in bank recapitalisation.
First, while there have been a massive infusion of cash deposits, the bulk is in savings accounts, where the money can be withdrawn immediately.
The rumours that such cash can somehow be transferred into zero-balance Jan Dhan accounts is absurd. That money belongs to depositors, not the government.
The income tax department may raise demands and eventually levy taxes on some deposits. But it would be up to the government what it did with that tax revenue.
The instant currency controls are eased, people will pull large chunks of money out.
It is possible that currency controls will be maintained indefinitely (well beyond the 50 days that the prime minister has asked people to live with discomfort). But in that case, popular support will turn into dislike.
India is a cash economy. It lacks the rural infrastructure to transit to being a low-cash economy anytime soon.
Depriving people of access to their own cash for any great length of time will cause huge resentment.
Banks are receiving cheap cash. They will cut deposit rates. The RBI is also likely to cut policy rates in December.
But banks must also be prepared for mass withdrawals once currency controls ease. This means potential runs, and asset-liability mismatches if cash from demand deposits is loaned out to long-term borrowers.
In any event, demand for credit will not be very high until economic activity picks up.
The last rumour, that the RBI will transfer excess assets is a real possibility.
Extinguished notes cease to be a liability and the RBI could perhaps, pay a special dividend to the government.
Legal eagles would have to debate if the RBI Act allows for this.
The cash quantum not returned may not be very high, anyhow. Nor can RBI write notes off soon.
There will be notes coming back from far-flung regions of the North East and Ladakh, Himachal, Andaman, etc, for a long time.
Even if such a special dividend is legally admissible, if public sector bank balance sheets need to be shored up with Tier-1 capital in this financial year, the government must look elsewhere for the cash.
Devangshu Datta is a technical and equity analyst.