'Markets are likely to remain choppy for the next 6 months.'
'Our recommendation to investors will be to follow an SIP rather than lump-sum investments.'
Illustration: Uttam GhoshRediff.com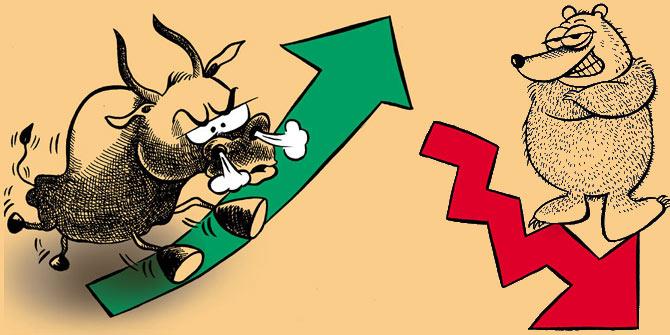 The markets are likely to remain choppy for the next six months ,Nilesh Shah, MD, Kotak Mahindra Asset Management, tells Puneet Wadhwa/Business Standard.
Given the recent global and domestic events and the uncertainty ahead in terms of the US Federal Reserve meet outcome, do you think the worst for the markets is yet to come?

This market has become like a pendulum.
We are in a market where two crosscurrents, of events -- US Fed rate action, Union Budget 2017, outcome of the assembly elections in Uttar Pradesh -- and earnings are likely to impact sentiment.
A good monsoon, implementation of the Pay Commission, adequate liquidity etc, give confidence that earnings can recover.
On the other hand, the short-term impact of demonetisation on consumption, effect of the goods and services tax rollout, etc, are giving worries that earnings could be delayed by a quarter or two.
This crosscurrent of optimism versus pessimism on earnings is likely to keep the market volatile for some time.

What about flows from foreign investors? Will the outflow pick up?

Globally, interest rates are beginning to bottom out.
The market has not factored in a steep rate hike cycle as is being predicted by former Fed chairman Alan Greenspan.
A rapid rise in US bond yields will result in capital flowing back from emerging markets, including India, which could see sustained foreign institutional investors selling.
That will adversely impact stock prices.
The market has priced in a 25 basis points rate hike by the US Fed this week, but is not prepared for an aggressive guidance (forecast) from the Fed for CY2017.
We don't believe the global and US economies are strong enough to sustain a rapid rise in interest rates.
Hopefully, FII allocation to India will be positive in 2017 -- though they could be sellers in patches.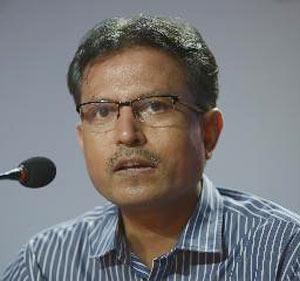 IMAGE: Nilesh Shah, MD, Kotak Mahindra Asset Management. Photograph: Kind courtesy: Nilesh Shah/Twitter
What's your assessment for the markets and India Inc after the note ban?

The situation is too fluid to assess the impact of demonetisation on corporate earnings.
There is a slowing in consumption due to trade disruption.
The market is factoring normalcy to return in three to six months.
If the actual recovery is delayed beyond that, the markets will correct.
If Indians accept a fair share of taxation burden and adopt to a less-cash economy, then the earnings recovery will be faster.
The RBI (Reserve Bank of India) is likely to get a windfall gain April 1 if black money doesn't return to the banking system.
If the government is able to use that amount to spur growth through infrastructure spending, then earnings recovery will be faster.
Unfortunately, the RBI has said in its credit policy that there will be no such windfall gain.

Are markets too pessimistic about the global and domestic uncertainties?
What is the worst we can see till March on the Sensex and the Nifty?

The markets are neither pessimistic nor optimistic.
They are realistic at that point of time, based on available data and future trends.
We expect the market to swing between greed and fear, between optimism and pessimism.
They will remain volatile for three to six months, before resuming their upward march.

Will domestic institutional investors continue to support the market when FIIs sell? When will they turn sellers?

Individual investors have shown tremendous maturity. They have invested at every fall.
At Kotak Mutual Fund, we have seen more equity flows in the month of November than what we received annually till a few years earlier.
They are investing via SIPS (Systematic Investment Plans) for the long term, with acceptance of volatility.
All this gives us confidence that the tipping point has happened for equity mutual funds.

Is it a good time to start buying from a medium-to-long term perspective?

If Indian corporates earn more profit on a sustainable basis, the markets will continue to rise.
A foundation has been laid for strong corporate profitability in the days to come.
If people adopt to a less-cash economy and fair share of tax burden, then corporate earnings can surprise the market.
Our recommendation to investors will be to follow an SIP rather than lump-sum investments on a longer term basis, without worrying about the short-term volatility caused by various events.