Saudi Arabia is insisting on 'In Kingdom' total value-addition requirements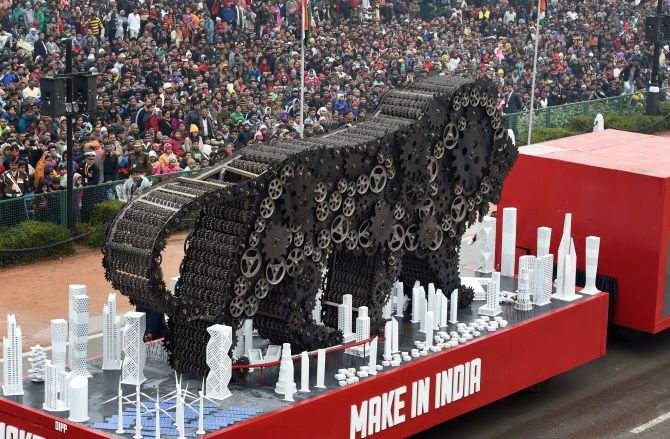 Make in India may feel the pinch of a global wave of protectionism. Launched in September 2014, the initiative aims to encourage multinational as well as local companies to manufacture in India. However, a growing number of countries has since adopted a similar approach.
"Saudi Arabia is insisting on 'In Kingdom' total value-addition requirements. Oman had a 30 per cent domestic value-add requirement for a petrochemicals project," said M S Unnikrishnan, managing director and chief executive officer (CEO), Thermax, an engineering, procurement and construction company.
West Asia is an important market for Indian capital goods manufacturers. In 2015-16, 34 per cent of Thermax's total sales was from exports.
Capital goods is not the only sector witnessing protectionism.
Pharmaceuticals exports, which figure in India's top 10 exports, are also facing the heat.
"Drug quality is a major concern as you do not get access to those markets then. Russia is taking steps to encourage setting up local facilities," said Sujay Shetty, partner and leader, pharmaceuticals and life sciences, at PwC India.
In 2015-16, exports of drugs, pharmaceuticals and fine chemicals from India were Rs 1.06 lakh crore and India exports nearly half of its production.
"Drug companies are trying to figure out how to respond to this global wave of protectionism. The strategy to tackle it will be individual and geography-specific," Shetty added.
International brokerage firm Jefferies in a March 1 report reviewing China's 13th Five-Year Plan concluded it contained more threats than opportunities, making the plan the most negative so far for foreign capital goods companies.
"In April-September 2016, India's engineering exports to China dropped by a sharp 45 per cent to $584.10 million from $1.06 billion in the first half of the previous financial year," said an EEPC India report released in September.
However, Madan Sabnavis, economist with CARE Ratings, is optimistic the impact will be limited to the services sector.
"For manufacturing, this should not be a major issue, except adjusting to new laws. In services, this will be a challenge," he said.
Textiles, another of India's significant exports, has not seen any major signs of distress over protectionism.
"In Turkey the focus is higher on domestic manufacturing. But Turkey is a small market for India; Europe and the US are the large markets.
I expect the Trump Administration to focus on increasing domestic activity in more value-added sectors like manufacturing and he (US President Donald Trump) will not disturb the textiles-related trade," said Manish Mandhana, joint managing director, Mandhana Industries. In 2015-16, close to 16 per cent of the company's revenue was from exports.
Officials from the Federation of Indian Export Organisations (FIEO) believe the demand and supply will finally decide the overall dynamics.
"Protectionism is easier said than done. Countries will have to match up to the cost competitiveness that certain Indian exports offer," said S C Ralhan, president, FIEO.
"Since many of the countries we operate in are not so developed, we prefer to work with the local people, thereby creating employability and contributing towards the economic development of these regions.
We have not seen any significant change so far. In any case, it makes economic sense to hire local talent and work with local subcontractors," said Vimal Kejriwal, managing director and CEO, KEC International.
There is consensus among officials and experts that the coping mechanism will be different, depending on market share in the respective geography and company strategies.
"If there are restrictions in foreign investment in, say, the US, there will be problems. If our outflow of FDI (foreign direct investment) into the UK by a steel company faces restrictions, then it will be affected. But I do not see this happening. Brexit will affect the prospects of such companies, commercially, and hence, may force them to focus more on India," said Sabnavis.