Mumbai Monorail was to be built in two phases - Phase I of 8.93 km and Phase II of 11.20 km.
The first phase ran operations for around three years before services were abruptly halted, owing to a fire incident last year.
The second phase now stands completed, but is lying closed.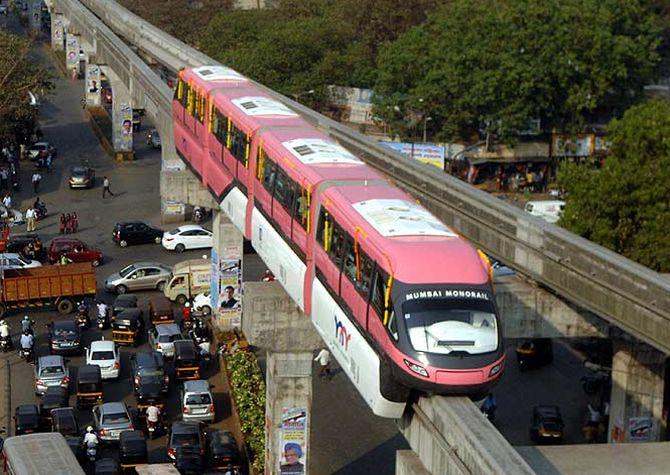 India's first monorail, which came up in Mumbai at Rs 2,500 crore, has been lying abandoned and unused since last year - a fact that may dampen the enthusiasm for experimenting with different forms of rail-based urban transport system.
Industry experts observe that though such advanced transit systems have great utility, Indian cities may not be ready for them.
In a latest, the Mumbai Metropolitan Region Development Authority (MMRDA) is reportedly planning to re-open part of the monorail even as it awaits an operator and rakes for the entire stretch.
"As a priority, Indian cities need metros, which carry large volumes, and then buses, minibuses, taxis and monorails serve as last-mile connectivity. In that context, monorails are useful where roads are narrower," said Manish Agarwal, partner and leader capital project & infrastructure, PwC India.
MMRDA opened the first phase of Mumbai Monorail for public use in February 2014. With this, India also witnessed announcements of such projects for various cities, including Chennai, Patna and Kolkata. However, so far not much work has happened on the ground.
The Mumbai project was awarded to Larsen & Toubro (L&T) and Scomi Engineering, in a joint venture and on a contract basis, where the bidder was to construct and operate the project for the first three years.
L&T maintains it has completed the required three-year clause by operating the first phase.
The MMRDA, however, thinks otherwise. The network is also awaiting new rakes to be supplied through Scomi Engineering, which was earlier facing financial difficulties, but is now expected to deliver the required rakes.
In its first three years of operations, the Mumbai monorail project suffered poor ridership, as the first phase did not connect busy transit points.
"The issue is whenever the network is small and concentrated, one is not able to connect the relevant points of the city, keeping the ridership low. There will be some impetus as the network grows, but until important areas are connected, ridership will be an issue," said Shubham Jain, vice-president and group head for corporate ratings, ICRA.
This could be one of the reasons why the project failed to garner a private interest for its operations and maintenance contract.
After failing to find bids in multiple rounds, the MMRDA's latest tender attempt received interest from Reliance Infrastructure and IL&FS Group in June.
A decision on the final bidder is yet to be announced. Repeated attempts to reach out to MMRDA spokesperson drew a blank.
Agarwal from PwC said ridership on Mumbai Monorail could improve over time, once the planned Mumbai Trans Harbour link starts its operations.
This could also be holding back other monorail projects in the country, where the main transit system is yet to be built.
Vishwas Udgirkar, partner, Deloitte Touche Tohmatsu India LLP, pointed out that most city transit systems posed various limitations in attracting private sector.
"These projects face challenges such as lack of city planning and land acquisition issues. They are also capital-intensive. Unless there is significant financial support, it is difficult to attract a private sector interest to urban transportation," he added.
A grave question also looms on whether India is ready for such advanced transit systems.
"Why can we not first develop simpler systems such as a rapid bus system and improve our roads? Maybe we do not necessarily need fancy projects, which need testing in the Indian context before they prove to be useful," said an infrastructure consultant.
Mumbai Monorail was to be built in two phases - Phase I of 8.93 km and Phase II of 11.20 km.
The first phase ran operations for around three years before services were abruptly halted, owing to a fire incident last year. The second phase now stands completed, but is lying closed.
In India, and also worldwide, transport systems such as metros and monorail have seen limited success in private sector investment.
In India, for instance, Reliance Infra had to withdraw from the Delhi Airport metro line, while in Mumbai the same company is fighting a legal battle to raise fares for Mumbai Metro One.
"The capacity of systems like monorail is less, but the cost remains high. State could rather spend on buses, flyovers and roads," said another industry expert.
In addition to the funding, advanced projects such as SkyBus have faced several other concerns.
The SkyBus project was shelved after a mishap during its trial run on a 1.6 km-test track in Maharashtra. However, agencies continue to announce plans.
News reports in July suggested the Chandigarh city administration was considering a monorail system though it has decided to give its earlier metro plan a miss.
Nitin Gadkari, minister for road transport & highways, plans to run a metrino system - a driverless pod taxi, between Delhi's Dhaula Kuan and Haryana's Manesar.
The consultant earlier quoted in the story said, "The minister can give a push, but the final execution still is with the urban development ministry and city authorities."
The private sector lends support to projects which appear viable at the planning stage, yet instances of companies quitting them at the operation stage also keep increasing.
Photograph: Sahil Salvi