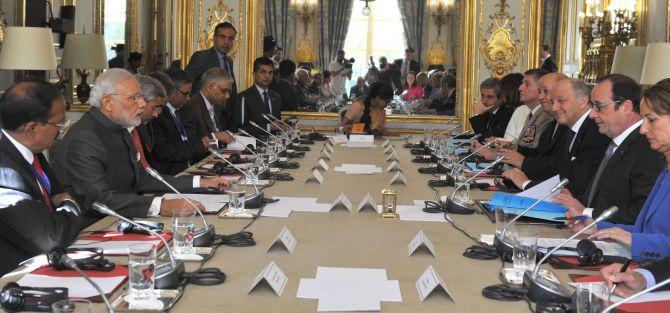 Prime Minister Narendra Modi, who is currently in Berlin on a State visit from where he will fly to Canada on the last leg of his tri-nation tour, held a successful CEOs forum meeting in Paris on Saturday, April 11, where it was announced that France would invest 2 billion euros in India.
On the first leg of his tour, Modi met with many Indian and French CEOs, including Anil Ambani, Shashi Ruia, Sanjay Kirloskar and others.
But one name seems to have caused some confusion, according to a tweet posted today, April 14.
While the list of CEOs given to the French media mentioned Gautam Adani, the list given to the Indian media omitted Mr Adani's name.
Could this be due to an oversight by an overworked media department? Or something else? :)
Image: Prime Minister Narendra Modi and the Indian delegation in talks with French President Francois Hollande and his staff. Photograph: Press Information Bureau