Prime Minister Manmohan Singh on Wednesday left for Seoul to attend the year's second G20 summit.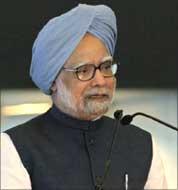 In his customary pre-departure statement, Dr Singh said it was in India's interest to have an open, stable and rule-based international economic environment.

Even as the world's most influential and affluent group was grappling with charges and counter-charges over unfair trade practices, Dr Singh spoke of the need to be wary of 'protectionist sentiment', whether in the field of trade, investment flows, technology transfers or open markets.

Striking a positive note, the prime minister said the world economy was on the path of recovery but the focus should be on optimising global outcomes 'in an increasingly interdependent world.

As the world acknowledged India's growing economic clout and appreciated its growth trajectory at a time of global uncertainty, Dr Singh said as the Indian economy moved to a higher growth path and opens to the world, 'our stake in a stable, inclusive and representative global economic and financial system will only grow.

Dr Singh is expected to have at least four bilaterals on the sidelines of the summit before flying back to New Delhi on Friday night.