Warehousing and logistics segment has been among the most resilient asset classes in the pandemic.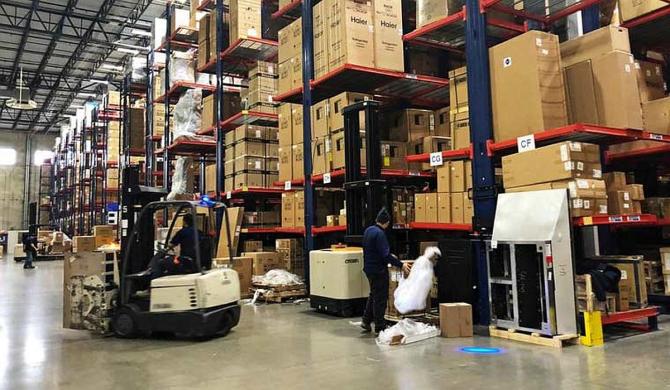 Warehousing is witnessing a new phenomenon.
While investors such as GIC and Blackstone have entered it, older ones such as Embassy are looking to exit.
Last month, Singaporean sovereign fund GIC announced a $750-million joint venture (JV) with logistics investor-cum-developer ESR to set up warehouses in the country.
Though GIC had signed a similar JV with K Raheja Corp in 2018, the JV is yet to make any investment.
"We are continuously perusing opportunities that can give us appropriate returns," said a K Raheja Corp spokesperson.
In another instance, Shapoorji Pallonji Group put its ambitious $1.3-billion logistics venture with Abu Dhabi's sovereign fund Abu Dhabi Investment Authority (ADIA) on hold due to debt problems and the pandemic.
It did not want to commit capital for new ventures, sources said.
However, the venture will be launched at a later date, according to sources.
The planned exit of Embassy Group and Warburg Pincus from the Embassy Industrial Parks did not happen because separate deal talks between the JV partners and ESR and Indospace hit a roadblock due to differences over valuation.
A source in Embassy Group said it was in talks with new investors.
Rituraj Verma, partner, Nisus Finance Services, said India was a difficult market to do business in and warehousing was a long-term play.
"The current wave of consolidation is about patient capital replacing start-up capital.
"While the hurdles remain the same, players have learned the way of the land and expectations have become more realistic.
"If anything the sector has become more attractive for investors as it is Covid-proof largely and has shown great resilience in the last one year," Verma said.
Recent years also saw ventures emerging in the country.
In late 2019, US-based fund manager Blackstone formed a joint venture with Greenbase, a Hiranandani group firm, to develop warehousing and logistics parks in the country, marking its entry into the Indian warehousing and logistics sector.
The equal joint venture planned to invest Rs 2,500 crore to develop around 12 million square feet of industrial and warehousing assets across the country in three to four years.
The JV finished 2 million square feet of warehousing and a similar amount of space is under development.
Also in 2019, real estate firm Puravankara and an investment fund managed by Morgan Stanley signed an agreement to set up a warehousing platform that would build industrial parks in South India.
"Too many large funds are chasing properties but deploying them is a challenge because there are few developed assets in the country.
"Buying land is not easy. In one acre you can build only 50 per cent because the floor space index is 0.5," said N Shridhar, group director and chief executive officer, Hiranandani Group.
"We are cautiously optimistic," he said.
Private equity investment in real estate is expected to bounce back to $6 billion, registering 30 per cent year-on-year growth in 2021 on the back of improving economic sentiment supported by policy reforms and growth in key emerging sectors, according to a report by Savills India.
The report says the warehousing and logistics segment has been among the most resilient asset classes in the pandemic.
Warehouse leasing is expected to increase by 60 per cent in 2021 as compared to 2020.
Savills Research also expects private equity investors to assess an opportunity of around $330 million in the industrial and warehousing segments in 2021.
This is 17 per cent higher than the average annual investment during the period 2016-20.
"For the investor community and private equity players, the warehousing segment is becoming an asset class of choice in times ahead.
"While leasing in the industrial and warehousing segment has declined year-on-year, we expect rentals to see a steady rise as quality supply gets added to the stock," said Diwakar Rana, managing director (capital markets), Savills India.
Photograph: Simon Dawson/Reuters