One of the challenges for those car graves is that Indian owners often find markets for their old cars rather than send them to scrapyards.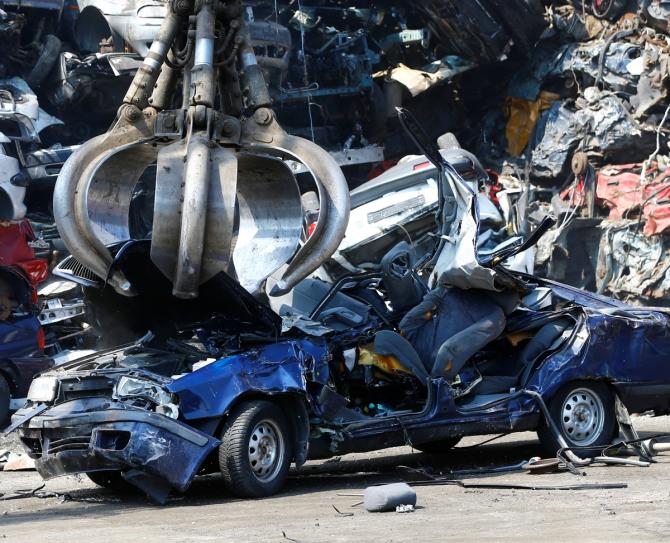 On a windy day this January, the first car to be sent to a scrapyard, a Hindustan Ambassador no less, was sent from Niti Aayog.
Since then, close to 10,000 automobiles have reached the scrap yard, located just outside Delhi's municipal limits, in Greater Noida.
Yet, for about a month, the first car also remained the sole car to have been scrapped under India's vehicle scrappage policy that became operational in April 2022.
Just as mandarins from a generation ago had found it difficult to build up an automobile manufacturing industry, sending the products to their end of life scrap yard destination is similarly difficult in India.
The policy is, however, clear. From April 1, 2022, all vehicles of government and public sector units older than 15 years cannot ply on the roads any longer.
From April this year, heavy commercial vehicles, such as trucks, older than 15 years, have to pass a mandatory fitness test.
From June 1, 2024, all cars and passenger vehicles (older than 15 years for petrol, 10 years for diesel) have to pass the same test to keep their registration.
From thereon, every five years, the registration tests become stiffer. 'If they are found unfit or in case of a failure to renew the registration certificate', they should head for the junkyard notes the government policy.
The first of these, called Cero, was built as a 50:50 joint venture between State-owned MSTC and Mahindra Accelo.
The Cero plant has a capacity of dismantling 24,000 units a year, but it will take some years to reach even 50 per cent of the capacity.
However, MSTC Shairman Surendra Kumar Gupta said they already have six such facilities across India and another three are coming up.
"Volumes are rising but since this is a new line of business, we are prepared for the long haul," said Gupta.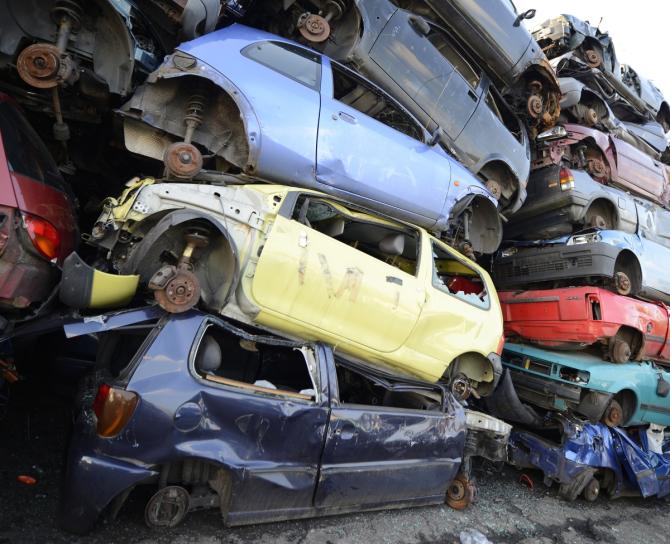 One of the challenges for those car graves is that Indian owners often find markets for their old cars rather than send them to scrapyards.
For instance, the Delhi state government has been one of the earliest movers on scrappage.
In 2021, the state cancelled registration of 2,930 vehicles older than 15 years.
That number has jumped close to 6,000 in just a year, but hardly any of them has reached the Cero recycling plant, set up in 2016.
The larger a vehicle, the more difficult it is to scrap it.
If a truck is not going to run in, say, Mumbai, there is always a semi-rural corner in some part of India where it has resale value.
A car commands a lower premium, which is also why the government has started its scrappage policy with them.
The cars began to roll into Greater Noida and the other facilities only when the central and state governments began to scrap their own vehicles.
In Budget 2023 Finance Minister Nirmala Sitharaman said she has approved the scrapping of more than 900,000 government vehicles that are more than 15 years old.
The reason a junkyard needs volume is that it costs a lot to build them.
Gupta was not willing to share numbers, but experts said a plant costs at least Rs 18 crore (Rs 180 million) to build, not including the cost of the land.
The Cero units are all on leased land, which means sizeable rentals which add to the variable costs.
The Greater Noida campus is spread across five acres, of which the work shed area is approximately 43,450 square feet.
For obvious reasons, the plants have to be located close to the cities.
The relatively high upfront cost is also one of the reasons why the central government has roped in MSTC.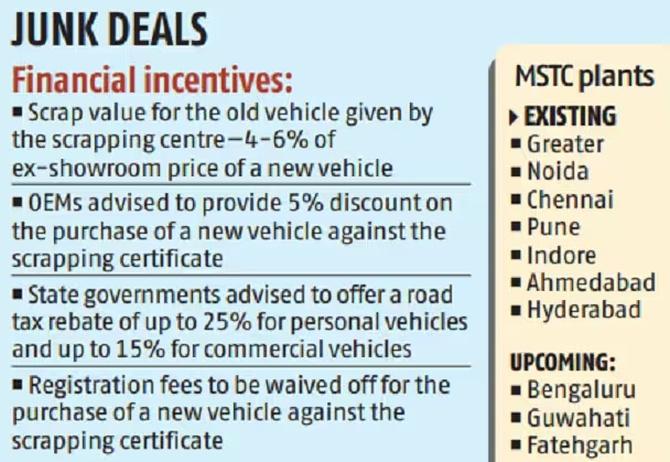 The model for junkyards is to buy the automobiles from the owners, sell the hazardous materials, but only to licensed units -- these include car batteries and sell the remaining metal scrap to anyone willing, once they are shredded by what MSTC calls the 'state of the art baler cum shearer'.
The company utilises heavy-duty magnets to sort the ferrous metal, such as iron, from the non-ferrous metal, such as aluminium and copper.
"Finally, the ferrous/non-ferrous and other remaining parts are sold through our e-commerce portal," notes a company official.
"The government has offered incentives to the sellers to get the market going, which is good. What they can consider is a sliding scale with higher rates now tapering off later," says Dilip Chenoy, former secretary general FICCI and a long time automobile sector expert. This seems necessary.
In its absence, the volumes will not rise quickly. The private sector is therefore unwilling to budge.
But the action has to come from the states.
They have to change their respective Motor Vehicles Acts to write in the provisions and provide the financial support.
As usual, the quick movers have been the southern states, Tamil Nadu and Karnataka.
This year, Uttar Pradesh has also revised the rules under its Act to provide for scrappage.
Noting these developments, the International Energy Agency writes this 'could bring about two important changes to India's automotive sector: First, it establishes norms that regulate vehicle phase-out on a national level with the potential to improve knowledge about vehicle retirements and to harmonise registration rules across states'.
But land will remain a bugbear in the mix. None of the MSTC yards are leased from state governments but from private parties.
As an expert noted, if the Taj Mahal hotel in Delhi needs a soft leasehold model to make money, a car junkyard some kilometres away will also need the same model to be viable.
Feature Presentation: Rajesh Alva/Rediff.com