Vistara announced the new fare model giving its economy class customers the choice to forego complimentary meal for a ticket price which is Rs 500-1000 cheaper than the standard fare.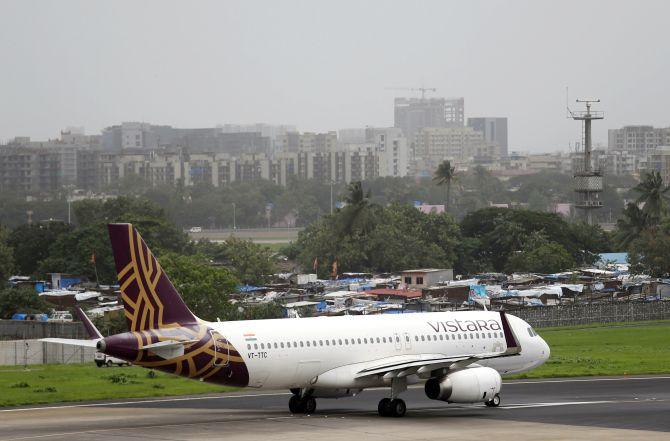 The Tata-Singapore Airlines carrier that started life as a premium full-service airline is charting a new course for the brand, hoping to get a ride into the country's bustling low-fares market.
The move comes just before Vistara's international debut and is also being seen as an attempt to consolidate its position at home before taking off to distant shores.
But is the airline diluting its positioning? And is there no place for a premium brand in the highly commoditised airline sector in the country?
Vistara launched as a full-service premium airline three years ago, promising fliers a 'new feeling' on its flights.
This came at a price though and soon, the airline found itself stepping off the purely premium perch it had set itself on.
It introduced what it called premium economy and economy seats. And now, as the lines between premium and low-cost are even more blurred, comes the optional low-fare no-frills experience on board its aircraft.
On Tuesday, Vistara announced the new fare model giving its economy class customers the choice to forego complimentary meal for a ticket price which is Rs 500-1000 cheaper than the standard fare.
This new fare option called 'Economy Lite' will allow passengers buy their food on board.
Also these fares are not upgradeable, non-changeable and non-refundable (except taxes).
The free baggage allowance under these fares remains at 15 kgs but is restricted to one piece of checked baggage only.
What prompted Vistara to tweak the fare model?
After all it had a stated aim of "transforming air travel experience in India" when it first launched in January 2015.
The airline is quick to douse any talk of brand dilution or a walk back on its premium play.
There is no change in the business model it says and Vistara remains a full service airline.
What does it call the new offers then?
The airline see it as adjusting the pricing policy to adapt to the market conditions in India and attract the price sensitive consumer.
"We believe there is a segment of customers which we were not addressing, customers who do not care about free meals. We want to provide them the service in a cost efficient manner," said Sanjiv Kapoor, Vistara's chief strategy and commercial officer.
There is little doubt that low-cost is where the Indian airline sector's future lies.
In January 2015 low cost airlines had 57 per cent market share and today that it has increased to 69 per cent.
That increase has been led by IndiGo which continues to add around one plane every week.
John Nair, head, business travel, Cox & Kings said that Vistara's no frills product is an acknowledgement that India is a cost conscious market.
"It is competition that has forced Vistara to tweak their product offering as they did not want to lose out on cost conscious traveler," he said.
Kapoor said Vistara's average fares are higher than those of low cost airlines and as such it was not attracting price conscious customers who are lured by cheaper fares.
So to term this as a move away from its premium positioning would be incorrect.
He said that only a few rows in the aircraft would be reserved for the Economy Lite fare option and the airline will have limited inventory under the fare option.
The airline is also said to be evaluating adding a row in economy class cabin which will increase total number of seats to 164.
Kapoor however said no decision has been taken on aircraft reconfiguration.
The cheap fare option is expected to help fill up the aircraft on short duration flights (less than an hour) and also on routes to the North East or Andaman & Nicobar islands.
These sectors are more price sensitive than other markets. The Economy Lite fare will not be extended to international routes.
Social media commentators however have been unforgiving about the airline's new move.
Some have called it a confused state of affairs where some fliers will get their meals while others don't and many have also warned of the potential dilution of the brand's value.
"Vistara's new fare policy could turn out to be a great revenue management tool to compete with low cost carriers in markets where they dominate and where business traffic is low.
"However for an airline which markets its meals so aggressively it is odd they are offering an option without meals," said Ameya Joshi, founder of aviation blog Network Thoughts.
Post the announcement Kapoor has been actively defending the company on social media.
"We are still a premium full service airline. There is no brand dilution.
"The new fares are about giving customers more choices. World over full service airlines are implementing such concepts," he said.
For instance Delta Airlines in the US has a basic economy option. Under this passengers do not get preferred seating, are not allowed date changes and have to pay for check-in bags.
Still it is difficult to shake off the feeling that the brand could suffer from being seen as a one product that serves all.
Kapoor, however, is quite confident that this is a better path to fly down as Vistara is not converting into a no-frills airline, nor is it extending the brand into such a venture.
"It is optional and restricted to a few seats," he said.
Photograph: Francis Mascarenhas/Reuters