'A growing segment wants to fly Vistara but may not be really ready to pay for certain products that come with a full-service carrier. That is a large segment and we can't ignore it,' says CEO Leslie Thng.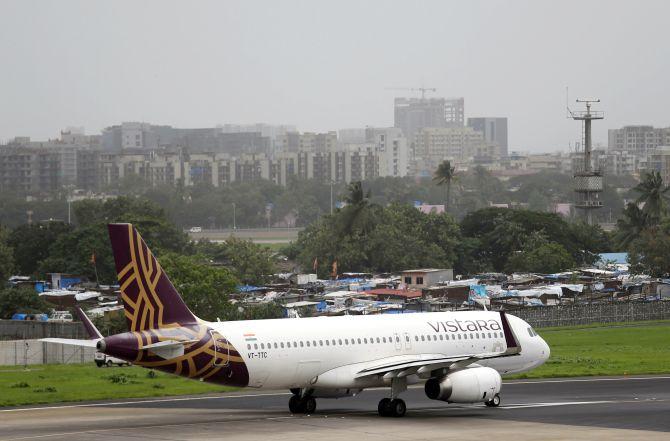 From Day 1, Vistara has been trying to establish itself as a premium brand. CEO Leslie Thng says the airline may have failed to tap customers who may not want to pay for all amenities of a full-service carrier.
In an interaction with the media, he outlines how he is trying to cater to that market.
With the bilateral rights constraint, will you face difficulty in launching international flights to sectors of your choice?
We are still looking to go international by the end of 2018. There are enough places we can fly to where bilateral rights are available.
Even within the A320 family, with the A320 Neos and A321, it would allow us to fly up to six hours. The wide-body Boeing 787 will allow us to fly non-stop up to 12-13 hours, virtually allowing us access to all places we want to fly.
Will you increase your presence in Tier-2 and Tier-3 cities?
We have been expanding to Tier-2 and Tier-3 cities. We do understand that in some of these markets, the competition and market profile are not similar to metro-to-metro route. Having said that, we are still a very new airline, which allows us to be flexible and nimble.
We will try to understand what the market needs and as we understand, we will offer different products.
Just like one of the reason that we came up with a new fare scheme (buy-on-board meals), which are more effectively targeted towards such markets.
This is the growing segment that wants to fly Vistara but may not be really ready to pay for certain products that come with a full-service carrier. That is a large segment and we can't ignore it.
Will Vistara re-establish its brand to cater to such customers?
We will not change the call. Vistara will remain a full-service carrier. The call will still be to provide premium products to our customers.
But at the same time, when we go to other markets, we will try to recognise their needs and may be have a different product that suits those markets.
The majority of our customers like our standard product, but the eco-light product will tap a market more effectively, which Vistara had not been able to tap in the past. Those customers would select other airlines, but we now have a product with which we can tap them.
What boost in occupancy have you seen after launching the economy light fares?
Our occupancy is generally lower than low-cost airlines because ours is a three class product.
In economy class, our occupancy is generally higher.
Of course, there are some routes that we felt were not performing up to expectations. So, we expect this economy light product will help us boost occupancy.
Vistara has thin presence in many of the primary routes. What are you doing to change that?
When a passenger chooses a flight, timing and price, of course, play a big role.
You know we are planning to bring in many aircraft. This will further densify the network, as well as launch new points.
Expansion for making the network dense is very important before we start international operations, as we will have to provide connections to passengers from other parts in India to our hub in Delhi.
To be able to provide two-way connectivity, we will have to build the frequency for passengers so that they can connect to the final flight international sectors.