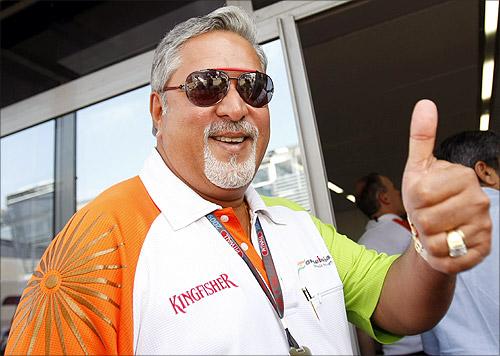 UB Group Chairman Vijay Mallya is no longer a member of India's 100 Richest club, even as fortunes of the country's uber-rich have seen a significant growth since last year.
Mallya, who has been declared as 'wilful defaulter' by lenders following huge debts on his Kingfisher Airlines, is missing from the Forbes latest list of 100 richest released on Thursday.

He was ranked at 84th position in 2013, with a net worth of $800 million.
With a record $1 billion as the minimum net worth this year, as many as 11 persons dropped out of this year's list including Mallya.
"The flamboyant Vijay Mallya, who was tagged by his bankers as a "willful defaulter," also dropped off," Forbes said. The drop-offs this year also include, Brij Bhushan Singal, whose Bhushan Steel's shares tanked after son Neeraj was arrested in a corruption scandal, Forbes said.
In sharp contrast, the combined net worth of India's 100 wealthiest is $346 billion, up from more than a third from $259 billion in 2013, thanks to soaring stock markets which have gained 28 per cent since January this year.
Earlier in March 2013, Mallya was dropped from Forbes global rich list, while he had moved out of the billionaire league way back in 2012.
Amid huge debt burden and mounting losses at Kingfisher Airlines, Mallya's fortunes has been declining continuously over the recent years.
The airline owes Rs 7,600 crore (Rs 76 billion) to 17 banks. In February 2012, the banks had formally declared loan recall on KFA and began recovery process. They have recovered around Rs 2,000 crore (Rs 20 billion) by selling pledged shares.
Already, United Bank of India has won a legal backing on its decision to declare Mallya and other top executives of the airline as "wilful defaulters". India's largest bank SBI has also sent a notice to tag them as "wilful defaulters".
State-run PNB and IDBI Bank, and private lenders Federal Bank and Axis Bank are also in the process of doing the same.

Burdened with huge losses and large debts, Kingfisher Airlines stopped flying in October 2012 and its flying licence also lapsed about two months later.
About Mallya, Forbes India in October 2012 had said that the 'king of good times' is having nothing but bad times lately.