London-listed mining group Vedanta Resources is running against time to close a USD 9.6 billion deal to acquire majority stake in Cairn India as government approval for the transaction is held up due to issues raised by state-owned ONGC.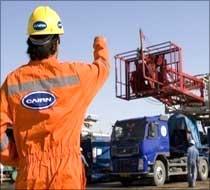 The deal, involving Vedanta acquiring 40 to 51 per cent stake from UK's Cairn Energy Plc and thereafter making an open offer to buy for an additional 20 per cent from minority shareholders of Cairn India, is to be completed by April 15.

But, it has not yet been able to announce the open offer in absence of government nod for the transaction, sources in know of the development said.

As per market regulator SEBI's regulation, an open offer requires 55-60 days to complete and Vedanta was expecting the nod by Monday so as to have a small buffer for any contingency.

But the approval is stuck as ONGC by virtue of its stake in 8 out of the 10 oil and gas properties held by Cairn India, claims pre-emption rights and wants the issue of excess royalty it has to pay on Cairn India's mainstay Rajasthan block to be addressed before giving its no-objection.

Sources said oil ministry has made resolution of the royalty issue one of the 11 pre-conditions for giving an in-principal nod for the transaction.

Oil Secretary S Sundareshan had yesterday met chief executives of Vedanta and Cairn, who opposed three of the 11 conditions, they said.

Cairn/Vedanta is particularly opposed to ONGC's demand for recovering the royalty before profits from sale of Rajasthan oil as it will lower Cairn India's profitability and valuation.

The Rajasthan block, which gives Cairn India 90 per cent of its valuation, is a losing proposition for ONGC, as it has to pay 20 per cent royalty to the state government on the entire output from the field, even though its share from production is only 30 per cent.

Cairn India does not pay any royalty on the crude and has even contested the payment of Rs 2,500 per ton cess on its 70 per cent share.

Besides, Cairn/Vedanta are also not agreeable to the ministry condition that they will have to abide by its orders in case of past and future cases of operational disputes.

Vedanta, which has no prior experience in oil and gas sector, was agreeable to other conditions like giving financial and performance guarantees and maintaining technical capability of Cairn India.

Sources said the two sides stuck to their stand on the contentious issue of royalty at yesterday's 90 minute meeting, the first time when Sundareshan met Cairn Energy head Bill Gammell, Cairn India CEO Rahul Dhir and Vedanta officials M S Mehta (Group CEO) and Tarun Jain (CFO) jointly.

Acceptance of the demand would impact Cairn India's valuation as its future profits will go down and the company says its minority shareholder interest will be compromised.

While Cairn had reluctantly agreed to the need for government approval on the deal, it has so far not accepted the preemption rights of ONGC.

ONGC has a stake in eight out of the 10 oil properties held by Cairn India and its preemption, or right of first refusal, has also been held by Solicitor General of India (SGI), the nation's second highest law officer.

ONGC was, however, kept out of the meeting. Sources said while Vedanta is agreeable to most of the 11 preconditions that the Oil Ministry has set for giving approval, it is particularly opposed to royalty being made cost-recoverable and Cairn India giving up its rights in present and future disputes.

ONGC says Vedanta's acquisition of an up to 51 per cent stake in Cairn India triggers its pre-emption rights.

Its board had at its meeting on January 29 passed a resolution asking the government not to approve the Cairn-Vedanta deal until the issue of excess royalty it pays on Rajasthan crude oil is sorted out.

It wants the 20 per cent royalty paid to be added to the project cost, which can be recovered from the sale of oil.

The move is being opposed by Cairn, as it will lower its profits from the field, which it says has the potential to produce 240,000 barrels of crude oil per day.

Cairn India acquired a stake in Rajasthan block RJ-ON-90/1 from Royal Dutch Shell Plc in 2002 and discovered oil in January, 2004.

In case of areas awarded under the New Exploration Licensing Policy (NELP) - like the gigantic KG-D6 gas fields of Reliance Industries - royalty can be added to the capital and operating cost of the block, which as per law are deductible from revenues earned on the sale of oil or gas before calculating profits for all stakeholders.

The Rajasthan block is an pre-NELP acreage.

© Copyright 2021 PTI. All rights reserved. Republication or redistribution of PTI content, including by framing or similar means, is expressly prohibited without the prior written consent.